Khopra Ridge Trek of the Annapurna region
Khopra Ridge Trek of the Annapurna region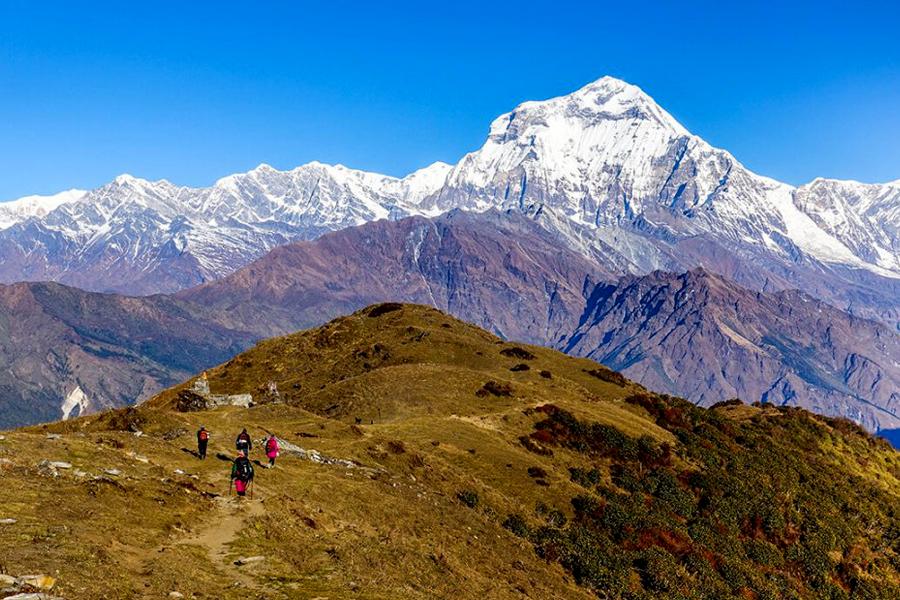 Overview
Khopra Danda Trek or Khopra Ridge Trek is one of the superlative treks in Annapurna region having all the topography of a common trekking as well as exploring villages, flora, and fauna with panoramic Himalayan sights. This is one of the new trekking trails which was opened a bit earlier but had no accommodation what so ever other than camping. But now this trekking trail has lodging and tea house where you can rest and enjoy the natural environment.
Khopra Danda Trek - located away from the demanding trails of Annapurna region. You probably would spend 4 nights here in Khopra Ridge Community lodge which was opened by the villagers which are also funding to indigenous people and boosting their economy. The sights you get from this region is mesmerizing views of like Mount Dhaulagiri (8167 m), Annapurna South (7129 m) and Nilgiri (7061 m).
We the Accent Himalaya had designed this Khopra Ridge Trek itinerary for 15 days including sightseeing Kathmandu. Our actual trek to Khopra Ridge begins from a scenic drive from Kathmandu to Pokhara and later take a short ride to Nayapul. Then we will begin our trekking heading towards Ghandruk (people living there are mostly from the Gurung community). From there, after continued trekking for five days, we head to Tadopani, where we will be spending a night in one of the community lodgings in this remote village. We then finally reach Khopra Ridge (3600 m) which is slightly higher than Poon Hill (3210 m).
From there we will be heading down to Ghorepani through Swata village. From here we will retrace back following the same route we came from. Then from Pokhara, we either take a vehicle or a flight (depends on the travelers choice) back to Kathmandu.
This trekking is perfect during spring and autumn but we the Accent Himalaya can arrange this trek all year round as this trek isn't that strenuous. We the Accent Himalaya as being a well known local company has adjusted the itinerary focusing on every aspect of the clients need on the route. If this itinerary does not fit your schedule, then we will surely arrange different one according to your choice.
Please feel free to email or contact us to know more about this Khopra Danda Trek or Khopra Ridge Trek.
Here we list you our detailed itinerary for our Khorpa Ridge Trek:
Detail Itinerary
1
Day 01: Arrive at Kathmandu Airport and transfer to hotel:
Our representative will be waiting for your after your landing at Tribhuwan INT'L Airport, Kathmandu. After your arrival, our representative will pick up you and drop to your respective hotel. In the evening, we will host a welcome dinner with delicious and traditional Nepalese cuisine.
2
Day 02.Drive from Kathmandu to Pokhara (200 Kilometers west of Kathmandu) - 6 Hours:
Early in the morning, we catch a tourist bus to Pokhara driving along the Prithvi Highway - onside of Trisuli and Marsyangdi River. We will see the amazing views of green landscapes, farm fields, and laughing mountain range. Our bus will stop for two or three times for snacks and lunch. After reaching Pokhara, we will see the amazing views of Annapurna and Dhaulagiri. We also visit the lakeside of Pokhara.
3
Day 03: Drive to Nayapul and trek to Ghandruk:
We take our breakfast and take a short drive to Nayapul. We start our first trek step to Ghandruk, hub of the Annapurna Conservation Area Project (ACAP)
4
Day 04: Ghandruk to Tadapani (2,590m) 3-4 hours:
From Ghandruk, we will see the astonishing views of Machhapuchhre, Annapurna South, and Himchuli. We continue to trek from Ghandruk upwards through the Deurali and into the Dense Rhododendron forests. We reach Tadapani after short trek further. From Tadapani, we can enjoy the views of Machhapuchhre, Annapurna and Himchuli Himalayas. We also see the Tibetans in the village those selling things to tourist.
5
Day 05: Tadapani to Bayeli Kharka (3,420m): 5- 6 hours:
From here, we leave the main trail and follow a new trail to the remote area of Annapurna region. We continue our trek along the beautiful rhododendron and oak forest upward. We will descend down and after passing several clearing with abandoned shacks, we will reach bigger ridge top clearing to Dobato. We continue to ascend up to reach the day destination - Bayeli Kharka, which provide the amazing views of Mt. Dhaulagiri, the seventh highest mountain in the world.
6
Day 06: Bayeli Kharka to Upper Chistibung (2,975m) 4-5 hours:
We take our breakfast and start to trek descending through the open ground and beautiful forest that brings us to lower Chistibung. Then we again ascend up gradually through a forest before reaching upper Chistibung. On our way, few lucky people may see the colorful Lophophorus (Danphe) - the National Bird of Nepal.
7
Day 07: Trek to Khopra Ridge (3,660m): 3-4 hours:
Today we will be going to make the final destination of our trekking journey. We walk on a steep above the tree line through alpine meadows and pastures to reach Khopra Danda. Upon reaching Khopra, we make a short trek to Khopra ridge - viewpoint - from where we admire the shining and laughing Annapurna South and far flowing Kali Gandaki in the world deepest valley. We also admire stunning mountains like Mt. Dhaulagiri, Nilgiri (blue peaks) and others.
8
Day 08: Rest day in Khopra Ridge: Tour of Khaire Lake (4500m): 10-11 hours:
Today we stay at Khopra Ridge and spend time while exploring the whole region. We visit the Khaire Lake and attain excellent views of mountains. Khaire lake is a sacred lake to the Hindus. We also see the shrines on the side of the lake of both Hindus and Buddhist as the Hinduism and Buddhism are intricately related in Nepal.
9
Day 9: Trek to Swanta Village (2,200m): 5 hours:
Today we descend down and down off the hillside and steep trails. On the way to descending trails, we admire the stunning views of mountain ranges.
10
Day 10: Trek to Ghorepani- 4 hours:
We take our breakfast on teahouse and continue to trek down to Chitre and up to Ghorepani - another popular trekking route. We here can admire the views of Mt. Annapurna and Dhaulagiri.
11
Day 11: Trek to Poon Hill (3180m.) to Hille (1475m) - 5 Hours:
Today we follow the trails of Ghorepani trekking route heading to Poon Hill to enjoy the views of the Himalayas including Mt. Dhaulagiri (8167 m), Mt. Annapurna I (8091 m), Annapurna South (7219 m), Annapurna III (7855 m), Machhapuchhre (6993 m), Annapurna IV (7525 m), Annapurna II (7937 m), Varaha Shikhar (7847 m), Tukuche Peak (6920 m), Lamjung Himal (6931 m), Nilgiri (6940 m) and others.
Here we take our breakfast and continue to trek towards Hille through the rhododendron and oak forest up to Bhanthanti - a small village where some shops and teahouses are settled. After descending to Ulleri, Gurung settlements from the views of Annapurna South, Machhapuchre and Himchuli seem to be pieces of heaven. We again descend down on steeply trails to Tikhedhunga passing through the terraces and robust village. We reach Hille after crossing Tikhedhunga in short.
12
Day 12: Trek from Hille to Nayapul (1050m.) via Birethanti and drive to Pokhara - 4 Hours:
Our trekking exclusively ends today after reaching Nayapul from where we drive to Pokhara. Gradually descending trails follow the Bhurung Khola all the way to Birethanti. After reaching here, we now cross the suspension bridge over the Modi Khola and make a short trek to arrive at Nayapul. We catch a bus from Nayapul and return back to Pokhara.
13
Day 13.Drive from Pokhara to Kathmandu (6 Hours):
We will catch a tourist bus from Pokhara early in the morning and drive to Kathmandu. After reaching Kathmandu, we will celebrate the farewell and succession of the trek with dinner in the evening. Also, we share photos and some memories!
14
Day 14: Transfer to the airport for your departure:
Today we are going to be separated by unforgettable moments and memories. Our representative will drop you to Tribhuwan Int'l airport before 3 hours to your booked flight. However, if you want to explore more - we are always on your side.