Everest Base Camp Trek via Gokyo Cho La Pass Trek
Everest Base Camp Trek via Gokyo Cho La Pass Trek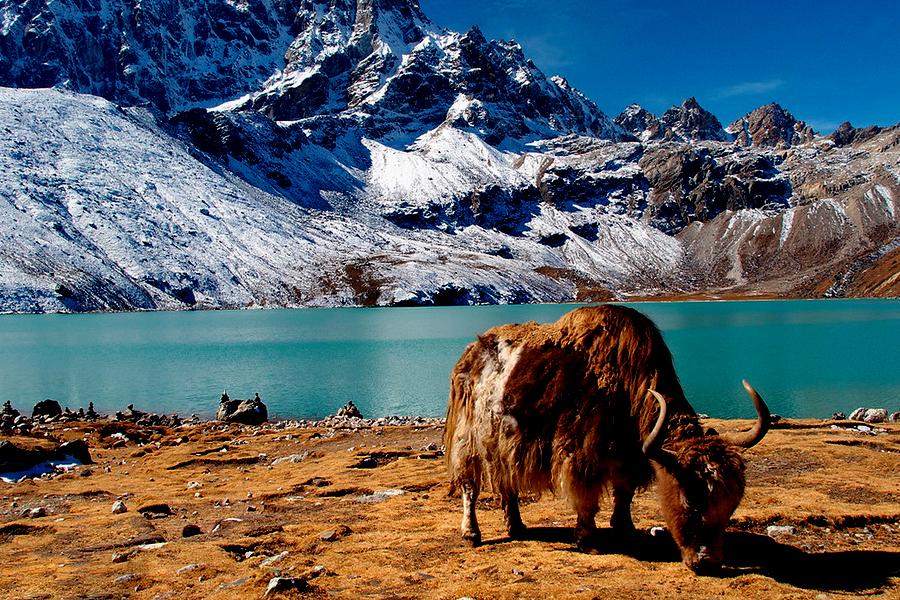 Overview
Gokyo Cho La Pass Trek
EBC trek Via Gokyo Cho La Pass trekking is another irresistible and arduous trekking in the Khumbu region linked with the Everest Base Camp and Gokyo Lake. This trekking is also popularly known as Everest Circuit. This trek leads you to the high pass of Cho La Pass (5365 m). This trekking combines the Everest region with particular highlights like viewing the splendid Gokyo Lake with the challenging trek to Cho La Pass and the Everest Base Camp and up-close view of Mount Everest (8848 m) and several other peaks.
We will also be trekking to the challenging and daring Kala Patthar and explore all this beautiful area in the Khumbu region. The Cho La Pass trekking will not only reward you with the mountainous view but you also get the chance to explore the Sherpa land and visit magnificent Buddhist monasteries. On the trail, occasionally you might sight some exceptional wildlife like musk deer, snow leopard, Himalayan Thar, snowcocks, pheasants and the communities also have telltale stories about the mythical Yeti living here!
Our thrilling adventure begins from an airstrip mountain flight to Lukla and trekking to Phakding. Next, we trek to the central point of the Sherpa community, Namche Bazaar and heading towards Gokyo, steady climbing up the valley through areas of birch and dense rhododendron forest. On our trail, we might spot musk deer and reach yak-grazing settlements. Then we reach the Gokyo Lake, one of the Lake in high altitude, which looks magnificent cobalt blue. This lake is one of the sacred lakes where Hindus and Buddhists visit mostly during the festival of Janai Purnima.
Then we ascend to the Gokyo Ri (5355 m) from where we get the splendid view of the Everest (8848 m), Mount Makalu (8485 m) and Mount Cho Oyu (8188 m). And heading towards the Cho La Pass, we reach Dzongla where Mount Ama Dablam (6812 m) and Mount Taboche (6495 m) are magnificently spotted. As ascending further we reach Gorakshep and continue to the Everest Base Camp (5365 m) and then to Kala Patthar where we get an up-close view of the highest mountain; Mount Everest (8848 m). And retracing back to our route, we will be also passing through Tengboche monastery with the splendid mountainous view where you get vista of Mount Ama Dablam (6855 m), Mount Kantega (6808 m), Mount Kwangde (6195 m), Mount Nuptse (7878 m), Mount Lhotse (8510 m) and numerous other peaks.
These treks are usually done in spring and autumn but we the team of Accent Himalaya can arrange this trek according to your vacation schedule and we can also customize and design the itinerary as per your request. We have other many options in the Everest region from tranquil trekking to strenuous trekking. You can go explore our website for more information and different pursuits in the Everest region. If you would like to cover up some more information on this trek, please feel free to inquire by email or contact us. We are here 24/7 at your service.
Here we list you the detailed itinerary for Everest Base Camp via Gokyo Cho La Pass:
Detail Itinerary
1
Day 01: Arrival in Kathmandu (1350 m & 4428 feet)
After arriving at TIA, Kathmandu - our representative from Accent Himalaya will pick you up and drop you at your respective hotel. In the evening, you will be invited for dinner (Nepali food) hosted by Accent Himalaya - for you to taste the tradition and cultures of Nepal.
Accommodation:

A 3 Star Hotel in Kathmandu

Meal:

Welcome Dinner
2
Day 02: Kathmandu: Sightseeing and Trek Preparation
After breakfast, we will be visiting the - "town of the temple" aka Kathmandu - the main attraction for tourist. We visit some UNESCO world heritage sites such as Pashupati Chhetra (Pashupatinath mandir), the Swayambhunath Temple (also known as the temple of monkey), World largest stupa - the Boudhanath stupa, the Kathmandu Durbar Square, the Patan Durbar Square, the Bhaktapur Durbar Square and more places.
Accommodation:

A 3 Star Hotel in Kathmandu

Meal:

Breakfast
3
Day 03: Fly to Lukla, trek to Phakding (2651 m & 8700 feet): 8 km, 3 - 4 hours trek
Today we will take a flight from Kathmandu to Lukla. The route of the flight is wonderful and pretty amazing because of the dynamic views of landscape, snow-covered peaks, and hills. Reaching Lukla, we meet our crew members and then start preparation heading towards Phakding. We then descend gradually for about one hour and reach Cheplung Village. From here, you will be able to see the sacred views of Mt. Khumbila (18900 ft) which no one else try for the expedition. After some sightseeing, we will again descend gradually and reach Phakding where we stay overnight.
Accommodation:

Tea House or Trekking Lodge

Meal:

Breakfast, Lunch & Dinner
4
Day 04: Phakding to Namche Bazaar (3438 m & 11280 feet.): 11 km, 5 - 6 hours
Today we will follow the trail throughout the pine forest to the Benkar Valley. Then we will cross the Dudh Khosi River and passed over the Chumoa to Monjo, the entrance to Everest national park. We cross the suspension bridge, pass Jorsale village and walk alongside the Dudh Koshi and Bhote Koshi Rivers. After some steep ascends, we will reach Namche Bazaar, largest Market in the Khumbu region, mostly inhabited by Sherpa communities. In the clear climate/whether we may see the views of Mt. Everest and Mt. Lhotse.
Accommodation:

Tea House or Trekking Lodge

Meal:

Breakfast, Lunch & Dinner
5
Day 05: Acclimatization Day - Namche Bazaar: (3440 m & 11284 feet)
Today we will spend the whole day for acclimatization. We will visit the Namche Market. Namche Bazaar has an Internet café, so you may able to share your feelings and enjoy chatting with others. We will visit Sagarmatha (Everest) National Park, from where you will be rewarded by amazing views of Mt. Everest, Mt. Lhotse, Mt. Nuptse, Mt. Ama Dablam, Mt. Thamserku, Mt. Kongde and many more. As your will, we even can take a small trek to Khumjung Village (1240 ft) - one of Sherpa settlements. The trail leads us to beautiful Flora and Faunas and helps for adapting the altitude.
Accommodation:

Tea House or Trekking Lodge

Meal:

Breakfast, Lunch & Dinner
6
Day 06: Namche Bazaar to Phortse Thanga (3680 m & 12073 feet): 6 km, 5-6 hours
Today we will be climbing the Khumjung hill and will descend down to the broad valley leading the Dudh Kosi from where we turn north. We have two options for the trails. In this position, our expert Guide chooses the best trail according to weather and condition.
At the altitude of 3973 m, one gets the chance to observe the beautiful chorten which descends from Mt. Khumbila at the altitude of 5761 m. Here we will visit the birthplace of reincarnated Lama Rongbuk Monastery of Tibet who introduced the Buddhist religion in the Khumbu Region. Our trails descend to Dudh Khoshi and near the river, we spend the night at Phortse Thanga.
Accommodation:

Tea House or Trekking Lodge

Meal:

Breakfast, Lunch & Dinner
7
Day 07: Phortse Thanga to Machhermo (4470 m & 14663 feet): 10 km, 4-5 hours
Today we will ascend uphill to the Machermo and through the trail, we will trek the Rhododendrons forests, also pass several Waterfalls before reaching the Tonga Village. We will trek through Dhole Labarma and Luza. Luza village has a chorten which we will visit for a while. Then we reach the Machhermo.
Accommodation:

Tea House or Trekking Lodge

Meal:

Breakfast, Lunch & Dinner
8
Day 08: Machhermo to Gokyo (4800 m & 15744 feet.): 7 km, 4-5 hours
Today we will begin with climbing a ridge for a magnificent view downwards the valley to Kangtaiga and trek upwards to Cho Oyu (8153 m). Our path slowly widens as the path passes through the Phangkha, then descending to the river bank before climbing the terminated moraine of the Ngazumpa Glacier on a steep trail. We cross the iron bridge and levels out as the trail follows the valley past the first lake, known as Longpongo (at 4690 m).
At this juncture, we may able to get a chance to meet the footprints of Lama on the stone. After that at the sight of the second lake - Taboche Tsho, we will be mesmerized by the shimmering turquoise blue sheet of water sparkling in the sun. A little ahead of the second lake, we will reach the third lake. Gokyo village is standby on the Third Lake, where Cho Oyu mountain as a backdrop sets an amazing Spectacular sight here. And after lunch, we will explore the third lake Dudh Pokhari.
Accommodation:

Tea House or Trekking Lodge

Meal:

Breakfast, Lunch & Dinner
9
Day 09: Gokyo Valley: Acclimatization Day - Optional Hike to 5th Lake: 6-7 hours
Today we spend the day by acclimatization and resting with side trek of short distance. Along with that in the good weather condition, we will trek to Gokyo Ri and Fourth lake called Thonak Tsho; then after to 5th lake called Ngozumba Tsho. If we want further, we will climb the hill called scoundrels views point, located at the edge of the 5th lake, from where we get astounding views of Cho Oyu, Gyachung Kang, Everest, Lhotse, Nuptse, and Makalu mountains. We also see the Cho Oyu base camp just away from a stone's throw and views of world largest Glacier - Ngozumba. Then we trek back to Gokyo.
Accommodation:

Tea House or Trekking Lodge

Meal:

Breakfast, Lunch & Dinner
10
Day 10: Gokyo to Thagnak (4750 m & 15580 feet.): 4 km, 4 - 5 hours
Today we complete the plan which (if!) didn't fill the last day. We will be surrounded by panoramic views of mountains and the sight of sunrays of the Everest which towers over all the surrounding peaks - is astounding. We will trek through Ngazumpa Glacier and then cross along the edge of the mountain and then wander into Thagnak.
Accommodation:

Tea House or Trekking Lodge

Meal:

Breakfast, Lunch & Dinner
11
Day 11: Thagnak to Cho La pass (5367 m & 17604 feet) to Dzongla (15939 feet): 7 km, 7 - 8 hours
Early in the morning, after having our breakfast - we will start our challenging trek to the Cho La Pass by steep and glacier that cross on the eastern side. The trails from Phedi climbs through the ravine and rocky steeps and while trekking through the side of the frozen lake, we reach to the top of the Pass decorated with prayer flag. We will have to pass through some crevasses before reaching Dzongla village - from where we are reward by magnificent views of Mt. Cholatse, Ama Dablam, Lobuche etc.
Accommodation:

Tea House or Trekking Lodge

Meal:

Breakfast, Lunch & Dinner
12
Day 12: Dzongla to Lobuche (4940 m & 16207 feet): 6 km, 2 - 3 hours
It will be a short trek with an abundant time to rest and relish the magnificence that environs us. Then we climb down from Dzongla and trek over a grassy trail while relishing the sight of Lobuche peak. Our trail will curve through the wide river bed just before reaching Lobuche.
Accommodation:

Tea House or Trekking Lodge

Meal:

Breakfast, Lunch & Dinner
13
Day 13: Lobuche to Gorak Shep (5170 m & 16961 feet), visit Everest Base Camp (5364 m & 17594 feet): 13 km, 6-7 hours
Today we will take the trails head to Everest base camp over the huge Gorak Shep lake through the Indian army Mountaineers' memorials. Our path may be deceptive - so we have to follow the guides' instruction very carefully. Because of the high altitude and thin air, the walk is strenuous. Then we pass through rocky dunes, moraine and stream before reaching the Everest Base Camp. After reaching base camp, we will be rewarded by the magnificent views of Mt Nuptse, Mt. Khumbutse, and Pumori. After while we will return to Gorak Shep.
Optional : the sunset view from Kala Patthar is more attractive and splendid than sunrise, so we recommend for a hike to Kala Patthar.
Accommodation:

Tea House or Trekking Lodge

Meal:

Breakfast, Lunch & Dinner
14
Day 14: Gorak Shep to Kala Patthar (5545 m & 18192 feet) to Pherice (4288 m & 14070 feet): 16 km, 7-8 hours
Early in the morning, we will arrange for trek among pre-dawn darkness and cold temperatures along with chilly winds. The peaks like Lingtren, Khumbutse, Changtse are towered to the east even as Everest begins to Expose itself. But after reaching Kala Patthar, we will get to see the Mt. Everest with 360 degrees. After sightseeing, we will come back to Lobuche. Then after we trail to Periche and stay overnight.
Members who visit Kalapatthar last day will visit Everest Base camp today and come back to Lobuche and join together for lunch and descend to Perice.
Accommodation:

Tea House of Trekking Lodge

Meal:

Breakfast, Lunch & Dinner
15
Day 15: Pheriche to Namche Bazaar: 20 km, 6 - 7 hours
Early in the morning, we will trek down to hillside covered by dense rhododendron and juniper trees. After crossing the prayer-flag festooned over the Dudh Koshi River, we may come through interesting Pheasants and Himalayan goats. Our trails ultimately reach Sansa from where we can enjoy sights of Ama Dablam, Thamserku and Nuptse mountains.
Accommodation:

Tea House or Trekking Lodge

Meal:

Breakfast, Lunch & Dinner
16
Day 16: Namche Bazaar to Lukla (2800 m & 9186 feet): 19 km, 6 - 7 hours
Our trails to Lukla is some steeply and our unstable legs may make unbalanced - so we have to trek carefully over the rocky land. Then we cross the suspension bridge over the Dudh Khosi. After this, our trails become perfect level and natural.
Accommodation:

Tea House or Trekking Lodge

Meal:

Breakfast, Lunch & Dinner
17
Day 17: Fly to Kathmandu
Today we will come back to Kathmandu by the earliest flight. Then you will be taken to the respective hotel. After you get freshened up, as your choice - we will visit the tourist market Thamel for shopping antique.
Accommodation:

A 3 Star Hotel in Kathmandu

Meal:

Breakfast & Farewell Dinner
18
Day 18: Final Departure
Now our journey is going to completely end. After sharing some of the photos and after your reviews, our representative will drop you to the Airport after our farewell program. You will be dropped 3hrs prior to your flight.
Included/Exclude
All the airport transfers by private tourist vehicles.
Four nights' hotel in Kathmandu including breakfast on twin sharing basis.
Sightseeing tour in Kathmandu as per the itinerary.
Your standard meals during the Trek with hot tea/coffee in breakfast.
All necessary paper works, National park entry permits and TIMS permit.
Flight fare (Kathmandu-Lukla-Kathmandu) with domestic airport tax.
All accommodations in lodges/tea houses during the trek on twin sharing basis.
An experienced, helpful and friendly Guide and porters (one porter for each 2 trekkers).
Salary, food, drinks, accommodation, transportation and insurance for the guide and porters.
Arrangement of emergency helicopter service which will be paid by your travel insurance company.
Sleeping bag, down jackets and duffle bag – if Necessary.
All government taxes, VAT and service charge.
Nepal entry visa fee (you may easily issue the visa upon your arrival at Tribhuwan International Airport - Kathmandu). You will require 2 passport size photos.
Your Travel insurance (compulsory).
Food (lunch and dinner) while you are in Kathmandu.
Your personal expenses and entrance fees while you do the tour in Kathmandu.
All the alcoholic and non alcoholic drinks.
Sweet things like chocolate bars and hot shower during the trek.
International airfare and airport departure tax.
Tips for the guide and staffs