Kanchenjunga Circuit Trek
Kanchenjunga Circuit Trek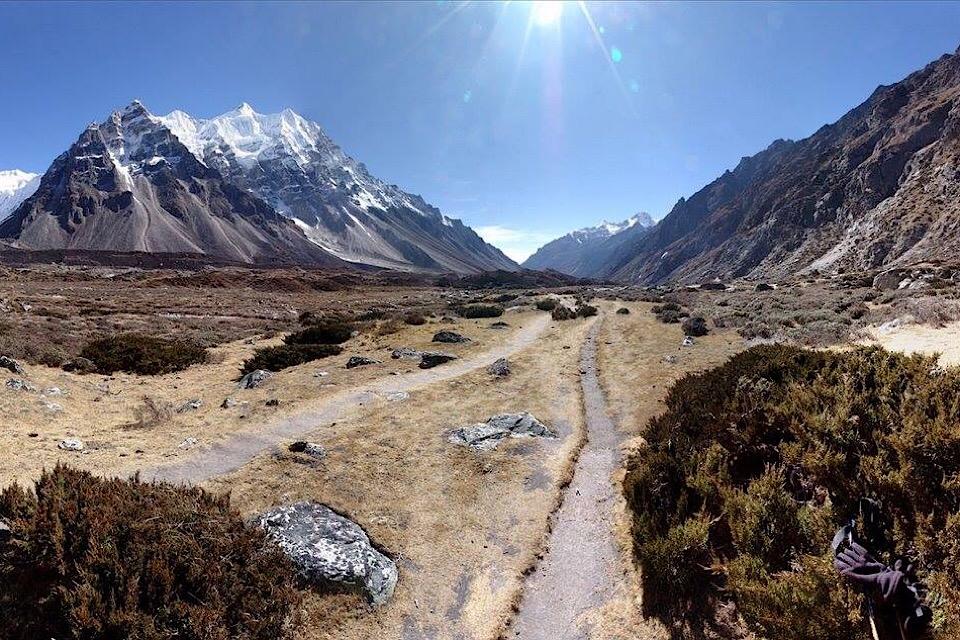 Overview
The word Kanchenjunga is derived from the ancient Tibetan language meaning "the five treasure of snow" and is the third highest mountain in the world at the elevation of 8585 meters. It's geographically located on the eastern border of Nepal and Sikkim. Kanchenjunga Circuit trek takes you to the isolated remote area not crowded as like the Everest and Annapurna trekking region. This trail was strictly restricted until 1988 for trekkers and requires a special permit to enter from the government of Nepal. Mount Kanchenjunga was first ascended by Joe Brown and George band on May 25, 1995.
Kanchenjunga Circuit trek is long and challenging trek though labeled as the finest trekking all through the north and south base camp. It begins from Taplejung. The communities living here are Brahmin and Chhetri, Rai and Limbu to the lower region and Sherpa communities in the higher region. As continuing our trekking and following the glacial river to the alpine region; we reach the lower area of Mount Kanchenjunga. The trail we will be passing is through Sele Le Pass (4501 m) and Mirgin La Pass (4485 m).
The jaw-dropping Himalayan views we get is Kumbhakarna or Jannu peak (7710 m), Chang Himal (6802 m) and of course the Kanchenjunga (8585 m). We then head to the two base camps - north and south and trek to the utmost place that is Lhonak (4791 m) and Pangpema (5145 m). And then retrace back where we came from.
On the trail to this region, you will be trekking through the various flora and fauna conserved by the Kanchenjunga Conservation Area covering an area of 2,035 square km where you might get to spot wild animals like black bear, snow leopard, Tibetan wolf etc. On every trial, you will be visiting several ancient monasteries including exploring the rich culture of the communities and crossing different forest like rhododendron, bamboo, pine, oaks, etc while reaching your destination.
We the Accent Himalaya have developed this 24 days itinerary to this Kanchenjunga Circuit including with your arrival day, trek completion and the departure day. With the help of our experienced guide, porters and camping guide, we have systematically arranged for acclimatization day to avoid altitude sickness - so that you can trek to this wonderful and peaceful land without stress.
The actual trekking to this Kanchenjunga Circuit is flawless during spring and autumn. If you want further changes in the itinerary and departure date, we will be very glad to arrange that for you. To inquire more or have any other question regarding this Kanchenjunga Circuit trek, please do contact or email us.
Here we list you our detailed itinerary for Kanchenjunga Circuit Trek:
Detail Itinerary
1
Day 01: Arrival in Kathmandu (1,300m /4,264 ft)
As you land and check out from the Tribhuwan International Airport, our representative from Accent Himalaya will welcome you, pick up and drop you at your ideal hotel. You don't need to worry about who is going to receive you! In the evening, there will be a welcome dinner hosted by Accent Himalaya with delicious Nepalese cuisine.

Included meals: Dinner
2
Day 02: Kathmandu: sightseeing and trek preparation
After having our breakfast, we will have to be ready to sightsee the Kathmandu valley. We will visit some UNESCO world heritage sites in Kathmandu such as:
Pashupati Chhetra:- A Hindu shrine dedicated to Lord Shiva
Swayambhunath:- religious site for both Hindus and Buddhist
Boudhanath:- worlds' largest Stupa
Kathmandu Durbar square:- historical cultural arts and architecture site

Included meals: Breakfast
3
Day 03: Fly from Kathmandu to Suketar (2,420m/7938ft), trek to Lalikharka (2265m/7,431ft)
Early in the morning, we take our breakfast and take a flight to Suketaar, the eastern region of Nepal, with an amazing route of flight through the green forest, mountain peaks and landscapes. We start our trekking adventure from Suketaar towards Lalikharka through the simultaneous ascending and descending passing through the Lush forest all on the way to Lalikharka.

Included meals: Breakfast, Lunch & Dinner
4
Day 04: Lalikharka to Khesewa (2120m/6,955ft)
Today we continue our trekking adventure after having breakfast. The trails mostly are easy descending until Phudrawa, and again start to climb steep till Yangpang, and steadily up to reach to Phumphe ridge. Another ascent from Phumphe takes us to Khesewa.

Included meals: Breakfast, Lunch & Dinner
5
Day 05: Khesewa to Mamankhe (1785m/5,856ft)
We take our breakfast and continue to trek heading our day destination to Mamankhe. We trek towards Kaberi Khola and trails make us walk through the forest and small stream. We cross several beautiful villages with the magnificent vision of Himalayan range.
Included meals: Breakfast, Lunch & Dinner
6
Day 06: Mamankhe to Yamphudin (2080m/6824ft)
Today we mostly trek uphill but on the easy trails. We mostly walk through the alongside the Kabeli Khola. On the way, we also admire the amazing ridge behind the stream and wonderful waterfall nearby on the way. We cross the suspension bridge and small settlements on our trails and finally come to Yamaphudin.
Included meals: Breakfast, Lunch & Dinner

7
Day 07: Yamphudin to Tortong (2,995m/9,826ft)
We start to walk on the trails commonly used by the villagers and pass through farms and green meadows. We walk on the trails along the Aamji Khola. And with the cross of Lassiya Bhanjyang, we reach Tortong where we spend overnight. On the whole trail, we will be continuously followed by the gorgeous Himalayan views.

Included meals: Breakfast, Lunch & Dinner
8
Day 08: Tortong to Cheram (3,870m/12,696ft)
We take our breakfast and begin to climb steadily to Cheram. We follow the trails right of the Simbuwa Khola. We walk and enjoy the beautiful Lalung valley with Tuplung peak. We cross from the thin rhododendron forests and enjoy the magnificent views of Yalung glacier.

Included meals: Breakfast, Lunch & Dinner
9
Day 09: Cheram: Acclimatization and Rest
Today we stay here at Cheram for rest and acclimatization to the high altitude. We take a small hike and explore the area around the Yalung Glacier. We have an amazing view of peaks such as Kabaru and Rathong.

Included meals: Breakfast, Lunch & Dinner
10
Day 10: Cheram to Ramchaur (Ramche) (4,580m/15,026ft)
With the refreshment of last day, we begin to trek from Cheram to Ram Chaur (meadow or ground). We will ascend before to Snout of the Yalung glacier with beautiful walking on the valley trails. We pass the small settlements of Lapsang and arrive at Ramchaur.
Included meals: Breakfast, Lunch & Dinner

11
Day 11: Ramchaur (Ramche) to Yalung Base Camp (4500m), back to Cheram
Today we walk further up the valley then follow the stream before climbing the moraine top till coming front of Kanchenjunga's south part. We again trek ahead for a glimpse of Jannu Himal and further trek towards the Okthang Monastery. With further climb, we reach to Yalung Base Camp. From Yalung peak, we will be rewarded with glorious views of Jannu ( Kumbakarna), Nyukla Lachung and other Himalayan peaks. And some moment spending there, we descend down to Cheram.
Included meals: Breakfast, Lunch & Dinner
12
Day 12: Cheram to Sele La (4290m/ 14,074ft)
Early in the morning, we have our breakfast and continue to trek passing from Sinelapche Bhanjyang. We cross the Pass and continue to Mirgin La Pass. We continue to trek and soon - we reach Sinion La and ascend up for Sele La pass. We cross the Pass and stay at Sele La for the night.
Included meals: Breakfast, Lunch & Dinner
13
Day 13: Sele La to Ghunsa (3,595/11,794)
We continue to trek after having our breakfast and walk towards the north nearby the Tangbagharma ridge. We reach by the prayers flag marked Chortens, and symbol the steep trails. And we cross through the Rhododendron, pine and birch forest before reaching Ghunsa, a beautiful village with Buddhists prayers flag and dark weathered pine wall.
Included meals: Breakfast, Lunch & Dinner
14
Day 14: Ghunsa to Kambachen (4,050m/13,287ft)
With the magnificent vision of the Scenery Mountains, we trek north along the riverbank, pass through the meadows with beautiful wildflowers and cross the rhododendron and pine forests. We also cross over the bridge on Rampur Kharka, pass the waterfall and cross the tricky landscape section. We the passing the landscape we begin to see the spectacular views Mt. Jannu. And tackling the tricking mountain, we finally arrive at Kambachen.
Included meals: Breakfast, Lunch & Dinner

15
Day 15: Kambachen to Lhonak (4,780m/15,682ft)
We have to start early in the morning to cross this challenging day. We will have to trek through the rocky fields and large boulders on the hillside along the riverbank, and we will arrive at the waterfall. Again we cross the bridge over the stream and head to Ramtang Monastery. We finally arrive at Lhonak after crossing the landslide section and pass the steady trails before descending to the river.
Included meals: Breakfast, Lunch & Dinner

16
Day 16: Kanchenjunga base camp, overnight at Pangpema (5,143/16,873ft)
Today we will trek to our final destination i.e. Kanchenjunga Base Camp. We have to follow the trails that alongside the gigantic Kanchenjunga Glacier. We pass through the Pangpema and ascend to Kanchenjunga Base Camp. It is the amazing and perfect place for extraordinary views of Kanchenjunga, Jannu, and other mountains. From base camp, we again descend down for night stay.

Included meals: Breakfast, Lunch & Dinner
17
Day 17: Pangpema to Lhonak
We descend more down to Lhonak today.

Included meals: Breakfast, Lunch & Dinner
18
Day 18: Lhonak to Ghunsa (3475m/11,400ft)
Our trails again follow back to Ghunsa and we spend our night at Ghunsa.

Included meals: Breakfast, Lunch & Dinner
19
Day 19: Ghunsa to Amjilosa (2,308m/7,572ft)
From Ghunsa, today we are going to trek for Amjilosa passing through the several Manes and Monasteries nearby. We will walk through the forests of Juniper and reach Phale. With steadily descending down to Gyabla crossing the bridge over Chhundatangka and continue to trek visiting the waterfall nearby, we again cross the suspension bridge over the Sumbung Khola and finally reach Amjilosa.

Included meals: Breakfast, Lunch & Dinner
20
Day 20: Amjilosa to Chirwa (1,270m/4,166ft)
We will see the wonderful waterfall early in the morning which gives us the amazing morning freshness. We pass the small settlements of Solima before crossing the Ghunsa Khola over the suspension bridge. With another suspension bridge on same Ghunsa Lhola, we arrive at Sukathum. We will reach Chirwa after crossing the several villages and Thunsa Khola first followed by Tamor River.
Included meals: Breakfast, Lunch & Dinner

21
Day 21: Chirwa to Phurumbu (1,549/5,082ft)
As we are descending down, we find the settlements thicker and thicker. We walk through the lush vegetation and several villages before reaching Sinwa. Again following the way - we have to cross the bridge over the Sinse Khola and we are on the route of Pathibhara trek. With crossing the village and suspension bridge over the Yaphre Khola, we arrive at Phurumbo.
Included meals: Breakfast, Lunch & Dinner

22
Day 22: Phurumbu to Suketar
The trekking route of the Kanchenjunga circuit trek is finally going to end today. We take rest as much as we need after reaching Suketar.

Included meals: Breakfast, Lunch & Dinner
23
Day 23: Fly to Kathmandu
Early in the morning, we have to take a flight to Kathmandu. After landing in the Kathmandu - we will take rest, start packing and visit or do souvenir shopping. We may also visit Kathmandu valley. We will attend the farewell dinner in the evening and celebrate the success of entire trek journey.

Included meals: Breakfast & Dinner
24
Day 24: Final departure
It is time for separation. We have the amazing experience of the trekking. As Accent Himalaya provides the airport pick up and drop service, our representative will drop you to the Tribhuwan International Airport and help as you need until checking in.

Included meals: Breakfast