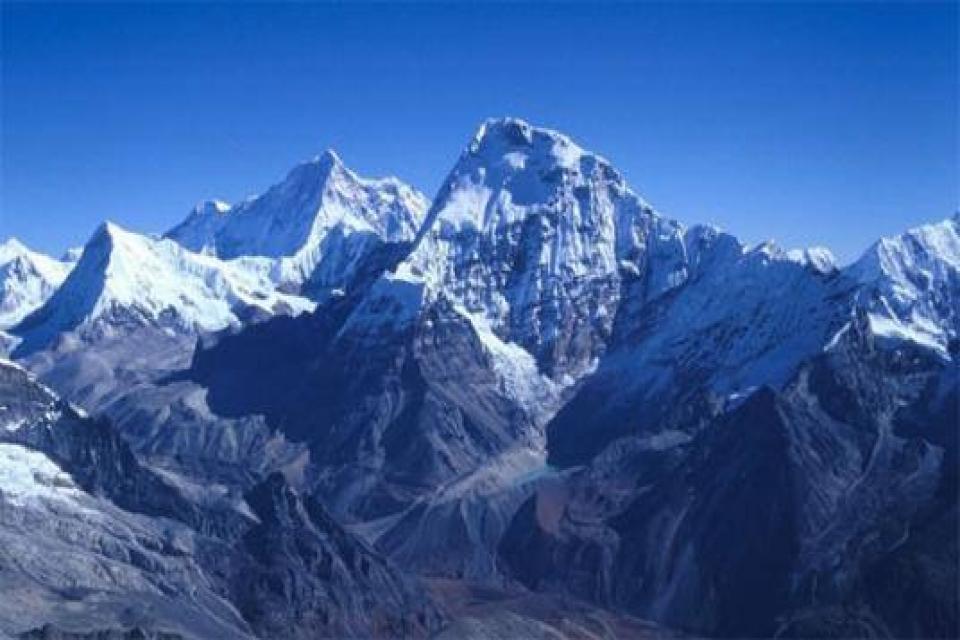 Overview
The Makalu Base Camp trekking is one of the truly popular adventure trekking which will mesmerize your mind with a breathtaking view of Mount Makalu (8465 m - 5th highest in the world). Makalu Base Camp (5251 m) is located at Sherson - beautiful high grazing vicinity close to the slope of the Barun Glacier bounded by an overwhelming range of Himalayan snowcapped peaks.
It lies in the Makalu Barun National Park - the northeast part of the country covering an area of 2331sq ft km. As being a challenging trek, there are some passes to cross; the experience being somewhat thrilling. Any trekkers with sound health can attempt this trekking.
We begin our trek from an airstrip to Tumlingtar (a small village) from Kathmandu. Trekking through terraced fields and passing by some Sherpa Communities, meadows lands, thick rhododendron forest, several challenging passes via Khongma La (3602 m), Kerke La (4126 m), Shipton La (4171m) and Tutu La (4081 m) and continuously trekking; we finally reach Makalu Base Camp. From here we capture the spectacular sights of the world tallest mountain Everest (8848 m) including other peaks like Lhotse (8515 m), Makalu (8465 m), Chamlang (7318 m) and Baruntse (7221 m).
The rewards you get from this demanding trek route are the closest view of Mount Everest, Mount Makalu, and several other peaks. The inhabitants you get to explore in this region are Sherpa, Rai, Limbu etc. The communities here welcome you with their warm hospitability and you get a chance to explore their culture and livelihood. Besides these, on the trail, you also might get to spot several rare wildlife of this region.
The perfect season for trekking in this region is on spring from the month of March to May and autumn from September to November. As this being a popular destination; the trials are somewhat crowded at this time. To avoid crowds, you can also attempt this trek in monsoon and winter. But in winter, there might be snowfall causing difficulty to cross the passes.
We the Accent Himalaya had systematically designed this trek itinerary schedule for you to cover up all the best visiting spots. We also have carefully arranged the day for rest or acclimatization so that you don't face any altitude sickness trekking to high altitude. If our designed itinerary does not fit your vacation schedule, we will customize and set different one that goes smoothly as per your vacation schedule. For further details or if you want to know more, have any questions about this Makalu Base Camp Trek, please feel free to email or contact us.
Here we list our detailed itinerary for Makalu Base Camp:
Detail Itinerary
1
Day 01: Arrival in Kathmandu (1,300m/4,264ft)
Upon your landing and check out from Tribhuwan International Airport, our representative from Accent Himalaya will welcome you, pick up and drop you at your ideal hotel. In the evening, there will be a welcome dinner hosted by Accent Himalaya with delicious Nepalese cuisine.
Included meals: Dinner
2
Day 02: Kathmandu Sightseeing
After having our breakfast, we will have to be ready for sightseeing Kathmandu valley. We will visit some UNESCO world heritage sites in Kathmandu. We will visit:

Pashupati Chhetra:- Hindus most religious place
Swayambhunath:- religious place for both Hindu and Buddhist
Boudhanath:- worlds' largest Stupa
Kathmandu Durbar square:- historical and cultural site

Included meals: Breakfast
3
Day 03: Fly from Kathmandu to Tumlingtar then drive to Chichira (1,980m/6497ft): 50 mins flight, 3-4 hours drive
Early in the morning, we have to take a flight for Tumlintar - so we take our breakfast early in the morning and fly (and join the group or may not if solo). Next, we take a short trek today here to Chichira, small Gurung settlement.

Included meals: Breakfast, Lunch & Dinner
4
Day 04: Chichira to Num (1,560m/5119ft): 6-7 hours
We have to start early in the morning, so we take our breakfast before sunrise and walk through the picturesque villages and lush forest which takes us to Num.

Included meals: Breakfast, Lunch & Dinner
5
Day 05: Num to Seduwa (1,500m/4922 ft): 6-7 hours
With a steep walk through the forests and terraced farms takes us to Barun River, we will cross the river and follow equally steep ascent up to the other side. We have to register our permits after reaching Makalu Barun National Park at Seduwa village. We have to camp on the top of the village.
Included meals: Breakfast, Lunch & Dinner

6
Day 06: Seduwa to Tashigaon (2,100m/6890ft): 4-5 hours
We will ascend the ridge bounded by the Seduwa Khola on the west and Kasuwa Khola to the east. We cross the hillside through villages and small fields and we will be at Tashi Gaon. Tashi gaon is surrounded by the Himalayan panoramic views.

Included meals: Breakfast, Lunch & Dinner
7
Day 07: Tashigaon to Khongma Danda (3,500m/11,483 ft): 6-7 hours
The day will a bit of tough as we will have to walk on the steep trails for higher elevation. We will walk on ascent through forests to stream and reach the ridge. Then our trails get much steeper and we will pass the Kharka (means Grazing land) and then follow a series of rough stone stairs and small lakes ascending to the top of the ridge. And with short walking, we will be at Khogma Danda(ridge).

Included meals: Breakfast, Lunch & Dinner
8
Day 08: Acclimatization/Rest
Today we will have to spend the day for resting and acclimatization. We explore the area and give our body complete rest.

Included meals: Breakfast, Lunch & Dinner
9
Day 09: Khongma Danda to Dobate: 6-7 hours
We have to cross the Shipton La Pass within few hours. We will cross the Kalo Pokhari (black lake) and pass over the Keke La pass at 4170 m from where we can see the marvelous views of Chamlang (7321 m), Peak 6 (6524 m) and peak 7 (6758 m) also descending through the beautiful valley from Keke La pass to Dobate.
Included meals: Breakfast, Lunch & Dinner
10
Day 10: Dobate to Yangri Kharka (3,557m/11,670 ft): 6-7 hours
We pass through the rhododendron forest which leads us to Barun River and reaches Upper Valley. We will have to take care during the first few hours as the trails are steep and arduous. Then we will have a pleasant walk with slowly ascending the altitude until Yangri Kharka.

Included meals: Breakfast, Lunch & Dinner
11
Day 11: Yangri Kharka to Langmale Kharka: (4,410m/14,468ft): 5-6 hours
With a moderate walk to the valley, we pass through yak pastures, lush forests and boulder fields. We will pass Merek and make our way further up - rewarded with scenic views of Himalayas.

Included meals: Breakfast, Lunch & Dinner
12
Day 12: Langmale Kharka to Makalu Base Camp: (4,870m/15,978ft): 6-7 hours
Today we will be at the final destination of our journey to Makalu Base Camp. We will trek on our way up to Shershong and up to Makalu Base Camp. We will have the flat and icy glacier path. Mount Makalu comes on our view as we approach towards Shershong. We sink in the majestic Himalayan panorama surrounded all over as we make way to the Base Camp.

Included meals: Breakfast, Lunch & Dinner
13
Day 13: Explore Makalu Base Camp
Today is the main trekking experience for us because of the exploration of the entire Base camp area with the surrounding mountain peaks. Base Camp is the rocky barren with the large Barun Glacier. We have the magnificent vision of the south face of Makalu and complete Panoramic view of Mt. Everest and Lhotse. We will explore the surrounding peaks and lakes and make a short side trek and celebrate the accomplishment of the base camp.

Included meals: Breakfast, Lunch & Dinner
14
Day 14: Makalu Base Camp to Yangri Kharka: 6-7 hours
With amazing day spending today, we will have to return back much descending than goes up on past days. We cross the Shersong, Langmale Kharka, and Merek. We descend down to the valley and finally stop at Yangri Kharka.

Included meals: Breakfast, Lunch & Dinner
15
Day 15: Yangri Kharka to Dobate: 6-7 hours
Again we will descend down to the valley for Dobate walking through the rocky falls, green forests, and valley. We will follow the river bank of River Barun as we descend down to the trails.

Included meals: Breakfast, Lunch & Dinner
16
Day 16: Dobate to Khongma Danda: 5-6 hours
As we begin to ascend steep trails to Mumbuk and passing through the forest of firs and rhododendron, we cross the Keke la, Tutu La, and Kauma La, in the route. And again descend down to Khongma danda/ridge.

Included meals: Breakfast, Lunch & Dinner
17
Day 17: Khongma Danda to Tashigaon: 4-5 hours
From Khongma Ridge, we continue to trek with frequently long and the descending steep cutting through the hillside. We will lead to the thick forest of Rhododendron and finally being at the Indigenous Sherpa village - Tashigaon.

Included meals: Breakfast, Lunch & Dinner
18
Day 18: Tashigaon to Seduwa: 4-5 hour
Today we again retrace our past day's trails and exit the Makalu Barun National Park while descending down to the Barun River. We also cross the hillside and come to the village and with another few steps descending down, we come to the Seduwa again.
Included meals: Breakfast, Lunch & Dinner

19
Day 19: Seduwa to Num: 5-6 hours
Today we have to reach Num with trails that go down and up and pass through the dense forests and Sherpa villages.
Included meals: Breakfast, Lunch & Dinner

20
Day 20: Num to Tumlingtar: 6-7 hours
We again retrace the path that we already walk to ascend, however, this time we descend down to Tumlingtar passing the village of Chichira with the views of the glorious vista of mount Makalu for the last time.
Included meals: Breakfast, Lunch & Dinner

21
Day 21: Tumlingtar to Kathmandu: 50 mins flight
We have to take a flight to return Kathmandu. After reaching Kathmandu, we take rest. In the evening, there will be a farewell dinner as well as a celebration of the succession of the entire trek adventure with lots of fun and enjoyments.
Included meals: Breakfast & Dinner
22
Day 22: Final departure
Finally, it's time for separation with the amazing experience of trekking journey. Our representative of Accent Himalaya will drop you to the Tribhuwan International Airport and help you need until checking in.
Included meals: Breakfast