Moderate
Adventure Trekking
Nepal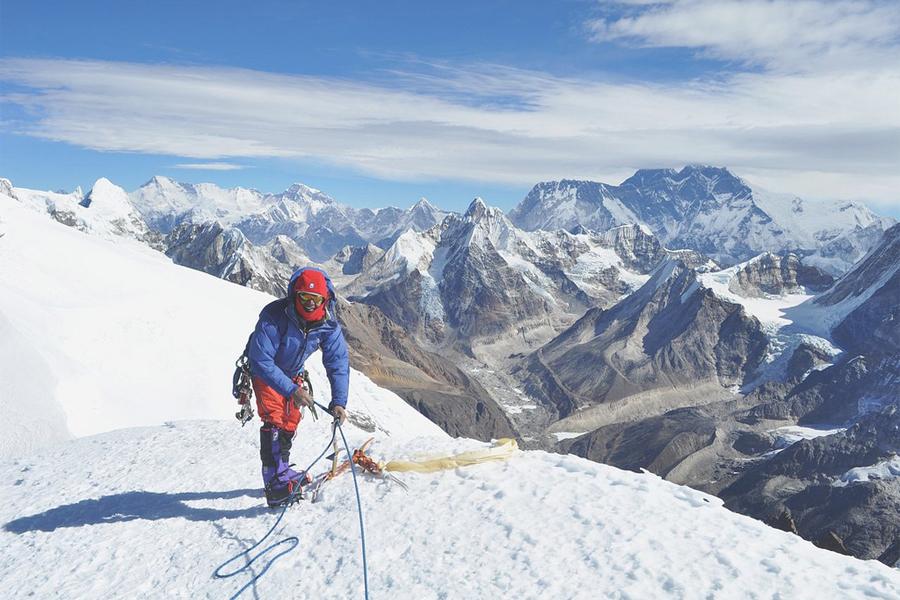 Overview
Mera Peak Climbing Via Amphu Laptsa Pass trekking is one of the stimulating treks in the Everest region as the Mera Peak (6654 m) and the difficult Amphu Laptsa Pass (5845 m) bids you with the mountainous views across ancient monasteries, temples, and the beautiful lakes.
As summiting the Mera Peak, you will be rewarded with the astonishing view of the Mount Everest (8848 m), Mount Lhotse (8516 m), Mount Makalu (8463 m), Mount Cho Oyu (8201 m), Mount Kanchenjunga (8586 m) and several other snowcapped peaks of the Everest region.
This challenging peak was first climbed on 20th of May 1953 by J.O.M. Roberts and Sherpa Sen Tenzing. For summiting this expedition, one needs to be experienced with mountaineering skills with a good level of physical and mental ability - as this peak is situated at high elevation and is very difficult to climb through high glaciers.
This 21 days adventurous journey begins from scenic flight to Lukla and from there we head to Paiyya - through the forest. Next day we head to Pangkoma and continue trekking for few days. After crossing several suspension bridges, we reach Khare, where we will be acclimatizing and do some preparation. Next, we head to Mera High Camp and following day we will be summiting the challenging Mera Peak.
Further trekking, we will be crossing the Amphu Laptsa Pass, which is the most challenging pass in the Khumbu region. As we will be passing through the beautiful Honku valley, you get the spectacular view of the Himalaya of Nepal and Tibet. Even the Honku Glacier is pretty magnificent to watch. We then trek further to Amphu Laptsa Base Camp and from there we will be heading through the trail of the Imja Tse. We will also be crossing the Imja Tsho Lake. We will then finally reach Chhukung and then retrace back to Namche Bazar, to Lukla and finally take an airstrip to Kathmandu.
For the Mera Peak expedition and Amphu Laptsa Pass, the favorable season will be on spring in the month of April to May and in autumn for the month of September to November. As we will be providing you with trained expert climbing guides who will be guiding you all the time and taking care of your safety. So, if you want any further details, have any question regarding this adventurous and challenging Mera peak via Amphu Laptsa Pass, please simply write or contact us.
Here we provide you the itinerary for Mera Peak Climbing Via Amphu Laptsa Pass:
Detail Itinerary