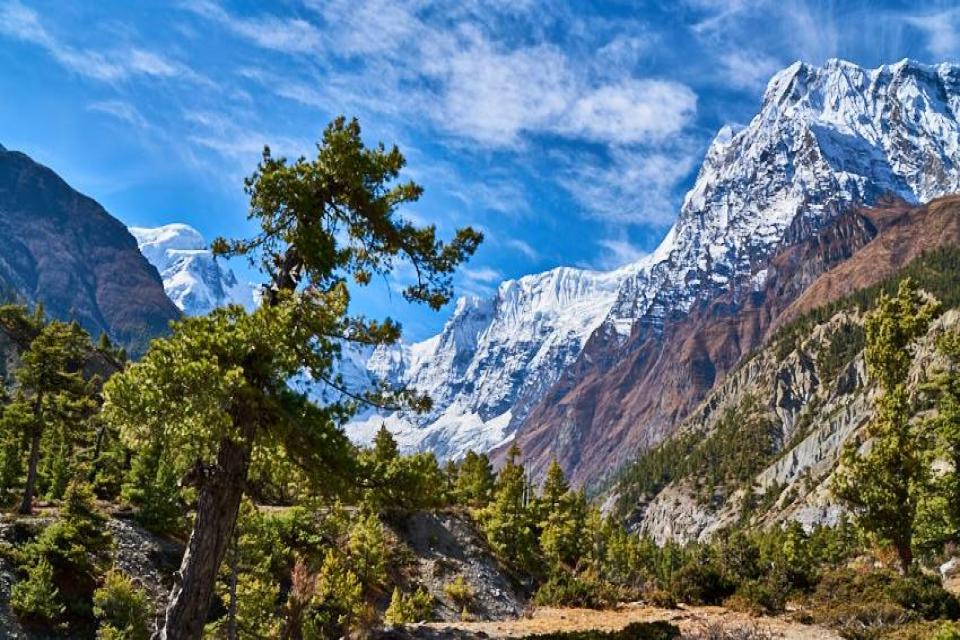 Overview
Nap Phu Valley of the Annapurna Region
Nar Phu Valley is the supreme exclusive trekking region which leads you to the isolated remote and pristine region of Annapurna which is situated in the northeast valley near Chame. These two Nar and Phu are different villages in different valleys where the Nar valley is bigger than the Phu. Earlier this region was a strictly restricted region for treks but the government of Nepal opened this destination from 2003 which has very rich cultural and natural beauty. The residing communities here are people of Tibetan origin bearing Nepali citizenship now, migrated here centuries ago.
The focal fascination of this Nar Phu valley bestow you with the enthralling sights of Mount Manaslu (8165 m), Mount Dhaulagiri (8166 m), Mount Annapurna I (8090 m) and more than 19 snowcapped peaks of Annapurna range while trekking in the wonderful crags throughout your trail. On the trial to Nar Phu, you will also be walking around the attractive flora and fauna throughout your path until you reach Nar Phu valley. This is an inspiring trek where we will also be passing above high passes such as Mesokanto La (5098 m), Kangla Pass (5201 m), Tilicho Pass (5231m) and the fabulous cobalt blue - Tilicho Lake.
The additional magnet of this valley is that we will also be visiting various antique Buddhists nunneries. Continuing on the trail, snow leopards and blue sheep are often perceived in this region. Most of the people residing in this region are dependent on livestock farming practices.
The trekking starts from Chamje, a 9hrs drive from Kathmandu. From here our actual trekking begins where we start the same trail as of the Annapurna circuit. We then reach Koto and crossing the bridge following over the Marshyangdi River to the steep entrances of the Nar Phu valley. This entrance is narrow and the trail is filled with dense forests, the vale structure above opens up to a massive area of snowcapped peaks, isolated villages, and high elevation grazing settlements.
We then explore this isolated region of Nar Phu valley. And even get blessings form the head Lama (Buddhist monk). Alongside we spend ample amount of time with the warm hospitability of people living here and discover the village as we travel around through high hilly valleys above Phu. The Kang La Pass (5316 m) will be our astonishing pass and then head towards the village of Manang which is at the altitude of 3505 m and 11485 ft. We then head to Yak Kharka, then to Thorangpedi, to Muktinath and finally to Jomsom and take an airstrip to Pokhara and back to Kathmandu.
The actual trekking to this valley is flawless during spring and autumn. But we Accent Himalaya operate this trekking every season throughout the year as per the client's holiday schedule. So even if our already made itinerary does not fit your schedule, we even customize you with a different one. For further more details or if you would like to know more about Nar Phu Valley, please feel free to email or contact us.
Here we list our detailed itinerary for Nar Phu Valley Trek:
Detail Itinerary
1
Day 01: Arrival in Kathmandu (1,350m/4,428ft)
After arriving at the Tribhuvan International Airport - the representative of Accent Himalaya will pick you up and drop you at the hotel in a private vehicle. You can feel comfortable and relax and in the evening, we will have welcome dinner together tasting the delicious Nepalese food. We hope you will enjoy that.
Included meals: Dinner
2
Day 02: Kathmandu: Sightseeing and Trek Preparation
Today after having our breakfast, we will be going to sightsee Kathmandu - also known as the town of temple. We visit some UNESCO WORLD HERITAGE sites of Nepal. This includes the Pashupatinath, Kathmandu Durbar Square, Boudhanath, and Swayambhunath temple.
These places are full of historical stories, norms, and value for Nepali people. We find so many interesting and amazing arts and architecture of Nepali culture. The handicraft (Hasthakala, Murtikala, Chitrakala, Bastukala etc) are the main attraction for visitors.
After visiting those places, if we have some extra time - we further may visit other places like Thamel Bazaar, the tourist hotspot in Kathmandu

Included meals: Breakfast
3
Day 03: Kathmandu to Jagat Drive (1100m/3608ft): 8-9 hours
Early in the morning before sunshine, we will prepare for our drive to Jagat from Kathmandu. After having our breakfast, we will catch the bus for Jagat around at 7 am. We will pass through the picturesque views and scenes of Nepalese countryside, lush greeneries, rivers, villages, farms and mountain vistas on our way to Jagat. Drive until Besisahar is smooth and easy and after there we will drive in off-road which is bumpy, however, the driving condition is negligible as of scenic views from windowpane.

Included meals: Breakfast, Lunch & Dinner
4
Day 04: Jagat to Dharapani (1,960m/6,430ft): 7-8 hours
Upon having our breakfast, we start our first trekking steps from Jagat heading towards Dharapani. Our trails lead us until we reach the river and continue through a lush forest. With more ascend to sharp-edged cliff facing riverbank, we lead to Chyamje, with picture amidst the glorious backdrop of towering Annapurna range. We cross a suspension bridge and climb steeply towards the slippery and challenging path to Saattale. After passing the rock-strewn trails, we descend down to grassy riverbank leading to Tal. We walk through the rugged and winding trails and approach the steeply forested village of Karte. From Karte, we have to cross the waterfall and cliffs, then with crossing stream over the bridge will approach at Dharapani.

Included meals: Breakfast, Lunch & Dinner
5
Day 05: Dharapani to Koto (2,610m/8,563ft): 5-6 hours
Today we start our journey in the morning towards Bagarchhap which takes about an hour to pass through the pine and fir forest. On the way, we will visit the whitewashed monastery in near village. Another one-hour trekking lead us to another village called Danaque and our trails are steeply up to Timang. We can get the good views of Mount Manaslu and Peak 29. We again pass through the pine forest till Latamarang and take our lunch. We continue to trek through the forest where we have a short glimpse of Annapurna II. And finally, we arrive at Koto village.

Included meals: Breakfast, Lunch & Dinner
6
Day 06: Koto to Meta (3,560m/11,680ft): 7-8 hours
Early in the morning, we will have to register our restricted area permit at police check post and trek through the riverbank of Soti Khola. And with passing through the wonderful pine forest, stream, suspension bridge we reach Dharmasala and take our packed lunch on the way. Then we ascend through the steep forest to reach the destination of the day, Meta village, Tibetan plateau with the views of Annapurna II and Lamjung Himal.

Included meals: Breakfast, Lunch & Dinner
7
Day 07: Meta to Phu Gaon (4,250m/13,944ft): 7-8 hours
Today we start our day with up and down traversing and crossing suspension bridges over different streams. With 4 hours of our trekking, we reach the Kyang where we can see the remnants, ruined forts of the Khampa settlement, place where Khampa refugees from Tibet once captured and lived. After few walking, we arrive at Phu Khola and with rocky trails we arrive at Phu Gaon (village).

Included meals: Breakfast, Lunch & Dinner
8
Day 08: Acclimatization at Phu Gaon
Expert advice to take rest and acclimatize when we are in long and altitude trekking. So today we spend the day for acclimatization and rest in Phu village. We will explore the village and culture. As we are in the village that is in Lost/Hidden Valley, we can explore the culture, natural diversity and religious practices of ethnic groups like Lama, Gurung, and Gale. We also visit and explore the old monastery which is one of the 108 worlds great Buddhist monastery, called Tashi Lakhang, last monastery constructed by Karmapa Rinpoche. We also admire the views of Himlung Himal and other snow peaks.

Included meals: Breakfast, Lunch & Dinner
9
Day 09: Phu Gaon to Nar (4,110m/13,484ft): 6-7 hours
We pass many streams and suspension bridge till we reach Mahendra Pul. We pass the suspension bridge 80 m over the gorge of Lapche Khola. We take our lunch at Mahendra Pul. Then we ascend the trails with steep passing many Buddhist stupas till reach at Nar Valley.

Included meals: Breakfast, Lunch & Dinner
10
Day 10: Acclimatization and preparation at Nar
Today we again take rest and spend a day for acclimatization. We will hike nearby Nar village and explore the village culture and tradition. We also have to prepare for next day journey.

Included meals: Breakfast, Lunch & Dinner
11
Day 11: Nar to Kang La Pass (5,322m/17,460ft) to Ngwal (3,660m/12,008ft): 7-8 hours
We have a long day trek with adventurous day hike. So we have to be ready early in the morning and start to trek towards Kangla Pass. With the views of massif Annapurna, we further trek down to Ngwal.

Included meals: Breakfast, Lunch & Dinner
12
Day 12: Ngwal to Manang (3,540m/11,614ft): 4-5 hours
Today we will head to Manang. We will pass through the isolated village of Paugh over-looking the amazing views of Annapurna range. We gently move uphill to Mungli and set up our camps after reaching to Manang with the main trail of Annapurna trail.

Included meals: Breakfast, Lunch & Dinner
13
Day 13: Manang to Yak Kharka (4,110m/13,484ft): 3-4 hours
We cross the stream, climbs to a village of Tenki above Manang and then continue to climb out of the Marshyangdi valley turning northwest up the valley of Jarsang Khola. We turn to Northward valley, pass few pastures and juniper trees and steadily gain the elevation. We pass near the village of Ghunsa with a cluster of flat mud roofs just below the trailhead. We will pass the meadow with horses and yaks graze. Then we cross the wooden bridge on the stream and pas the ancient Mani wall. After few walking, we reach Yak Kharka.
Included meals: Breakfast, Lunch & Dinner

14
Day 14: Yak Kharka to Thorong Phedi (4,600m/15,092ft): 3-4 hours
Today we will have to reach to Thorong Phedi, a small settlement with catering to the tired trekkers. Trekkers usually take this place as a base camp. Trekkers try to climb up to the High camp for easiness for next day but this is not a good way as our body gets really tired in a single day.

Included meals: Breakfast, Lunch & Dinner
15
Day 15: Thorong Phedi to Thorong La (5,416m/17764ft) to Muktinath (3,800m/12,467ft): 7-8 hours
We take a long trek for a day. We start early in the morning around 4 am to reach the Pass, Thorong Pass, and make it around at 9-10am. We will climb on a steeply regular using route for easiness to ascend. Problems may arise because of snow and altitude. We will get the reward of amazing views of whole Mustang valley. And we will continue to trek for arriving at the Holy place, the town of Muktinath.
Mukti means to forgive and Nath means God used by Hindus. Muktinath is the Pilgrimage site both for Hindus and Buddhist. We can see the 108 waterspouts, Jwalama Mai Temple with gorgeous natural spring and eternal flame fueled by natural gas.

Included meals: Breakfast, Lunch & Dinner
16
Day 16: Muktinath to Jomsom (2,715m/8,910ft): 5-6 hours
We will return back on the same route to arrive Muktinath. We follow the trail down to the Eklebhatti and walk along with the great Kali Gandaki River to Jomsom. Jomsom is a large town with many facilities, the district headquarter of Mustang. And also have an airstrip.

Included meals: Breakfast, Lunch & Dinner
17
Day 17: Jomsom to Pokhara Flight (823m/2,700ft): 30 min flight
We take the early flight from Jomsom to Pokhara. As your interest, we will visit the Fewa Lakeside in Pokhara. We have a time for visiting and sightseeing around Pokhara valley that covers Fewa Lake, Devi's waterfall, Museum, Tibetan refugee settlement and Gupteshower cave, etc.

Included meals: Breakfast
18
Day 18: Pokhara to Kathmandu (1,350m/4,428ft): 5-6 hours drive
You may extend your trip further to continue onto Chitwan jungle safari, rafting adventure, Kathmandu valley shopping tour, scenic Everest flight, mountain biking and other activities as your choice. In the evening, we will have a farewell dinner with the celebration of succession on entire trek adventure in a traditional Nepalese restaurant.

Included meals: Breakfast & Dinner
19
Day 19: Final departure from Nepal
Our entire trip concludes today. Our Representative will drop you at the airport in Kathmandu for your flight before 3 hours.

Included meals: Breakfast