Moderate
Waling,Trekking
Nepal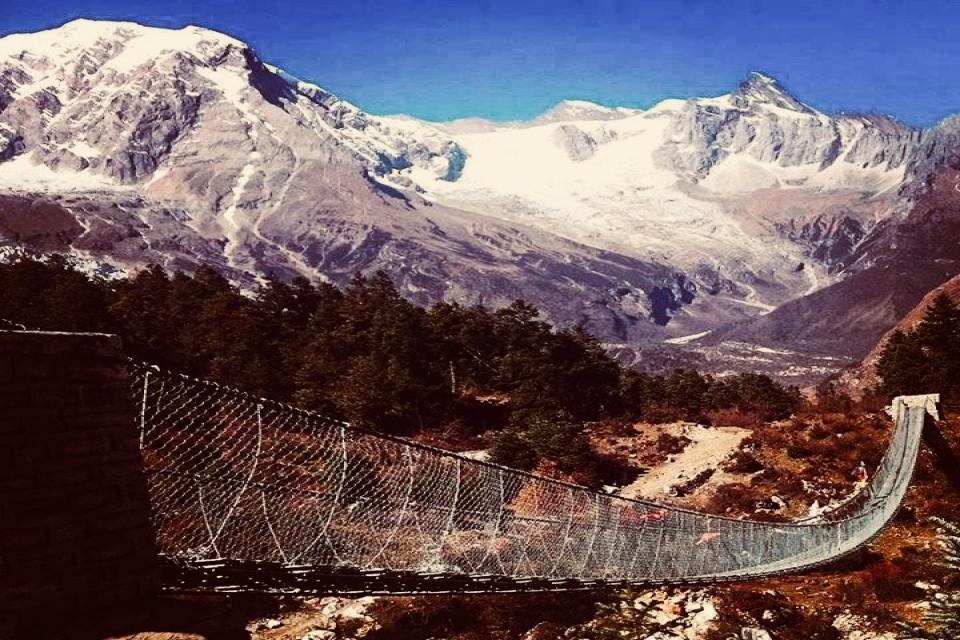 Overview
The Tsum valley is located in northern Gorkha which is snuggled between Budhha Himal (6692 m) and Himal Chuli (7893 m) to the west side, Ganesh Himal (7422 m) to the southern side, and Sringi Himal (7165 m) to the northern side. This valley is also known as hidden valley of the Himalayas.
The Tsum valley is one of the sacred valley which was strictly restricted until October of 2008. Only few trekkers had attempted trekking to this beautiful valley. The main inhabitants of this region are from the Tsumbas communities which are alike Tibetan people. Trekking here, you can explore this unique Tibetan culture which is still preserved in this region. People in this region honor this valley as saint Milarepa meditated on the mountain caves long ago.
Earlier this region had no lodges or accommodation facilities but as the government of Nepal opened this trekking route - there is now little basic accommodation and home stay or even camping is conceivable for this trek. The route to this sanctified pilgrimage site of Tsum Valley begins form drive to Arughat. Our trek begins heading through the dense forests, terraced fields to the upper Budi Gandaki River over undiscovered rural area which is totally colonized by the Tibetan communities and truly Tsum villages like Chhokangparo, where the zone is extendedly deliberated as Baeyul or hidden valley which offers you absolutely pristine culture and traditions of Tsumba.
Plus you get the tremendous glimpses of the Ganesh Himal range (over 7000 m), Shringi Himal (7165 m), Budddha Himal (6692 m) and Himal Chuli (7893 m). The vale is widely rich in culture and traditions. And on the trail of this region, you get to visit Buddhist monasteries, Stupa, Chortens, some huge prayer walls and substantial spiritual monuments. At Dzong and Phurpe, you get to spot the biggest Mani walls which are the great attractions of this trek. And finally after all these marvelous experience, we retrace back to Arughat and then drive back to Kathmandu.
The flawless season for this trek is on the spring and autumn but we Accent Himalaya do organize this trekking all year around. Likewise, the permit for this trekking is also economical as compared to other sites. We have systematically designed this 19 days itinerary from the day of your arrival to exploring Kathmandu, your designated trek and then to your final departure. For additional information about Manaslu Tsum valley, please feel free to contact or email us.
Our detailed itinerary for Manaslu Tsum Valley is listed below:
Detail Itinerary
1
Day 01: Arrive Kathmandu & Transfer to Hotel (1,300m/4,264ft)
Upon your arrival in Kathmandu, Tribhuwan International Airport, you will be welcomed by our representative and drop you at your respective hotel. In the evening, you will be invited for dinner to taste Nepalese food by the management. This food gives you the flavor of Nepalese culture.
2
Day 02: Kathmandu: Sightseeing and Trek Preparation
After having our breakfast, we are ready to visit the most popular places in Kathmandu valley like Pashupatinath, Swayambhunath, Boudhanath, Kathmandu Durbar Square and other places if time permits. After that, we will prepare for our trek adventure. We also meet our crew members and discuss our trip.
3
Day 03: Drive Kathmandu to Arughat (600m/1,968ft) 7-8 hours' drive
Early in the morning, we will drive for western Nepal from Kathmandu through Prithvi High Way via Dhadingbesi. Arugat is divided into two parts by the River Budi Gandaki.
4
Day 04: Arughat to Soti Khola (700m/2,296ft): 5-6 hours
We start our trek after crossing the bridge over Budi Gandaki on the west of Arughat. We will follow the stone-paved street north through the Bazaar. We will pass hydropower plant, rice and millet fields to Mangaltar and through the forest arriving at Shanti Bazaar. Now trails will be much steep, and more difficult as we cross the Arkhet Khola on a suspension bridge. Rapidly running down to high waterfall make a long slog up a ridge to Kuerepani. From here our trails descend down to Soti Khola.
5
Day 05: Soti Khola to Maccha Khola (870m/2,952ft): 6-7 hours
After crossing the bridge and trek through the beautiful Sal forests, we climb onto a ridge above huge rapids on the Budi Gandaki. Our rocky trails weave its way up and down, past two tropical waterfalls on a steep, rocky trails clinging to the side of the cliff. It finally makes its way down and past a few rice terraces, then up and around to the Gurung community of Labubesi. Climbing behind the rocky outcrop where the valley opens and the Budi Gandaki mender among wide gravel bars, descending to the sandy river bed and trekking along rounded stones before ascending over the ridge, heading down to the river and traverse to Machha Khola village.
6
Day 06: Maccha Khola to Jagat (2340m/7676ft): 6-7 hours
With small and narrow trails we will walk-ups and down eventually crossing the Tharo Khola, following a rocky ravine, we reach Khorlabesi. After few ups and down, we will reach Tatopani - a hot spring, from where we climb over another ridge, crossing the Budi Gandaki on a suspension bridge. Next, we climb on a wide well-rafted staircase and crossing the landslide over the ridge - we will reach Dobhan, where we cross the suspension bridge over Dobhan Khola. With trails climbing on a rugged to the Doman, ascending up Budi Gandaki, we will be at Yaru Khola. After crossing suspension bridge on Yaru Khola, we climb more stone stairs to TharoBharyang and crossing the west bank of the Budi Gandaki, climbing over a ridge, we walk along the river and arrive at the village of Jagat.
7
Day 07: Jagat to Chisopani (1660m/5,445ft): 4-5 hours
We finish the Annapurna Conservation Area project process, we will hike on the stony ridge to Salleri, then we drop down to Sirdibas. We will follow the trails towards lasts up to Ghatta Khola and continue upstream to a long simple dangling bridge, we climb up to Philim, large Gurung village, with Japanese made school and police station. After crossing the Philim Village across the forest, we arrive at Chisopani valley.
8
Day 08: Chisopani to Chumling (2,386m/7,827ft): 6 - 7 hours
Early in the morning after having our breakfast, we cross the EkleeBhatti (pub) and also will admire the beautiful waterfalls. Then we pass through the pine forest, descending down to Tsum Valley. We will be climb through pine and Rhododendron forest with an enjoyment of views of Himal Chuli and Boudha Himal from beautiful Lokpa village. After some trek down, we will be at Lungwa Khola and with zigzag difficult trail north through the pines and rhododendron forest, we arrive at Gumlung. We reach Chumling after crossing Siyar Khola and will visit the ChumlingGumba and admire the amazing views of Shringi Himal.
9
Day 09: Chumling to Chokhangparo (3,010m/9,903ft): 4-5 hours
We will cross the suspension bridge to opposite side, enjoying the great views of Himal Ganesh, walking and pass Rainjam to Serpukhola and as we cross over the bridge, we arrive at Gho valley. Another climb on Tsumtake us to the village of Chhokangparo. If lucky and weather supports, we enjoy the views of Himal Chuli and Ganesh Himal.
10
Day 10: Chokhangparo to Neele (3,361m/11,058ft): 5-6 hours
We will ascend above the Chokhangparo with cautious of elevation problems, walk past Lama Gaon, overpass the rope suspension bridge to RachenGomba, also known as Nunnery Gumba, we make the small visit there and cross the Siyar Khola. We continue to walk through the well-managed village with Micro Hydro Power, Lar, Phurbe, and Pangdun. We leave the historical Buddha Stupa in the way crossing the village of Chhule, climbing upstream and cross the bridge, we finally reach Neele. As for consideration, we can make the visit to a famous Monastery of Chhule.
11
Day 11: Nile to Mu Gompa (3,700m/12,174ft): 3 hours
We will almost near to Tibetan border, walk to the west bank of valley passing through the Tibetan landscapes, we ascend up to the Mu Gumba and visit the monastery also the DhephuDomaGumba.
12
Day 12: Mu Gompa, sightseeing
Today we spend the whole day sightseeing and visiting the Gompa region. Mu Gumba is the largest monastery all over the region, lies at the highest and most remote area of tsum valley. We may also hike to Pika Himal base camp.
13
Day 13: Mu Gompa to Burgi Village (3,245m/10644ft) via Milarepa cave: 5 hours
Today we start to return back through the Chhule and Phurbe, on the east bank of Siyar Khola. We arrive at Burgi village and climb up to Milarepa's cave is popular for its mesmerizing glimpses of Poshyop Glacier, Kipu Himal and Churke Himal.
Today we spend whole day with sightseeing and visiting the Gompa region. Mu Gumba is the largest monastery all over the region, lies at the highest and most remote area of tsum valley. We may also hike to Pika Himal base.
14
Day 14: Burgi village -Chumling (2,386/7,827ft): 5-6 hours
After breakfast we continue to trek watching the greenery of the nature and descend down to Chhokangparo again. After some descending to Gho and further we arrive at Sherpu Khola. After some lower trek from Tsum valley we reach again at Chumling.
15
Day 15: Chumling to Philim (1,570m/5,103ft): 6-7 hours
Our trails continue to Lokpa. With the enjoyment of gorgeous Sampa falls, we arrive at Philim that lead us towards the Ganesh Himal base camp.
16
Day 16: Philim to Khorlabesi(970m/3182ft: 6-7 hours
We cross the Jagat and Tatopani to Khorlabesi. With descending trails towards Sirdibas we reach at Jagat and further to yaruphant. We continue to trek to Dovan and arrive at Tapopani as you interest we dip and sooth our tired muscles on hot springs on Tatopani. After that we descend to Khorlabesi.
17
Day 17: Khorlabesi to Soti Khola (700m/2,296ft): 6-7 hours
We cross the Tharokhola following in the rocky ravine, heading down to Machhakhola village, walking along to Budi Gandakee and cross the Sal forests, bridge to cross to arriveSotikhola.
18
Day 18: Soti Khola to Arughat to Kathmandu (600m/1,968ft): Walk 4 hours and drive 7-8 hours
We arrive at Arkhet climb up to the ridge of kyorpani descending to the waterfalls. We are leaving the Budi Gandakee valley, crossing the Arkhet Khola. After arriving at Santi bazaar passing through the Maltar forest, crossing the Hydro Power, we arrive at Arughat. We catch the bus and come back to Kathmandu. In the evening we will have the farewell program.
19
Day 19: Departure
Today you will be return to your home after along exploration in Nepal. If you have enough time we will make some shopping and just before 3 hours to your flight time you will drop you to the international airport. We will ready to help you any time.
Included/Exclude
All airport/hotel transfers
Two nights' accommodation with breakfast at a 3-star category hotel in Kathmandu
Full board meals with tea/coffee (breakfast, lunch and dinner) during the trek
Best available twin sharing lodge to lodge accommodation during the trek
One highly experienced, helpful and friendly guide, porter (1 porter for 2 people) and their food, accommodation, salary, equipment, and accidental insurance for all staff
Surface transfer from Kathmandu – Arughat by private jeep and Arughat to Soti Khola by local jeep. Similarly transport from Dharapani – Beshisahar by public jeep and Beshisahar – Kathmandu by private car
All necessary permits including Annapurna and Manaslu conservation, and TIMS card fees
First aid medical kit
Government taxes and office service charge
Meals not specified in the 'Meal Inclusions' in the itinerary'
Travel insurance
International airfare
Nepal entry visa: you can obtain a visa easily upon your arrival at Tribhuwan International Airport in Kathmandu. (a multiple-entry tourist visa good for 30 days can be obtained by paying US $ 40 or equivalent foreign currency. Similarly, multiple-entry tourist visas for 90 days can be obtained by paying US $ 100. Please bring 2 copies of passport-size photos.)
Cold drinks, bottled or boiled water, snacks and other personal expenses
Hot shower during the trek
Personal trekking equipments
Tips and gratuities for trekking staff and drivers