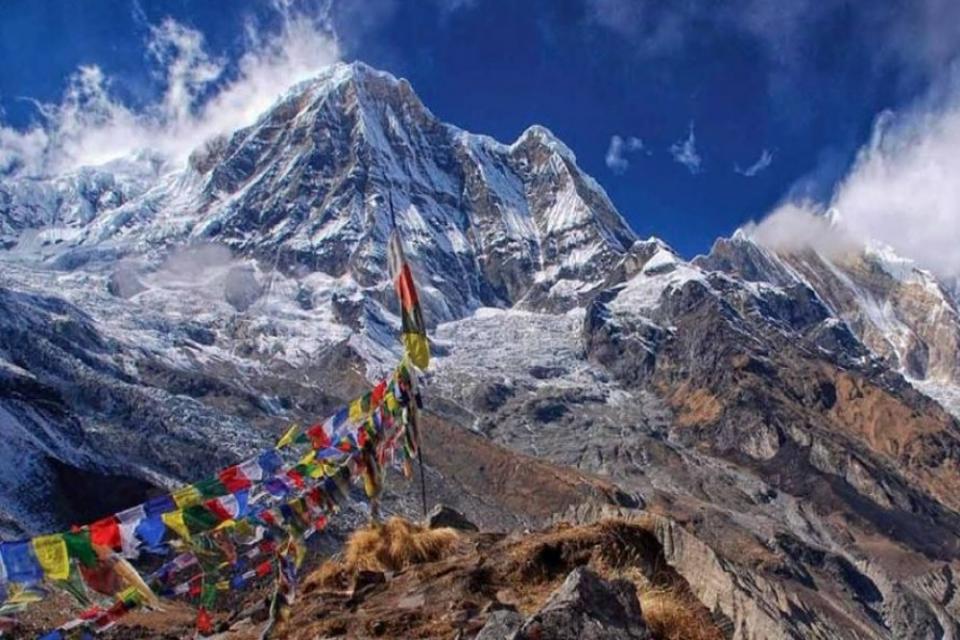 Overview
Annapurna Sanctuary Trekking is well known as Tea House Trekking to the Annapurna region. Located in the central Nepal, it is supremely varied geographically and traditionally. Annapurna I, which is the highest in the Annapurna region (8000 m), was first successfully ascended by the French team in 1950. This Annapurna Sanctuary Trek is also known as Annapurna Base Camp. This region is home to various flora and fauna and on the trail, you will be spotting various ethnic communities like Brahmin, Chettri, Gurung, Magar, Newar, and Tibetan where you get a glimpse of their culture and livelihood.
The Annapurna Sanctuary Trek begins with a scenic drive to Pokhara and we will be spending our night at the hotel near Lakeside. The following day, we take a drive to Nayapul following the route to the Ghorepani, and continuing trekking to reach Ghorepani and wander around the scenic beauty there.
The following day early in the morning, we will climb for stunning Poon Hill to perceive the sunrise over the Himalayan peaks like the Dhaulagiri (8166m), Nilgiri (7040 m), Fishtail (6995 m), Annapurna I (8090 m), Annapurna II (7935 m), Annapurna III (7550 m), Annapurna IV (7520 m), Annapurna South (7218 m), Hiunchuli (6440 m), Lamjung Himal (6985 m) and Tukuche Peak (6925 m).
After enough time relishing in Poon Hill, we will head back to Ghorepani and then towards the path of Tadapani. From there, we trek descending to Chomrong. The next day, our actual trekking destination begins where we will be heading to Annapurna Base Camp subsequently stopping in Dovan and Deurali to spend our night. We then retrace back to the Annapurna Base Camp, then to Chomrong and on the way we reach Jhinu. Here you can enjoy the natural hot spring if you would like to. Then continue our trek to Pothana where we will be spending our night and from there we drive to Pokhara and finally to Kathmandu.
Spring and autumn are the best seasons for this trek where you also get the natural alpine forest and other flora of forest blooming beautifully on the surrounding trails. In autumn, views of the mountains are also very clearly perceived.
We the Accent Himalaya can arrange this trekking in every season according to our client's desire. We have designed this 15 days itinerary from the day of your arrival to exploring Kathmandu, your designated trek and then to your final departure. On these 15 days, we will be taking all your responsibilities and making sure you get the best possible services throughout the trip and try making your journey memorable. If you would like to change or customize the itinerary which fits your vacation, we are always open. So if you want to know further details about this Annapurna Sanctuary Trek, have any inquiries, please feel free to contact or email us.
Below we list you our detailed itinerary for Annapurna Sanctuary Trek:
Detail Itinerary
1
Day 1 :Meet at the group hotel in Kathmandu. Transfers from Kathmandu Airport are provided.
We provide airport pick up service, so our representative will pick you up and drop to your respective hotel. We will visit the management team and meet our guide and exchange information. In the evening, we get together for dinner hosted by Accent Himalaya with delicious and wonderful Nepalese taste.
2
Day 2 :Drive to Pokhara and explore this beautiful lakeside town on the south side of the Annapurna Himal.
After having our breakfast early in the morning, we will prepare for the drive to Pokhara. We drive along with the magnificent views of the green landscape, farm fields, and hills. After arriving in Pokhara, we will freshen up and visit the lakeside, Fewa lakeside of Pokhara from the south side of great Annapurna Himal.
3
Day 3 :Drive to Nayapul, from where we begin trekking to our overnight halt at Hille.
Today we will drive to Nayapul from Pokhara for 2 hours. Then we exclusively start our trekking adventure and follow the track that leads us toward Hille. We follow the Modhi Khola and ascend the Burungdi Khola valley. We will encounter some famous Annapurna sanctuary steps today. Our ascent will gentle and warm up for upcoming days.
4
Day 4 :Trek through forest of rhododendron and pine to Ghorepani (2860m), at the foot of Poon Hill.
Today we will ascend through the forest, crossing suspension bridges and follow the path towards Ulleeri - large Magar Village. Our path will ascend to Banthanti with gradual steeper before passing through the forest of rhododendron, oak, and magnolia towards Ghorepani.
5
Day 5 :Sunrise on the Annapurnas from Poon Hill (3195m). Trek further into the Sanctuary, to Chuile.
Today we will have to wake up early in the morning before dawn rays hit the mountain - as for the amazing experience of sunrise on Annapurna from Poon Hill viewpoint. We will trek with head torches early in the morning .and will be able to see the magnificent views of Annapurna, Dhaulagiri, Tukuche with beautiful pink rays. Then after we will descend back to Ghorepani. We take our breakfast and continue to trek trails heading to Chuile, on the south side of the Annapurna Sanctuary. We will able to glimpse mountains like Machhepucchre.
6
Day 6 :Trek to Bhanuwa (2110m) via the village of Chhomrong.
We will trek steeply down to the river, crossing another Suspension bridge, through the landscape - we reach Chhomrong and take lunch. We can see the true grandeur of the mountains like Macchapucchre, HiunChuli, Annapurna south. After the steep descent, largely on steps, we will come here at Bhanuwa.
7
Day 7 :Trek to 'Himalaya' (2920m).
Today our trails follow climbing terraced fields and through the forest of bamboo and Rhododendron to the ridge crest at Sinuwa Hill Top. We will continue through forest mostly following the contour along the valley side before making a short descend to Bamboo. And we climb again passing the Dovan till we reach to Himalaya.
8
Day 8 :Trek into the gateway of the Annapurna Sanctuary to Machhapucchre Basecamp (MBC) at 3700m.
Trekking along the way, we will pass the fire-blackened overhang of Hinko cave and we reach Deorali. After passing narrow on the steep-sided gorge - we will be at the gateway of Annapurna Sanctuary. Then we will cross the Modi Khola to the east side for a while before returning to the west to climb up the area aka Machhapuchhre Base Camp.
9
Day 9 :Trek to Annapurna Base Camp (ABC) in the heart of the Sanctuary.
Today we will have short and spectacular trekking trail. We will walk gently towards Annapurna south base camp. We will be rewarded for our efforts with impressive and jaw-dropping mountain moments. With the experience of amazing mountain views, we will reach Annapurna base camp.
10
Day 10 :Early start for the sunrise views. Then, after breakfast at the lodge, descend to Dobhan (2540m).
After taking our breakfast, we will leave all those behind and retrace our steps towards MBC, and after towards Deurali. After taking lunch at Deurali, we will continue to descent towards Modikhola and reach Dovan.
11
Day 11 :Trek via Bamboo and the ridge-top settlement of Sinuwa to Chhomrong (2170m).
We will trek back again through the forest, passing Bamboo and ridge top Sinuwa, where we take lunch. After lunch, we will cross the forest and catch at terraced fields and descend to Chumrong Khola. Finally the clime up of staircase stone takes us to Chhomorg.
12
Day 12 :Trek out to SyauliBhatti and then return by vehicle to Pokhara.
After steeply climb up of Chhomrong, we drop steeply down to Jhinu, where some hot springs are located. After crossing the Kimrong Khola on a bridge, we follow the river till we reach Modi Khola. After some climb up from Khola, we will pass through terracing and a small village. We will reach SyauliBhatti and take a vehicle drive to Pokhara. We will visit Fewa Tal in the evening.
13
Day 13 :Drive to Kathmandu. Afternoon free to relax by the pool or to do some independent sightseeing.
We will return to Kathmandu from Pokhara same route we followed before. In the evening, we will have farewell dinner and celebration of trek succession. Also, share some wonderful photos.
14
Day 14 :Departure day. Transfers to Kathmandu Airport are provided.
As it's time to say - GoodBye, we will drop you at the airport before 3hrs to your flight. If time permits, we will visit the market for your final shopping in Nepal.
Included/Exclude
Airport pickups and drops ina private vehicle
3-star hotel accommodation in Kathmandu and Pokhara with breakfast
Teahouse accommodation during the trek
All meals (breakfast, lunch and dinner) during the trek
Welcome and farewell dinners
All ground transportation on a comfortable private vehicle as per the itinerary
Tourist Bus (Kathmandu- Pokhara -Kathmandu)
Guided city tour in Kathmandu by private vehicle
Entrance fees for sightseeing/monument visits as per the itinerary
An experienced, English-speaking and government-licensed trek leader and assistant trek leader (4 trekkers: 1 assistant guide)
Porter service (2 trekkers: 1 porter)
Staff costs including their salary, insurance, equipment, food and accommodation
Down jacket and sleeping bag (to be returned after trip completion)
Accent Hmalaya bag/duffel bag, t-shirt and trekking map are yours to take
All necessary paperwork and trekking permits (ACAP, TIMS)
Medical kit (carried by your trek leader)
All government and local taxes
Nepalese visa fee
Excess baggage charge(s)
Private transportation except what is mentioned in the What Is Included section
Extra night accommodation in Kathmandu and Pokhara because of early arrival, late departure, early return from mountain (due to any reason) than the scheduled itinerary
Lunch and evening meals in Kathmandu and Pokhara (and also in the case of early return from the mountain than the scheduled itinerary)
International flights
Travel and rescue insurance
Personal expenses (phone calls, laundry, bar bills, battery recharge, extra porters, bottle or boiled water, shower, etc.)
Tips for guide(s), porter(s) and driver(s)