Everest Base Camp Trek - 15 Days
Everest Base Camp Trek - 15 Days
Moderate
Trekking
Nepal
5643 M / 18513 ft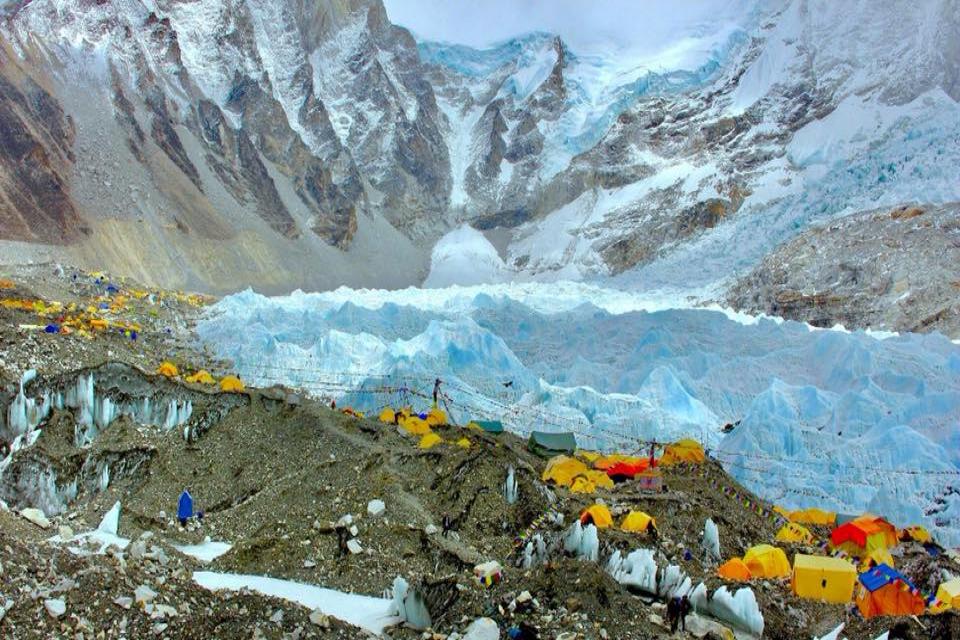 Overview
Everest Base Camp Trekking can be your right choice to experience the adventurous and historic route to the base of the world's highest mountain. Everest base camp has been popular destination for trekkers since the very first expeditions to the Nepalese side of Everest in 1953. After a mountain flight to Lukla, your journey begins with the spectacular mountain scenes, trails lined with Mari stones and winsome view of Rhododendron forests. Buddhist temples and monasteries will welcome you in your every footsteps which keep you moving on with great hope of having unforgettable experience during the trip.
The trip to Everest Base Camp is not easy but definitely worth it. The trek passes through numerous Buddhist villages, Sherpa communities and variety of Tibetan influenced monasteries conceding at Kala Patthar (5,550 meters). Visitors to this area can no longer remain praising the Sherpa's loyalty and natural beauty. The trip includes Namche Bazar, panoramic view of Syangboche, Tengboche, Kalapathar, Lhotse. We assure that when you return, you will have an unimaginable experience, thrilling and worthy memories along with the warm hospitality poured by the locals.
Other interesting alternative routes!
Make your trip even more exciting by adding a helicopter tour in your return journey! Or else, you can opt for Everest Base Camp Trek with Gokyo lakes or Everest Base Camp with three High passes trek. For more detailed info, go through the packages in our site.
So, get set for this adventurous trek with accent himalaya
Why Everest Base Camp Trek?
Achieve a lifetime goal of walking to the top of the world – Everest Base Camp

Relish the panoramic views of mountains in the Everest region with glorious sunrise/ sunset views from Kalapatthar

Get some insights on Buddhist religion, Sherpa people, their culture, custom and lifestyle

Admire the gorgeous views of mountains, alpine forests, rivers, floras, and faunas in the Sagarmatha National Park of Nepal
Test the suitability of the trek!
You should be able to walk for 4 to 6 hours a day continuously for around 11 days

The paths may/ mayn't be well leveled. It undulates up and down that may go steep in some portions of the journey

You should be able to resist an elevation gain of around 400-600 meters each day during the trip.

The food and lodges available at the higher altitudinal regions are really basic and simple therefore, you should be able to adapt with the best available in that scenario.

The highest point of Everest Base Camp Trek is 5550 meters at Kalapatthar.

You should be physically fit with some level of physical stamina

Follow to Guide
This is a 15-day itinerary, that the accent himalaya trekking team has carefully arranged to focus on the level of adaptation of high altitudes by modifying each and every step from day 1 till your departure date. So, if this itinerary does not fit you - please let us know & we'll set up a different itinerary for you according to your holiday schedule. Also, be ready to experience something new!
Detail Itinerary
Day 01 : Arrival Day in Kathmandu Nepal
Our representative from Accent himalaya will pick you up at the arrival terminal of the Tribhuwan International airport and escort you to a hotel in Kathmandu. Check in to the hotel and freshen up for a while. In case of any queries regarding the trip, you can consult our representative.
Day 02 : Kathmandu world Heritage site Tour
A free day in Kathmandu to relieve you from jetlag on long flights. sightseeing tour (optional) starts after breakfast in the hotel, where you will be engrossed with the tour around world heritage sites and our manager will brief you about the Itinerary and plans for next day .
DAY 3 - KATHMANDU TO LUKLA FLIGHT AND PHAKDING

Altitude: 2,800m/9184ft (Lukla) & 2,652m/8,698ft (Phakding)
Walking Distance: 8km (3-4 hours) *
Flight time: 15 min from Ramecchap
Drive time: 4 hours & 30mins (Kathmandu to Ramecchap)

We start our day early! You will be picked up at your hotel and transferred to the domestic terminal of Kathmandu airport for a flight to Lukla. A thrilling flight above the Himalayas will take you to Lukla airport in the Khumbu region of Nepal. Upon arrival, we meet our trekking crew members there who will lead you for your trekking journey ahead. We start our trek with a descend down to Dudhkoshi river. With the astonishing views of the river and other scenic views, we head along a well-leveled path to Phakding. Phakding is a small village on the way with few lodges and guesthouses. We stop at a guesthouse and enjoy our time talking, interacting or exploring around the area. Overnight in Phakding
DAY 4 - PHAKDING TO NAMCHE BAZAAR
Altitude:3,440m/11,283ft
Walking Distance: 10-12km (5-6 hours)
As you get higher, you need to get well acclimatized to sustain the elevation gain. Hence, we have separated this day for acclimatization in Namche Bazaar. Namche Bazaar, also popular as the capital of the Khumbu region is a lively place to be at. It is full of shops, lodges, cyber café, and hotels. Strolling along the narrow and crowded path of Namche is a unique experience to mingle with. Today, we walk up to the Everest view hotel for some close views of mountains in Everest. After enjoying the close-up views of Mt. Everest, Mt. Nuptse, Mt. Lhotse, Mt. Ama Dablam, Mt. Tawache, Mt. Thamserku, etc, we descend down to Namche. On the way back, we visit a popular museum and photo gallery on the way. Overnight at Namche.
Day 05 : ACCLIMATIZATION DAY IN NAMCHE BAZAR
This is a quite leisurely day. There are plenty of things to enjoy around Namche Bazaar. You can spend a day there acclimatizing yourself. Namche Bazaar is the main center of the Khumbu region. Khumbuwan and has many government offices, bank facilities like ATMs, Internet cybercafes, shops, restaurants, and a colorful market. Our guides will take you to explore the real charm of Namche Bazaar. Hiking to Sagarmatha National Park rewards the trekkers with a sunrise view and the views of Mount Everest, Lhotse, Nuptse, AmaDablam, Thamserku, Kongde and so on. If you are interested in a day hike, you can trek to Khumjung village, a beautiful village rich in Sherpa culture. While exploring and observing Namche Bazar, you can observe traditional Sherpa life, Khumjung Hillary School and enjoy flora and fauna found at such a high altitude. You will stay that night in Namche Bazaar.
DAY 06 - NAMCHE BAZAAR TO TENGBOCHE
Altitude:,870m/12,684ft
Walking Distance: 10km (6 hours)
Your trail extends to some wonderful phases of the entire journey. You will be blessed with some inspiring views of Mt. Everest, Mt. Nuptse, Mt. Lhotse, Mt. Ama Dablam, Mt. Tawache, Mt. Thamserku, etc on your way to Tengboche. Upon arrival, you visit a monastery in that place. Also, known as Tengboche monastery, it is a popular monastery in the entire Khumbu region. We pay our visit to the monastery and explore around the place for some striking close up views of mountains especially Mt. Amadablam. Overnight at Tengboche
DAY 07- TENGBOCHE TO DINGBOCHE
Altitude:4,400m/14,435ft
Walking Distance: 11km (6 hours)
Leaving the monastery, we head towards the summer settlements of Dingboche. On the way, we pass Pangboche which is a large Sherpa settlement of that area. If interested, we can visit the oldest monastery in the region here. However, we may skip the plan and walk ahead until we reach Dingboche. Overnight at Dingboche
DAY 08 - DINGBOCHE: REST AND ACCLIMATIZATION DAY
Altitude: 4,400m/14,435ft
As we are gaining height simultaneously and are up for gaining, even more, it is a wise decision to acclimatize ourselves for our journey ahead. Therefore, we stop at Dingboche as we have plenty of options to spend our time here. We can either explore the village or hike up to some vantage points around and return back to Dingboche for overnight stay.
DAY 09 - DINGBOCHE TO LOBUCHE
Altitude:4,900m/16,076ft
Walking Distance: 11-12 km (6-7 hours)
We pass the summer settlements of Dingboche and walk ahead along the wilderness of mountainous terrain to Lobuche. On the route, we pass Thukla village with magnificent views of Mt. Nuptse, Mt. Lobuche and Mt. Pumori on sight. We walk until we reach Lobuche – a small village/ settlement with few hotels, lodges, teahouses, and homestays with very basic facilities. Overnight at Lobuche
DAY 10 - LOBUCHE TO GORAKSHEP AND EVEREST BASE CAMP, EBC TO GOREKSHEP
Altitude:5180m/16,994ft(Gorekshep)&5364m/17598(EBC)
Walking Distance: 15km (6-8 hours)
It is the most adventurous day of our entire journey. We leave Lobuche and head along the mountainous terrain to Gorekshep. From here, we hike up to Everest Base Camp, the top of the world. You will be blessed with some astounding views of mountains like Mt. Lhotse, mt. Nuptse, Mt. Ama Dablam and Mt. Pumori however the mighty Everest is invisible from the base camp. Hence, we hike up to Kala Patthar for some glorious views of mountains amidst the sunset. Kalapatthar is best known for the outstanding views of mountains in the Everest region. The sunset view as the golden sun hides behind the snow clad mountains is a pleasing view to relish your eyes with. We return to Gorekshep for the night.
DAY 11 - GOREKSHEP TO KALAPATHAR AND PHERICHE
Altitude:5,545m/18,192ft(Kalapathar)&4,320m/14,173ft(Pheriche)
Walking Distance: 12-13km (5-6 hours)
We initiate our return journey today. After accomplishing your dream of being there at the Everest Base Camp, we retrace our steps back through the same path to Pheriche. Even in the return journey, you will be showered with the glorifying views of mountains, glaciers, icefalls, mountainous terrain and many more. We descend down until we reach Pheriche. Overnight at Pheriche.
DAY 12 - PHERICHE TO NAMCHE
Altitude:3,440m/11,284ft
Walking Distance: 13-15km (7-8 hours)
As we return back, our pace gets faster. We find ourselves walking down along an easier path with the amazing views of villages, forests, and mountains. We continue marching forward until we reach Namche, our stopping point for the night.
DAY 13 - NAMCHE TO PHAKDING AND LUKLA
Altitude:2,800m/9,184ft
Walking Distance: 16km (6-7 hours)
Further, we descend down via the same path to Lukla. We cross the same suspension bridges, river, forests and Sherpa settlements to Lukla. We stay at a guesthouse in Lukla for the night. It would be our last day in the Khumbu region of Nepal.
DAY 14 - LUKLA TO KATHMANDU
Altitude:1350m/4428ft
Flight time: 35 min
You catch a flight from Lukla that will bring you back to Kathmandu. You will be picked up by our staffs at the airport and will be escorted to a hotel in Kathmandu. You can spend the rest of the day on your own. You can either explore the streets or enjoy your time shopping in the malls around. You can pick some souvenirs from Nepal for your family and friends back to your homeland. Overnight in Kathmandu
DAY 15 - Departure Day From Nepal : 1,350m/4,428ft
This is final departure Day from Nepal . it's time for you to leave for your destination ahead. You will be dropped at the airport three hours before your scheduled flight. Hope you had a good time and hope to serve you once again! Do not forget to recommend us for your friends and families in the days to come. END of Service
Included/Exclude
All ground transport in a private vehicle including airport transfers
Four nights' accommodation with breakfast at a 3-star category hotel in Kathmandu
Kathmandu city tours, including all entry fees, tour guide, and private transportation
Three daily meals with tea/coffee (breakfast, lunch, and dinner) during the trek
Best available twin sharing lodge for accommodation during the trek. Private bathrooms with hot showers are provided at Phakding, Namche and Lukla
Snacks of seasonal fruits during the trek
One highly experienced, helpful and friendly guide. Porters (1 porter for 2 people) and their food, accommodation, salary, and equipment. Accident insurance for all staff
Round trip flight Kathmandu – Lukla / Lukla – Kathmandu including departure taxes
Down jacket and sleeping bag use while trekking
Duffle bag for trekking
Trekking map and trip achievement certificate
First aid medicine kit
Sagarmatha National Park Permit fee
TIMS Fee- Trekkers' Information Management System (Please bring 2 passport size photos for permit)
Government taxes & office service charge
Meals not specified in the 'Meal Inclusions' in the above itinerary
Personal Travel insurance
International airfare
Nepal entry visa. You can obtain a visa easily upon your arrival at Tribhuwan International Airport in Kathmandu. A multiple-entry tourist visa good for 30 days can be obtained by paying the US $ 40 or equivalent in foreign currency. Similarly, multiple-entry tourist visas for 90 days can be obtained by paying US $ 100. Please bring 2 passport-size photos.
Soft drinks including water
Snacks and other personal expenses
Hot showers during the trek except when in Phakding, Namche and Lukla
Personal trekking equipment
WiFi internet and phone call unless it's free.
Tips and gratuities for trekking staff and drivers