Ghorepani Poon Hill Ghandruk trek
Ghorepani Poon Hill Ghandruk trek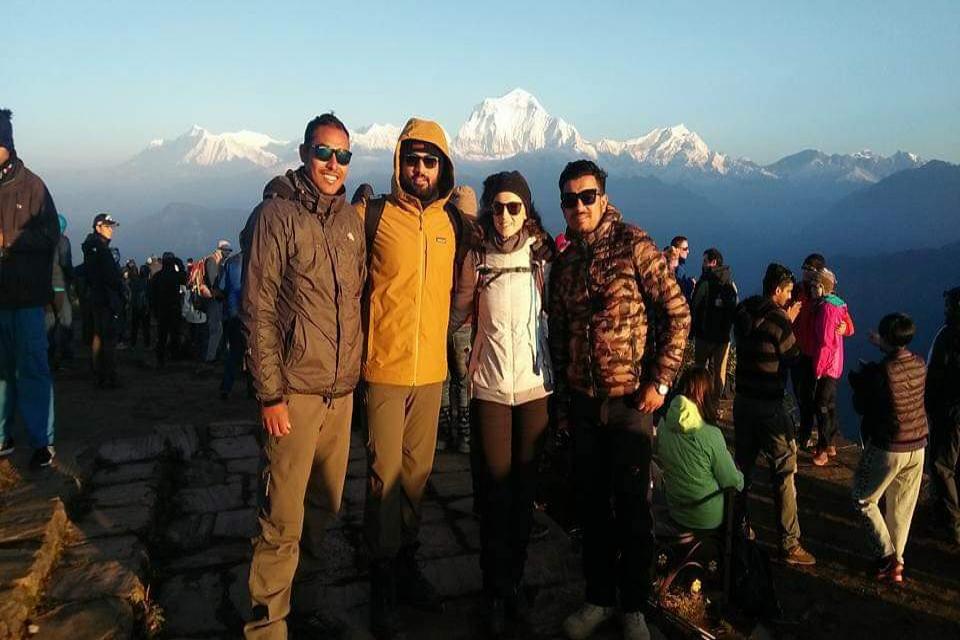 Overview
Warm Greetings and Namaste to Ghorepani Poon Hill Trek
Accent Himalaya welcomes you all to this easiest trekking in Nepal, the most comfortable trek, the safest trekking as well as the cheapest trekking in Nepal - Ghorepani Poon Hill. If you want to go on a trek in Nepal or if you want to accompany your children or even parents, then you are on the right path.
Ghorepani Poon Hill trekking leads you to the elevation of 3210 m offering you the mesmerizing landscapes of the rhododendron forest, green hills, lovely villages, Nepalese typical culture and above all, the close sight of pristine, snow-capped and splendid mountain peaks with fresh mountain air.
The hotels during this trek are well facilitated and the trails are comparatively easier. Even novice trekkers and non-risk-takers can make this trekking. The innocent and warm hospitality with a wide smile lights up our heart and makes you feel elated. Within a short time-frame, you can have the different flavor from scenic and picturesque mountains to Nepalese indigenous ethnic culture including floral and faunal variations within the same trekking.
Highlights
The main highlights of Ghorepani Poon Hill Trekking are principally the awe-striking and panoramic view of mountains. When you are on the Poon Hill in the early morning at sunrise, the golden beams of the sun falling on the white snow lets you gaze the mystic and heavenly beauty of Nepalese mountains especially Mount Dhaulagiri (8167 m), Mount Annapurna (8091 m), Mount Fishtail (6993 m), Mount Nilgiri (7061 m), Mount Hiunchuli (6441 m) and many more.
Moreover, the simplicity in the lifestyles of mountainous people ( Gurung people are the main inhabitants of this region), their culture and tradition, their hospitality and the catchy landscapes of green hills and deep and dense woods are the other reasons which appeals the tourists most to go for Ghorepani Poon Hill Trekking in the Annapurna Region. The altitude of the trek and facilities available in the region are also other pros to convince you to choose this Annapurna Ghorepani Poon Hill trekking. This is comparatively shorter and one of the cheapest trekking in Nepal. This trekking can be made in any season as per your vacation schedule. Multiple merits in a single trekking are the most pleasing aspect of this trekking.
Ghorepani Poon Hill Trekking is one of the most popular trekking in the Annapurna region. It is also the safest and the easiest trek in Nepal. If you love trekking and want to have fun with children and other family members enjoying the mystic mountainous beauty and hilly lifestyle, we urge you to go for this Annapurna Ghorepani Poon Hill Trekking. Feel the life and explore the miracle with Accent Himalaya.
Summary
Ghorepani Poon Hill Trekking commences with a spectacular (approx six hours) drive from Kathmandu to the beautiful city, Pokhara. The next day, you will be driven to Nayapul which is the main entrance for most of the trekking in Annapurna region. Once you reach Nayapul, the real trek kicks off. Now, you will push yourself uphill to Tikedhunga crossing a number of suspension bridges over Modi Khola with the glances, glimpses, and gazes of lovely woods and beautiful hills. The beautiful journey goes further uphill to Nanga Thanti through the mesmerizing and colorful rhododendron forest and the steady and gradual walk will lead you to Ghorepani village from where you can enjoy the heart touching views of snowcapped and peaceful mountains.
Early morning of the next day will eventually take you to the uppermost and final destination of the trekking; Poon Hill, situated at an altitude of 3210 m. This is a heavenly place from where you can have the enthralling and enchanting views of major mountains of Nepal including Dhaulagiri, Annapurna, Nilgiri, Himchuli, Machhapuchchhre and much more. After that, you will walk down to Ghorepani to observe Gurung Museum and Gurung Cultural dances before you descend back through the same route to Ghandruk, Nayapul, Pokhara and finally back to Kathmandu.
The best trekking seasons in Nepal are undoubtedly spring and autumn. However, this trekking can be made in any seasons. If you want to avoid the masses or if you love isolation, you can go on Ghorepani Poon Hill trekking any time with the help of a guide and Accent Himalaya makes the best provision for that.
Here we list you our detailed itinerary for Ghorepani Poon Hill Trek in the Annapurna Region:
Detail Itinerary
Day 01 : Arrival Day - Kathmandu - 1300 m
You will be welcomed and received by a representative of Accent Himalaya upon your arrival at TI Airport, Kathmandu. Then you will be transferred to the hotel. In the evening, you will be invited to welcome dinner hosted by Accent Himalaya where you will be served a typical Nepali cuisine.
Accommodation: A 3 Star Hotel in Kathmandu
Meal: Welcome Dinner
---
Day 02 : Kathmandu - Drive to Pokhara 900 m
Early in the morning of the second day, after having breakfast, you will drive to Pokhara where you will meet your crew for the trek. After that, your trek journey starts and continues along the lovely trails via rivers, streams and small villages. On the way, you will see many amazing mountain peaks. You will stay overnight at hotel in Pokhara.
Note: The transport is an option with Flight to Pokhara with extra charges.
Accommodation: A 3 Star Hotel in Pokhara
Meal: Breakfast & Dinner
---
Day 03 : Drive from Pokhara to Nayapul and trek to Tikhedunga
Next, we head to Nayapul from Pokhara on a private car after having our breakfast. Nayapul which means the new bridge is the starting point of our trek. Our trek will lead us to some villages of Nayapul, Birethanti, then finally to Tikhedhunga. We stay overnight in a teahouse.
Accommodation: Tea House or Trekking Lodge
Meal: Breakfast, Lunch & Dinner
---
Day 04 : Trek to Ghorepani
This day is comparatively daring as you need to push yourself at the higher elevation through steep trails uphill through the jungle and passing some village gently like Ulleri (2070 m) and Banthanti. But your efforts will be paid off after you reach Ghorepani since you can store the splendid views of mountain ranges from there. We can spot Annapurna Soth, Fishtail, and Huinchuli on our way to Ghorepani.
Accommodation: Tea House or Trekking Lodge
Meal: Breakfast, Lunch & Dinner
---
Day 05 : Ghorepani - Hike to Poon Hill 3210 m and trek - Tadapani 2700 m
Early in the morning prior to your breakfast, you will hike up to poon hill to see the Spectacular sunrise and views of different snowcapped golden peaks (more than 10 mountains). Then you will trek back to Ghorepani to have breakfast and continue the trek towards Tadapani which is a very good place for close up views of the Himalayas along with a pleasant walk through the lush green forest.
Accommodation: Tea House or Trekking Lodge
Meal: Breakfast, Lunch & Dinner
---
Day 06 : Trek from Tadapani - Ghandruk
On the 6th day of your trek, you will trek back to Ghandruk village walking through the beautiful trails passing beautiful hamlets on the way. After you reach Ghandruk, you will have lunch there which is also an ethnic hub of Gurung people. Overnight in a teahouse in Ghandruk.
Accommodation: Tea House or Trekking Lodge
Meal: Breakfast, Lunch & Dinner
---
Day 7: Trek from Ghandruk to Nayapul & Drive to Pokhara
We descend gently down the way through the rice fields and local villages to Syauli bazaar and trek until we reach Nayapul and finally drive to Pokhara and stay overnight at the hotel in Pokhara.
Accommodation: A 3 Star Hotel in Pokhara
Meal: Breakfast, Lunch & Dinner
---
Day 08: Drive from Pokhara to Kathmandu
On this penultimate day, after having breakfast in the beautiful city, you will be driven back to Kathmandu which takes around 6 hours or takes a short flight of 25 minutes (your choice for flight needs to be paid additionally). After you arrive in Kathmandu, you can do some shopping or buy souvenirs for which the guide can help you. In the evening, you will be taken for farewell dinner and cultural show where you can enjoy a variety of Nepalese dishes and cultural performances.
Accommodation: A 3 Star Hotel in Kathmandu
Meal: Breakfast & Farewell Dinner
---
Included/Exclude
Airport pick up and drop- off by private transport
Two nights accommodation with breakfast at a 3-star category hotel in Kathmandu
Two nights accommodation with breakfast at a 3-star category hotel in Pokhara
Full board meals with tea/coffee (breakfast, lunch and dinner) during the trek
Best available twin sharing lodge to lodge accommodation during the trek
One highly experienced, helpful and friendly guide, porters (1 porter for 2 people) and their food, accommodation, salary, equipment, and accidental insurance for all staff
Surface transfer to and from Pokhara on tourist bus
Surface transfer to and from Nayapul by private transport
Accent Himalaya Sleeping bag & Down Jacket and Duffle bags (if required)
Accent HimalayaT – shirt, trekking map and trip achievement certificate
First aid medical kit
Annapurna conservation permit fee
TIMS Fee- Trekkers' Information Management System (Please bring 2 passport size photos for permit)
Government taxes & office service charge
Meals not specified in the 'Meal Inclusions' in the itinerary'
Travel insurance
International airfare
Nepal entry visa: you can obtain a visa easily upon your arrival at Tribhuwan International Airport in Kathmandu. (a multiple-entry tourist visa good for 30 days can be obtained by paying US $ 40 or equivalent foreign currency. Similarly, multiple-entry tourist visas for 90 days can be obtained by paying US $ 100. Please bring 2 copies of passport-size photos.)
All kind of cold drinks e.g. water, coke, fanta, juice etc.
Personal trekking equipments
Tips for trekking staff and driver (Tipping is appreciated but it is not mandatory)
checkout our
Ghorepani Poon Hill Ghandruk trek Reviews
I couldn't be more happy with the experience I get from this trip with Accent Himalaya. We were five in a group and went on this trek mid April. I would recommend going during this time because the weather, as i experienced it, was perfect. It wasn't too cold nor too hot with clear blue sky. The ascend was very enjoyable as we get to pass small villages and see the beautiful mountain ranges clearer as we go high up. The descend I would say was a bit of a challenge if you have some knee problem. But overall I would say it wasn't a too-difficult one. The highlight of the trip was definitely the accomplishment to be on top of Poon Hill, and the reward was amazing. The view of the first light on the peaks of Dhaulagiri was especially spectacular. Mr. Nava - our guide - is very knowledgable about the landscape of the area and never failed to explain to us anything we want to know. Throughout the journey, Accent Himalaya team had been giving us so much joy from their positive attitude. Very good trip indeed.
Sarutam
Nice trip with awesome travel company
Since this was my first experience trekking in Nepal and also solo traveler where I booked this trip from the Accent Himalaya Company where I request them to that I would love to travel in a group where in other travel company I go though it there was no such group because I booked this trip in offseason so, most of the company there was no group and luckily I came through this Accent Himalaya company where there was a group of five people who was trekking to the ghorepani poon hill and then I booked this trip and was all set for my trip.
The group of the people where from different country with different sex and age but that was not the problem I was worried trekking in solo but thank god there was the group and all the members of the group were very supportive and helpful and together in a group we trek without a rush where each and every member in the group capture the best scenery the only sad part was that we did not get to view the sunrise view due to bad weather because there was a lot of foggy so we did not get the best sunrise view nonetheless we were rewarded with the magnificence mountain view of the Annapurna region.
For me it was first experience and it was my first time visit where I was alone and after landing in the airport I was bit worried where there was lot of people all around and far away I got the spot of the sign board of the company where they came to me and took me into their private car and drop me to the respective hotel where I fell very relieve later I visited their office and met the group and all was friendly and then we discuss about the trip and was all set for our trekking.
The trip was outstanding and hats off to our guide and porter where the company provide us one guide with three strong porters where all our baggage was carried by this strong porter where we are so much thankful to them for carrying our heavy baggage and thanks to the all the team of the accent Himalaya for making my trip one of the memorable and comfortable trip.
Daniel, Australia
Exceptional and easiest trek to the Ghorepani poon hill
We recently did this trek with the Accent Himalaya company to the Poon hill trek where our trip was tremendous from the day till departure of the trip we were well taken care of this company. This trek I did it with my wife and our 20 years son in a private where all the services was well arranged from the accommodation to food all was properly set up where the services was beyond our expectation.
The trip was the 8 day trip but we request them to include two days for exploring the Kathmandu city. After successfully completing this trek the next day we explore the city which was filled with lots of interesting sites where our guides takes us to the interesting sites but the most outstanding was the Pashupatinath temple where it was temple and also the cremation sites of Hindus where we got to explore the rituals of Hindus.
The trek was awesome journey with the spectacular scenery but sadly in the middle of the way my son got minor cramp on his legs where he was not able to hike properly due to his pain but thanks to our guide he put some medicine and gave support on his shoulder and we reached at the lodge and properly medicating and thankfully in the morning my son was recovered well and we continue our trekking slowly and reaching the Kathmandu city they took us to the hospital for our son check up of his legs so, thank god it was just a minor sprain,
We are very grateful to the Accent Himalayan team for such kindness and making our trip very special and especially big thanks to the guide and porter for giving total support to my son and making our trip successfully without their support we were not able to accomplish this trek.
William, Canada
Trek of a lifetime!
I did this trek in solo through the company of the Accent Himalaya which the company was recommend by my closest friend where he had done trekking last year to the EBC through the assist of this company where he told me he was totally satisfied with the services of this company and he told me to booked my trip from this company where without a second thought I immediately emails to the company and discus about my trip where my emails was replied quickly which totally impressed me and the owner planned all the trip and the itinerary as per my wish and was so well arranged to meet all my needs.
When the massive earth quake occur I was there at the Nepal but I had never attempt a trekking to this Himalayan region on that year I came just for a volunteering campaign but never got to do such trekking experience I just only got a time to explore this beautiful Kathmandu city sadly all of the heritage sites were totally destruct and I did not get to capture the best picture as the country was in a shocking situation.
In 2016 I came for my second visit but this time I came for my adventurous trip to the ghorepani poon hill where it was the easiest trek of the Nepal where one can capture the beautiful scenery with the diverse landscapes. The guide provided by this company was very knowledgeable where on the trail he shared with me about the history of Nepal and the Nepali culture and also taught me some few Nepali phrases which were helpful during visiting the local village so, thanks to the team for making such wonderful trip.
Alexis, France
Truly marvelous time in the ghore pani poon hill trek
Me and my friend decided for this easiest trek and in my entire life I had never done trekking and I have heard from my friends that this place is perfect for doing an adventurous trekking so me and one of my friend decided to move to this beautiful country for our adventurous new experience but in the mean time of the trekking she decided to cancel her trip but I did not cancel it because since it was my childhood dream visiting this Himalayan country and at least attempting one of the easiest trek of the Himalayan region.
I researched a lot about this country and visit some of the websites of the travel company where I came across this Accent Himalaya Company where the company websites was very informative and the price was also fair comparing with the other company. I was a solo traveler where I was bit worried as it was my first visit to this country and I asked for the group where the owner of the company tagged me into the group of seven people where I feel very secure and safe.
The trip was incredible with the beautiful mountain scenery as travelling in the group was also outstanding each and every member of the group was very supportive and sociable where I did not felt I was left out. As our guide was also very attentive and watchful where he care all the members of the group and make sure that each and every one are enjoying their trip or not and ask if we needed something or not.
Thanks to the team and the owner of the company for making my group trip one of the memorable and especially thanks to the guide and porter who was supportive all the time of our trekking.
Martin, Belgium
Exceeded Expectation Trip
Thanks to all the team for making our trek to the ghorepani poon hill trek including with the chitwan tour which was include by our request where we had one of the wonderful experience where we enjoyed a lot and it will stay fresh in our memories for a lifetime and hats off to all the team of the Accent Himalaya for an outstanding job where all the trip was went well according to the planned schedule.
It was indeed a pleasure interacting with you guys where from the prior to two to three month of the trip of booking, the owner of the company reply our emails in promptly in care and it was good chatting with him where we planned our itinerary and all was well arranged and was well planned to meet our all needs where we also said the owner to include two days tour to chitwan where without any queries he added this chitwan tour where we got to explore this two beautiful region one is the Annapurna region and the other one is the chitwan where our trip and tour both were mind blowing.
The planning was well setup where we stayed in the Kathmandu hotel rating at the five star hotels at the Hyatt regency where the room was so luxurious where even the meals was awesome and delicious and in the journey to our trek our accommodation was well set up where we were total 3 of them where we asked for a single room with the attach bath room and the guide arranged our desire room and the food provided to us was somewhat satisfying and the credit goes to the company owner for providing such qualified guide and not forgetting to mention about the porters who was also helpful to us carry our loads of baggage without any stress and having a big smile on his face which motivates us trekking more.
Mariana, Brazil
Amazing adventures with the Accent Himalaya
From the starting point till the departures date we were in the safe hands of the team of the Accent Himalaya where the owner was so much dedicated with his work and was prompt with emails and patiently he responses our queries and concerns.
I always longed to visit this country but me only having a week vacation could not able to decide which trekking will fit well as per my vacation schedule so I look through the internet and found this Accent Himalaya who was stood at the best ranking and I decided to go through this company websites and found very informative and without a second thought I immediately email this company where my emails was response quickly and then I share my views with the owner and he suggested to trek to the Ghore pani poon hill trek where I visit the page and found very interesting and even the itinerary was well suiting my vacation schedule so, I immediately booked this trip with my friends who was going along with me and we were total 8 of them where we got a discount from this company during that time there was an offer that I were in the group of more than seven people than we will be getting a discount so we got a fully discount with the best services.
Our guide was an encyclopedia having lots of information and very cordial where we the friends got to learn from our guide a lot about the country history, the culture of Nepal, some fun facts of Nepal and many more and the guide English was also very good and it was easy to understand too where we had a memorable trip. So for my next adventures journey I will book from this company where we were totally in the safe hands.
Markus, Germany