Moderate
Waling,Trekking
Nepal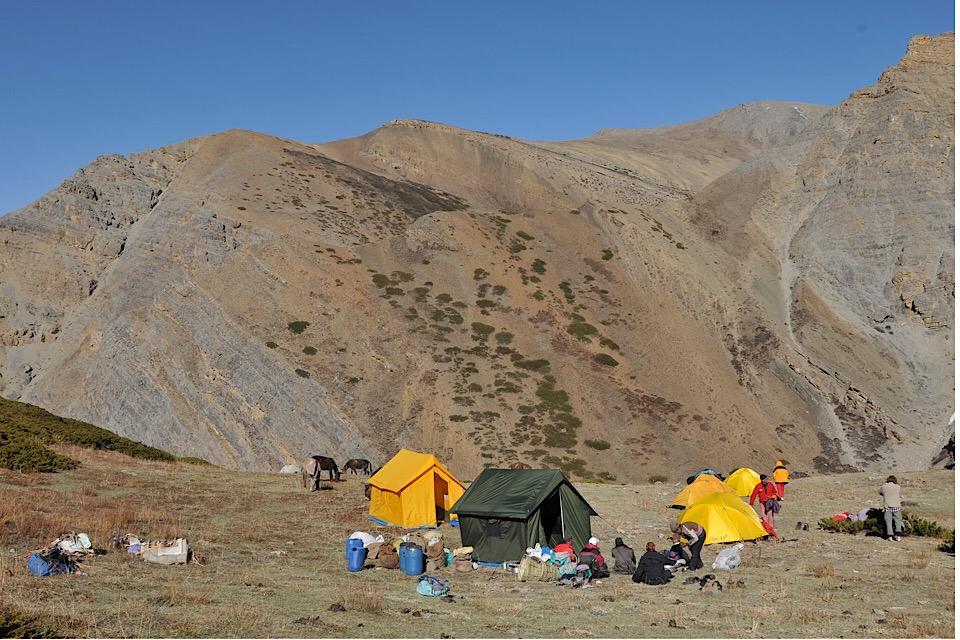 Overview
Jomsom & Muktinath Trek
Annapurna Jomsom Muktinath trekking (3805 m, 12465 ft) is one of the renowned trekking destination and is part of the entire Annapurna Circuit.
With sound health, even novice trekkers can attempt this trekking. The trekking gives you the magnificent views of the Himalayan peaks such as Mount Dhaulagiri (8165 m), Mount Annapurna I (8090 m), Mount Nilgiri (7045 m), Mount Annapurna South (7218 m), Mount Annapurna II (7938 m), Mount Annapurna III (7550 m), Mount Annapurna IV (7520 m), Mount Hiunchuli (6440 m), Mount Fishtail (also called Machhapuchhare) (6997 m), Mount Tukuche (6925 m), Lamjung Himal (6585 m) and glimpses of several other peaks. The miscellaneous landscapes and cultures of this region offer you the flawless perception into the rural lifestyles of Nepali people.
The trekking commences from the scenic flight to Pokhara and then a short drive to Nayapul, from where our actual trekking begins. Passing sub-tropical valley forest and crossing the Modi Khola (river) through a suspension bridge, we reach Tikhendhunga and descending down, we will be crossing Burungdi Khola (river). We will then ascend up to Ghorepani and from Ghorepani - we get the splendid mountain views of Annapurna South, Nilgiri, and numerous other peaks.
After crossing several rivers via a suspension bridge, we reach Tatopani and this day; one of the main feature of our trek; we will be trekking through Kaligandaki River which flows from the Tibetan plateau to ultimately join the Ganges of India. And continuing trekking we reach Gasa, and then to Marpha and head to Kagbeni and then, we reach at Muktinath, which is one of the sacred places of Hindus and Buddhists, where you get to visit several other Hindu temple and Buddhists monasteries. From Muktinath, one also gets to see the panoramic view of Mount Dhaulagiri. And finally, we retrace back to Jomsom, take a scenic flight to Pokhara and then to Kathmandu.
Accent Himalaya has designed this 13 days itinerary to Annapurna Jomsom Muktinath trek through the different hidden routes where you get to enjoy each and every trail from the mystic land to diverse landscapes to the remote village including viewing the numerous Himalayan peaks.
This trekking can be done in every season but the picture-perfect season is during the month of March to May and September to December.
Accent Himalaya gives you options like prolonging and shrinking the itinerary according to your vacation schedule. So before booking the trek, please make sure to email us if you want to adjust the itinerary. For further detail about the trek or if you would like to inquire more, feel free to contact or email us.
Here we list you our detailed itinerary for Annapurna Jomsom Muktinath Trek:
Detail Itinerary
1
Day 1: Arrive at Tribhuwan International Airport (TIA) Kathmandu
As we provide airport pickup service - so our representative will pick up you and drop to your respective hotel. Today we have no any planned activities, so you may visit our office and meet our staff members. In the evening, we will attend welcome dinner with Nepali delicious food entertained by Accent Himalaya.
2
Day 2: Drive to Pokhara (910 m) by tourist bus, 6 hrs
Early in the morning, we take our breakfast and be ready to catch a tourist bus. That tickets are already booked and we drive to Pokhara along the Trisuli river in the Prithvi Highway. We feel blessed with the amazing views of stream green land and landscape with the flowing river. After reaching Pokhara, we will visit the lakeside and see the magnificent views of firing mountain Annapurna and Fishtail because of sunsetting rays.
3
Day 3: Drive to Nayapul (1,010m) Duration 1 hour and Trek to Tikhedhunga (1,570m) Duration 4 hrs
Today we will drive to Nayapul about an hour. We start our trek journey with a short trek along the Modi Khola and reach Birethanti, a large village with shops and teahouses. We follow trails leading towards the village and follow the north bank of the Bhurungdi Khola. With a steadily climbing side of the valley for Hille and short climb, we reach to Tikhedhunga.
4
Day 4: Trek to Ghorepani (2850m) Duration: 7 hrs
Today after having our breakfast, we continue to trek crossing over the suspension bridge on a stream near the campsite. With an ascending steep stone staircase trails, we will arrive the Magar village at 2080 m, Ulleri. Above the village, our trails climb gently through the pastures and cultivated land, with campsite for water stop and rest. We cross the sparkling streams on our path towards Nangethanti and have our lunch. From here we climb for Ghorepani where we will able to see the spectacular panoramic views of Mt. Dhaulagiri I (8167 m) Neelgiri (6940 m), Annapurna I (8091 m), and Himchuli (6441 m) plus other views.
5
Day 5: Hike up to Poon Hill (3,210m/10529ft) and onto Tadapani (1200m) Duration: 7 hrs
Early in the morning, around 3-4 am, we wake and start to hike over to Poon Hill at 3210 m for amazing sunshine over panoramic views of the mountains such as Dhaulagiri, Annapurna, South Fishtail and others. After all that, we trek down to Ghorepani and have our breakfast. Then we continue our trek towards Tatopani.
6
Day 6: Trek to Ghasa (2120m) Duration: 7 hrs
Our trek will begin at the Kali Gandaki valley, the deepest Gorge in the world with floor elevation of approx. 2520 m, 8270 ft, also the Andha Galchi. Here we will enjoy a beautiful day walking along the Kali Gandaki River. We will cross over the Bhalu Lhola on a high suspension bridge and will arrive at Dana (1450 m) and see the waterfall after a short trek of 30 minutes, Rupse Chahara. We will continue to walk through the narrow and steeply part of Kali Gandaki valley, route cuts with rocks. We cross the river with 120 m long bridge and continue to climb to Ghasa, an ethnic Thakali village, practicing as Tibetan Buddhism, also whose food called Thakali Khana is famous all over Nepal.
7
Day 7: Trek to Tukuche (2560m) Duration: 5 hrs
We continually follow the River Kali Gandaki passing through the narrow gorge before reaching the Thakali Traditional Village. We cross the river over suspension bridge numerously - so we have so many views for taking photos. We also cross the villages like Lete, Kalopani, and Kokhethanti.
8
Day 8: Trek to Kagbeni (2800m) Duration: 5 hrs
Our journey for the day will be little easy and lovely as we first see the village of Khobang, narrow alleyways and tunnels connecting houses. We make a short hike to Kanti Gumba and again start to trek towards Marpha, the well-known place for apple and apple-alcoholic products. By the name of the place, the brand of Apple Brandy is also named as Marpha, which is world famous as also for medicine for hill sickness. We will trek for another 2-3 hours to reach Jomsom, where we stay in return, and have our lunch and continue to trek crossing Ekle Bhatti along the Kali Gandaki River.
9
Day 9: Trek to Muktinath (3800m) Duration: 4 hrs
Today we will trek to Muktinath, the pilgrimage for both Hindu and Buddhist. We trek through Khingar (3400 m) and cross Jharkot (3500 m). We will trek through Ranipauwa, the first part of Muktinath. We stay a night here to explore the area and see some Holy Hindu places like the eternal flame coming from natural gas and spring (considered Holy).
10
Day 10: Trek to Jomsom (2600m)
We trek down to Jomsom, the capital farm for Nepali apple, best all over the world. Jomsom also has an airport (domestic).
11
Day 11: Morning flight to Pokhara,
We take an early flight from Jomsom to Pokhara. As per your interest, we will also visit the Fewa Lakeside in Pokhara.
12
Day 12: Pokhara to Kathmandu
We will come back to Kathmandu from Pokhara on a tourist bus from Pokhara tourist bus-park. We will drive along with the scenic views of the green landscape, amazing Trisului, and Marsyandi River.
13
Day 13: Farewell
Our representative will drop you at the International Airport before 3 hours to your flight. We hope a good time for you ahead.
Included/Exclude
All airports/hotels transfers by private vehicle
Two nights' accommodation with breakfast at a 3-star category hotel in Kathmandu
Two nights' accommodation with breakfast at a 3-star category hotel in Pokhara
Full board meals with tea/coffee (breakfast, lunch and dinner) during the trek
Lodge to lodge accommodation during the trek
One highly experienced, helpful and friendly guide, porters (1 porter for 2 people) and their food, accommodation, salary, equipment, and insurance
Kathmandu to Pokhara and Pokhara to Kathmandu transfer by tourist bus
Jomsom – Pokhara airfare including departure tax
Accent Himalaya duffle bag, down jacket and sleeping bag during trek
Accent Himalaya T – Shirt (yours to keep)
Annapurna conservation permit
TIMS Fee- Trekkers' Information Management System
Government taxes & office service charge
Meals not specified in the 'Meal Inclusions' in the itinerary'
Travel insurance
International airfare
Nepal entry visa: you can obtain a visa easily upon your arrival at Tribhuwan International Airport in Kathmandu. (a multiple-entry tourist visa good for 30 days can be obtained by paying US $ 40 or equivalent foreign currency. Similarly, multiple-entry tourist visas for 90 days can be obtained by paying US $ 100. Please bring 2 copies of passport-size photos.)
All kind of cold drinks e.g. water, coke, fanta, juice etc.
Personal trekking equipments
Tips for trekking staff and driver (Tipping is appreciated but it is not mandatory)