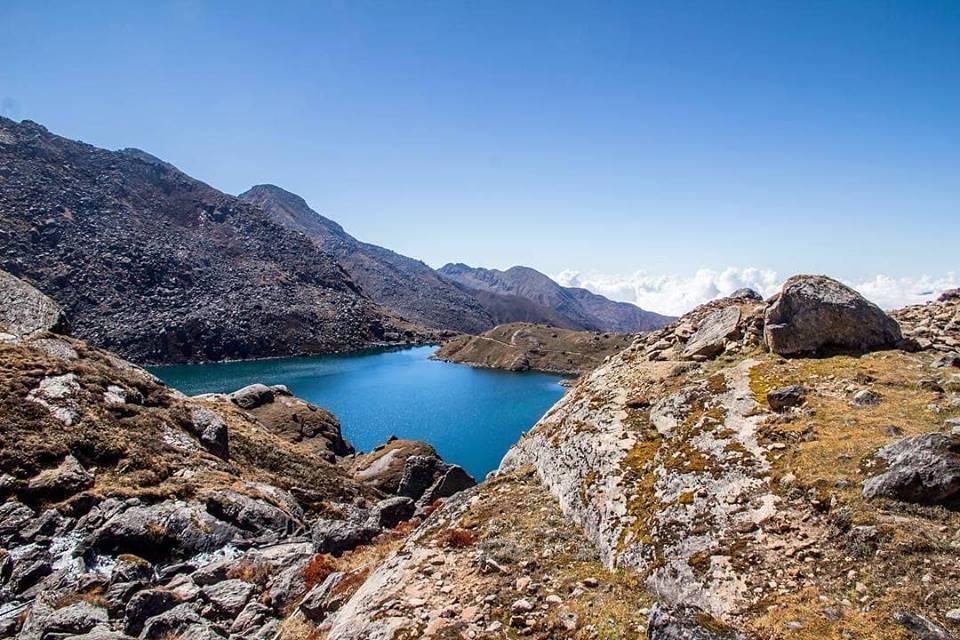 Overview
Bhairav Kunda (4200 m) is one of the lesser knowns but recently opened famous trekking route situated in the north east of Kathmandu valley; right side of Panchpokhari near the Tibetan border. The word "Bhairav" is derived from Sanskrit as the name for Lord Shiva and "Kunda" as a lake. This lake is a pilgrimage site for Hindus and Buddhist where they visit this place mostly during the full moon day in August. Devotees believe that taking a dip in the lake wash away their sins, disease, and sufferings.
Alongside a spiritual voyage, this trekking presents you the breathtaking massif sights of Rolwaling range (7181 m), Dorje Lakpa (6965 m), Madiya (6256 m), Phurbi Ghhyachu (6636 m), Jugal Himal (8027 m) and many more magnificent Tibetan Himalayan ranges. Furthermore, you will be also exploring the livelihood of this inhabitant's and their unique culture, different pristine flora and unique wild animals throughout the trail. On this trekking trail, as being the off beaten path; we don't find lodges or there are no available teahouses - so we have to set our own camping site. All the camping site equipment, kitchen utensils, restroom/shower tents are arranged by team members of the Accent Himalaya.
The trekking to this region begins with the scenic drive to Jalibre from Kathmandu. As we reach there, we spend our night setting camp at Chanaute. On the trail, we pass through the Tamang villages viewing the cascading waterfall and sideways views of the splendid mountains. Further trekking to reach Khanigaon, our trail will be bit challenging walking on the small steep. After reaching Khanigaon, we spend our night here to adapt the altitude by acclimatization and also viewing the beautiful mountain and exploring the Newari community's village.
And then we continue our trek further through huge dense rhododendron forests and if possible we might also spot wild animals like snow leopard, Himalayan black bear, red panda, etc on the trail to forest camp. As climbing uphill and trekking, we finally reach Bhairav Kunda. From here, we will heads to Sherpa gaon (village), then to Larche and eventually drive back to Kathmandu.
This trek can be accomplished year around but the best season we recommend you are in spring and autumn. On other seasons, there might be rainfall, snow and the trials would be slippery. If you are well experienced and is used to difficult trekking - you can attempt it anytime but we suggest spring or autumn for novice trekkers.
One should have a minimum of 11 days for this trek as we have had carefully designed our itinerary with our well-experienced trekking guides also to make sure the clients are well adapted to the altitude. If our fixed itinerary does not fit you, please let us know so that we can modify it according to your plan. For further details about this Bhairav Kunda trek, please contact or email us. We will promptly respond to your queries.
Below we list you our detailed itinerary for Bhairav Kunda Trek:
Detail Itinerary
1
Day 01: Arrive at Kathmandu airport and transfer to hotel:
Accent Himalayan provides the airport pick up service so our representative will pick up you from Tribhuvan International Airport and drop to your respective Hotel. There will a welcome dinner hosted by Accent Himalaya. We will attend the invitation and enjoy the delicious Nepalese cuisines that give us the taste of Nepal and its cultures.
Accommodation:

Hotel

Meal:

Dinner
2
Day 02: Full day sightseeing in historical Kathmandu valley:
After having our breakfast, we will have to ready for sightseeing of Kathmandu valley. We will visit some UNESCO world heritage sites in Kathmandu. We will visit:
Pashupati Chhatra: - Hindus most religious/pilgrimage temple of Lord Shiva where millions of pilgrim visited every year. The special days of lots of crowd in the temple are Mahashivaratri, Hindus festival Teej, and many other days and every Monday.
Swyambhunath: - Religious and pilgrimage place for both Hindu and Buddhist. Peoples visit the temple for peace in the world. Lord Swyambhu is commonly
Boudhanath: - Worlds' largest Stupa; Boudhanath was completely destroyed in the earthquake of April 2015 and now it is completely reconstituted and reconstructed in now it is the most attraction for visitors in Kathmandu.
Kathmandu Durbar square: - It catches the wonderful history of Kathmandu and its kingdom and leaders of the valley. Kathmandu Durbar square is full of history and arts of the Newari communities. The wonderful architecture and the arts are so impressive. The sculpture in the area crafted without using any modern equipment in wood and stone is world's most impressive.
Accommodation:

Hotel

Meal:

Breakfast
3
Day 03: Drive from Kathmandu to Chanaute:
After having breakfast early in the morning, we begin to drive along with some pretty mountain views heading toward the Tibetan Border, about 3 hours of drive to arrive at a town called Balephi. From here we turn off the main road and start to drive in off-road for another 3 hours and finally pointed in Chanute, a small village of Bramhim and Chhetri. After reaching there we have to set up our tented camp for night stay.
Accommodation:

Tented camp

Meal:

Breakfast, Lunch, and Dinner
4
Day 04: Trek from Chanaute to Khani Gaon:
After having our breakfast, we start to trek for another 6-7 hours to reach Khani Gaon. Most of the day, we ascend steeply on small walking trails, stop for rest with beautiful views. We pass through the village, stunning terraced field streams and local school. Khani Gaon is Newari village, and Khani refers to "Source of mine" and Gaon to 'village" in Nepalese language. The valley was discovered/found after the result of a battle between Gorkha and Bhaktapur in 18th BS.
Accommodation:

Tented camp

Meal:

Breakfast, Lunch, and Dinner
5
Day 05: Trek from Khani Gaon to Forest Camp:
We take our breakfast and start to trek. We ascend steeply through beautiful Rhododendron forest and the occasional grazing pasture, where we can find out the cattle and luck give more chance to see the wild animals like bears and leopards and birds.
Accommodation:

Tented camp

Meal:

Breakfast, Lunch, and Dinner
6
Day 06: Trek from Forest Camp to Pati (3900 M):
Early in the morning we take our breakfast and start to trek with an ascent through the pine and rhododendron forest all about to 4 hours then we reach to Pati. We have a scene of the Pilgrims houses and nice mountain views.
Accommodation:

Tented camp

Meal:

Breakfast, Lunch, and Dinner
7
Day 07: Rest day for acclimatization:
As we made a long journey, today we spend the whole day for rest and acclimatization. And we give rest to our tired body to adjust to the altitude. We also have to make a fit and fine body for next day ascending.
Accommodation:

Tented camp

Meal:

Breakfast, Lunch, and Dinner
8
Day 08: Trek from Pati to Bhairav Kunda:
We take our breakfast at our tented camp and continue our trip. With an hour of an uphill walk then levels walking of 2-3 hours, we reach the holy ground of Bhairav Kunda at 4,150m. Bhairav means the destructive form of Lord Shiva and Kunda means Lake or pond. Bhairav Kunda is a holy lake with the temple of Bhairav (Lord Shiva), where thousands of pilgrims from a different part of Nepal and India come to Holy swim in the lake, especially in the months of June and July.
Accommodation:

Tented camp

Meal:

Breakfast, Lunch, and Dinner
9
Day 09: Trek from Bhairav Kunda to the viewpoint (4500m) and to Sherpa Village:
Early in the morning, few have to walk uphill about one and half hours to reach the top t see the stunning sunrise and mountain views of Langtang, Jugal Himal Range, Rolwaling Range, and Tibetan range. After some while, we descend down to our camp and take a breakfast. And again start to trek heading towards Sherpa Village through the steeply down trails about
Accommodation:

Tented camp

Meal:

Breakfast, Lunch, and Dinner
10
Day 10: Trek from Sherpa gaon to Larche and drive to Kathmandu:
We take our breakfast and start to trek on the steep downhill trails for 3 hours to reach the bank of River Bhote Koshi, so called Larcha where we take our lunch and catch a bus to return the valley of Kathmandu with 6 hours of the drive.
Accommodation:

Hotel

Meal:

Breakfast and Lunch
11
Day 11: Transfer to international airport for your final flight departure:
Today we are finally going to separate with the most wandering and unforgettable memories and witness of the Nepal Exploration. Our representative will drop you to the Tribhuwan International Airport before 3 hours to your flight.