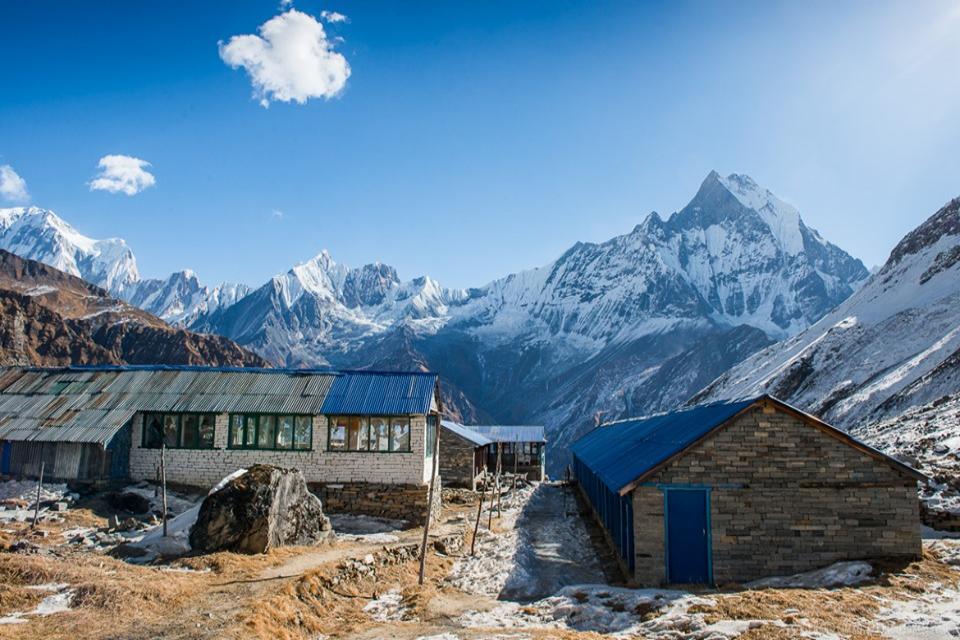 Overview
Namaste ! Welcome to Annapurna Base Camp Trek
Accent Himalaya welcomes you all the fun and adventure-seeking travelers to this world famous walking route Annapurna Base Camp also popularly known as ABC or Annapurna Circuit Trek which leads you to the foothill of the Mount Annapurna (8091 m). It is situated at the elevation of 4135 m and trekking to Annapurna Base Camp lets you explore the mountainous and hilly region, the beautiful habitation of Nepalese indigenous and ethnic groups along with their hospitality. Mountain vistas along this route are extraordinarily striking and stunning.
Highlights
The supreme objective of the travelers walking through the trails of Annapurna Base Camp is to observe the beautiful mountain view of Mount Annapurna (8091 m), the 10th highest peak in the world. On the way to Annapurna Base Camp, at Pun Hill (3200 m) you can catch the splendid view of about 15 snowcapped mountains including Dhaulagiri I (8167 m / 7th highest), Manaslu (8156 m / 8th highest) and Annapurna I (8091 m / 10th highest).
Walking through beautiful rhododendron forest and observing cultures of Magar and Gurung ethnic people are other attractions of this trek. Annapurna Base Camp trek is the best trek even for the novice trekkers since this route has highly facilitated hotels and motels with good restaurants. The trails are comparatively easier than other treks in the mountainous region.
Summary
Accent Himalaya has its own package of 15 days trekking to Annapurna Base Camp. However, the flexibility of developing on the choice of the client is always open with us. In the package of Annapurna Base Camp trekking, the actual journey begins the next day with a 6 hours drive to a beautiful city, Pokhara from Kathmandu.
The first day, you will stay in Lakeside enjoying the beautiful scenery of Mount Fishtail (Machhapuchchhre) (6993 m) and a lovely view of Fewa Lake. Evening walk in Lakeside is amazing with the city lights. The next day, after a short drive, you will reach Nayapul from where your actual trek begins. During your trek to Annapurna Base Camp, you will spend nights at Tikedhunga, Ghorepani, Tadapani, and Chomrang.
The following morning you will hike up to Poon Hill from where you can gaze at magnificent mountain vistas. Soon after watching the enthralling mountain ranges, you will push yourself upward along the trails that lead you very close to Machhapuchchhre Base camp underneath the lofty Machhapuchchhre peak.
With a gradual hike, finally - you will set your steps at Annapurna Base Camp. Spending some best moments there to enjoy the mystic beauty of Mount Annapurna (8091 m), you will retrace your steps backward and on the way back at Jhinu danda where you will pause to take bath in natural hot water spring. Finally, you set your journey back to Nayapul, Pokhara and then to Kathmandu.
If you are fun loving or a novice trekker, trekking to Annapurna Base Camp turns out to be the best around the world which can be beautiful and done easily.
Here we provide you the itinerary for Annapurna Base Camp:
Detail Itinerary
Day 1: Arrival in Kathmandu (1300 m)
A representative from Accent Himalaya will pick you up from the airport and drop you to your respective hotel. In the evening, you will be invited to welcome dinner by Accent Himalaya where delicious Nepalese traditional and cultural food will be served.
Accommodation: A 3 Star Hotel in Kathmandu
Day02: Kathmandu valley full day sightseeing
On this day, you will start preparation for your trip. Team leader and guide will provide further briefing if necessary. After this, you will be taken out for the city tour to visit the places of religious and cultural importance, most of which are included in UNESCO's World Heritage Site. The major places to visit on this day are Pashupatinath Temple (the biggest Hindu Shrine in Nepal), Boudhanath Stupa (a famous Buddhist Shrine), Swayambhunath (also known as monkey temple), Bashantapur Durbar Square (Kathmandu Durbar Square), and much more.
Accommodation: A 3 Star Hotel in Kathmandu
Day 03: Drive to Pokhara (200 km from Ktm)
In the early morning of the third day, you will catch the tourist bus from Kathmandu to Pokhara. You will travel along the Prithivi Highway alongside the Trishuli River. The bus stops twice; once for breakfast and one more time for lunch. After traveling for about 6 hours, you will reach the beautiful city of Pokhara from where you can see the amazing views mount Dhaulagiri, Annapurna, Machhapuchchhre (Fishtail), etc. You will stay at a beautiful hotel in Pokhara and after dinner, you can enjoy the evening scene of Fewa Lake with a stroll along the Coast of Fewa Lake.
Accommodation: A 3 Star Hotel in Pokhara
Day 04: Drive to Nayapul (42 km) and Trek to Tikedhunga, stay at a Guesthouse
On the fourth day after having breakfast, you will be driven to Nayapul from Pokhara where our actual trek begins. Our trek leader will guide you to every destination. From here, you will begin your trek to Tikhedhunga climbing up through the valley of Hile. Finally, you will reach Tikedhunga for the night's rest.
Accommodation: Tea House or Trekking Lodge
Meal: Breakfast, Lunch & Dinner
Day 05: Trek to Ghorepani (2853 m.)
After having breakfast on the fifth day, you will resume your trek gently ascending up to Banthanti through dark and thick Oak and Rhododendron forest. On the way, you can enjoy the fantastic views of two gigantic mountains; Dhaulagiri and Mt. Annapurna. After a few hours walk from Banthanti, you will reach Ghorepani which is the most popular viewpoint in Nepal.
Accommodation: Tea House or Trekking Lodge
Meal: Breakfast, Lunch & Dinner
Day 06: Visit to Poon Hill early in the morning and Trek to Tadapani (2520 m)
This day will be the most pleasant day as we start our hike to Pun Hill early in the morning. After walking for about 30 minutes, you will reach Poon Hill from where you can see the pristine view of the worlds' highest mountains like Annapurna, Manaslu, Fishtail (Machhapuchchhre) Dhaulagiri and other (more than 10 peaks). This viewpoint is famous for panoramic views of mountains as well as the Sunrise. After spending some time there, you will walk down to Ghorepani and start the journey towards Tadapni.
Accommodation: Tea House or Trekking Lodge
Meal: Breakfast, Lunch & Dinner
Day 07: Trek to Chhomrong (1920 m)
On this day, the trails go steeply downwards to reach the amazing Gurung village of Chhomrong. The trails descend to Kimrong stream through the thick and dark forest of Rhododendrons. Then your journey continues towards Chhomrong crossing some lovely Gurung villages. On the way you will be rewarded by the magnificent views of Mt Annapurna south, Himchuli, Mt. Machapuchre, and the virgin peaks all facing to the valley which is really impressive. Chhomrong is mostly populated by Gurung people, one of the popular indigenous ethnic communities of Nepal. The lodges and restaurants run by Gurung communities provide the best service to their customers. You will have a great chance to experience the perfect hospitality of the Gurung Communities.
Accommodation: Tea House or Trekking Lodge
Meal: Breakfast, Lunch & Dinner
Day 08: Trek to Hotel Himalaya
The journey of your 8th day descends via a stone staircase and crosses the swaying suspension bridge over Chomrong Khola. Then you will descend to Modi Khola and cross the suspension bridge . We shift gears at that point and will climb in the direction of Modi Khola, traveling its west bank, and pass through leafy bamboo forests. More upward travel awaits us in the afternoon as we head towards Kuldi and then another staircase down to Dovan from where we will continue another hour to Himalaya Hotel, where we'll rest after a vigorous day.
Accommodation: Tea House or Trekking Lodge
Meal: Breakfast, Lunch and Dinner
Day 09 : Trek to Annapurna Base Camp (4130 m)
You will see vegetation disappearing steps by steps on the way to Annapurna Base Camp. In this route, you can see the melting snow to form a glacier and a stream which flows through Annapurna Sanctuary. The view opens up once you reach the base of Mountain Annapurna. You will find yourself surrounded by the panoramic and splendid mountains around you. The major views are Mt Annapurna (including 1st, 3rd and south), Mt Fishtail, Mt. Himchuli and Barah Shikhar. Then after you will trek down to Deurali.
Accommodation: Tea House or Trekking Lodge
Meal: Breakfast, Lunch & Dinner
Day 10: Annapurna Base Camp to Bamboo: 7 – 8 hours
From the Annapurna base camp, we retrace our steps back to Bamboo forests. Today's trek is downhill and descent, so it shouldn't be very difficult. Besides, we will always have the company of the extraordinary landscape to cheer us up for more excitement and passion.
Accommodation: Tea House or Trekking Lodge
Meal: Breakfast, Lunch & Dinner
Day 11: Bamboo to Jhinu Danda (1760 m & 5770 feet): 5 - 6 hours
From here, we have to trek uphill to Kuldighar and followed by a downhill to Chhomrong. We climb the stone steps to Chhomrong and then genteelly descend to Jhinu Dada.
Accommodation: Tea House or Trekking Lodge
Meal: Breakfast, Lunch & Dinner
Day 12: Trek back to Nayapul and drive to Pokhara
On this day, you will trek back to Nayapul from Ghandrung and then drive back to Pokhara. Now, you can start recalling your pleasant moments you spent during the trek.
Accommodation: A 3 Star Hotel in Pokhara
Meal: Breakfast and Lunch
Day 13: Drive back to Kathmandu
On this day, you will return back to Kathmandu from Pokhara with an amazing drive alongside the Trishuli River via Prithivi highway on a tourist bus. After coming to the hotel in Kathmandu, you can go out for shopping or souvenirs if you like. In the evening, you will be invited to the farewell dinner hosted by Accent Himalaya.
Accommodation: A 3 Star Hotel in Kathmandu
Meal: Breakfast and Farewell Dinner
Day 14: Departure to the International Airport
On this very final day, one of the representatives from Accent Himalaya will drop you at the airport 3 hours prior to your flight. Please do congratulate yourself for collecting life-long memory in your heart of Nepal !
Included/Exclude
All the airport transfers.
Three night hotel in Kathmandu including breakfast.
Sightseeing tour in Kathmandu as per the itinerary.
All accommodations in lodges/tea houses during the trek.
Your standard meals during the trek with hot tea/coffee in breakfast.
All necessary paper works, Conservation entry permits and TIMS permit.
Two night's hotel in Pokhara including breakfast.
Ground transportation from Kathmandu –-Pokhara - Kathmandu by tourist bus.
An experienced, helpful and friendly guide and porters (1 porter for 2 peoples).
Salary, food, drinks, accommodation, transportation and insurance for the guide and porters.
Arrangement of Emergency Helicopter service which will be paid by your Travel insurance company.
Sleeping bag, down jacket and trekking map, if necessary, (return after the trek).
All government taxes, VAT and service charges.
Nepal entry visa fee (you may easily issue the visa upon your arrival at Tribhuwan International Airport - Kathmandu). You will require 2 passport size photos.
Your Travel insurance (compulsory).
Meals (Lunch and Dinner) while you are in Kathmandu & Pokhara.
Your personal expenses and entrance fees while you do the sightseeing tour in Kathmandu.
All the alcoholic, non alcoholic drinks and dessert.
International airfare and airport departure tax.
Tips for the guide, porter & driver.
Any others expenses which are not mentioned on including section.