Langtang, Gosainkunda and Helambu Trek
Langtang, Gosainkunda and Helambu Trek
Moderate
Trekking and Walking
Nepal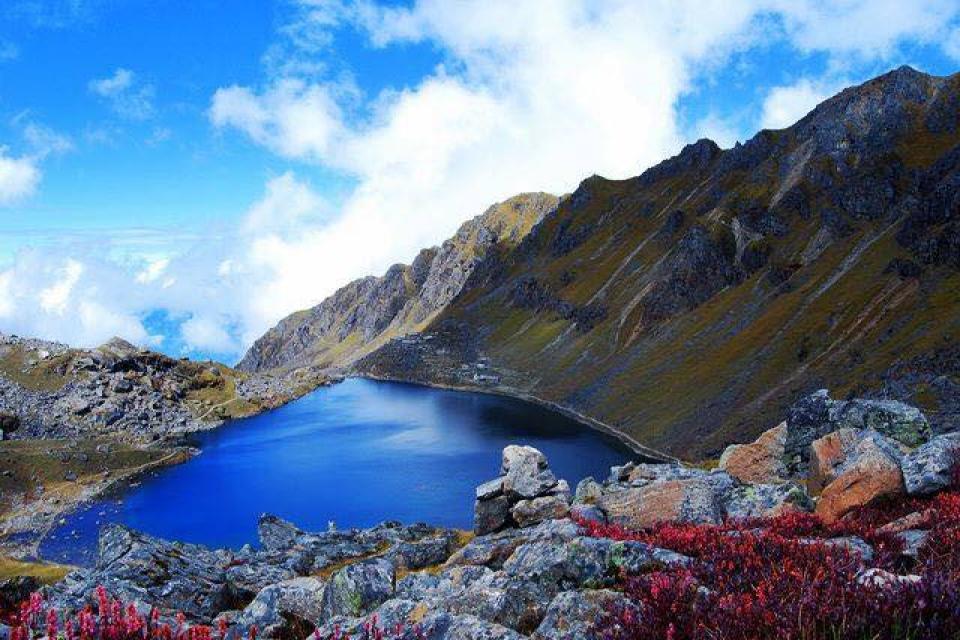 Overview
In the Langtang region, Langtang, Gosaikunda and Helambu trek is also one of the pleasing trekking destination covering all the Langtang areas. Major attractions are mountain viewing, enlightening with the sacred lake and exploring the cultures of this region. It is nestled amid the central Himalayan range to the north and a fairly lower range of snowy peaks to the south.
Langtang Circuit is a very renowned trekking destination. Although located quite near to Kathmandu, modernization has not been able to influence this region and its occupants. This escapade honors you with a combo of the marvelous viewpoints of the Himalayas alongside familiarize you with the rural cultures and traditions of the indigenous inhabitants. From Langtang Circuit, we get the panorama view of Mount Langtang Lirung (at 7201 m, 23623 ft), Ganesh Himal (7601 m), Langtang II (7226 m), Gang Chhenpo (6385 m), Naya Kanga Ri (5845 m) which lies to the south, Dorje Lakpa (6965 m) and several other peaks. You will also be visiting the Gosaikunda Lake and Kyanjingompa (one of the ancient Buddhists monastery).
As all trekking in Langtang region commences from Syrabesi. We take a scenic drive to reach Syrabesi from Kathmandu which takes almost 8 hours on a private bus. From here - our trekking to the main destination begins. As we continue our trek, we will be crossing several villages and cross suspension bridges following the Langtang River. We will enjoy trekking through the beautiful dense forest of rhododendron, oak, and bamboo. Likewise on the trail - there are varieties of wildlife you might get to spot such as Himalayan black bears, langur monkeys and even rare animal like Himalayan red panda etc.
Continued trekking and descending to the steep forests, we reach Langtang and then head to the Kyanjin Ri Gompa. In the Kyanjin Ri, we will be adapting to the altitude and here we will stop over the cheese factory. Before reaching Gompa, we will cross through several Chortens and Mani walls written from Tibetan scripture with some prayers. Next, we head to Thulosyabru- sing Gompa- and on the way we reach - Gosaikunda Lake. From here, our trail will be bit challenging as we climb through the rocky moraines and passing several lakes, we ascend to reach Laurebina La pass and after crossing several villages and trekking through dense forests; we reach Melamchi Gaon (village). And then trek to Sermanthang and cross the Melamchi Pul bazaar and finally retrace back to Kathmandu.
This trekking route is less crowded compared to the Everest and Annapurna region. Also, this trekking is relatively easy and can be attempted with family members or friends. This trekking can also be done in private or in a group. Spring and autumn are usually crowded but we the Accent Himalaya can operate this trekking in every season all around the year.
We have designed this 16 days itinerary carefully by arranging each and everyday trial in an appropriate way focusing comfort for our guests. If the departure date does not suit you or you have a specific destination, we will modify the itinerary according to your desire. For further details and more information about this trek or for any adjustment you want to make, please do email or contact us. We will be here 24/7 at your service.
Our detailed itinerary for Langtang, Gosaikunda and Helambu trek is listed below:
Detail Itinerary
1
Day 01: Arrival in Kathmandu (1,300m/4,264 ft)
Our representative will pick you up and drop to the hotel from the airport. In the evening, you will be invited for Nepalese taste - a welcome dinner hosted by Accent Himalaya.
Included meals: Dinner
2
Day 02: Drive to Syabrubesi (1,550m/5,100ft): 145 km/ 7 hrs
We will drive to Syabrubesi early in the morning after having our breakfast. We will ride with amazing 88 views of the Himalayan range, green landscape, and farm fields.
Included meals: Breakfast, Lunch & Dinner
3
Day 03: Trek to Lama Hotel (2,380m/7,830ft): 6 hrs
We will take our first step of trekking from Syabrubesi heading to Lama Hotel. We will follow the Langtang Khola, pass several dense forests and cross a suspension bridge. After crossing some teahouses, we will be at Lama Hotel.
Included meals: Breakfast, Lunch & Dinner
4
Day 04: Trek to Mundu (3543m/11,621ft) via Langtang village (3,430m/11,253ft): 6-7 hrs
After taking our breakfast, we continue to trek towards Mundu. Passing dense forests with steady climb upward to the valley, leaving trees back and with an enjoyment of marvelous views of Langtang Lirung, we will reach to Langtang village which was destroyed 2015 earthquake which triggered an avalanche. Finally, after crossing the Langtang village we reach the valley of Mundu.
Included meals: Breakfast, Lunch & Dinner
5
Day 05: Trek to KyangjinGompa (3,870m/12,697ft): 3 hrs. Explore the area.
Early in the morning, we will take our breakfast and start to follow the trails leading towards Kyangjjin Gumba, a principal monastery of the whole region. We will pass some traditional watermills prayer wheels and flags, Chortens and other interesting things. We will reach the Nepal's largest Mani wall on our way, completely made of stone on which prayers are written. After a short trek, we will finally arrive at our today's destination - KyangjinGumba - a place of Buddhist Shrine and whole surrounded area with magnificent views of Mountains.
Included meals: Breakfast, Lunch & Dinner
6
Day 06: Explore TserkoRi (5000m/16,404ft) 7-8 hrs
We will take tea with breakfast and continue our trek adventure passing through the Yak pastures and begin to explore Tserko, with mountain sunrise views. We will start to feel the thin and low air. We will visit the TserkoRi and return to Kyangjin.
Included meals: Breakfast, Lunch & Dinner
7
Day 07: Trek to Lama Hotel (2,470m/8,104ft): 5-6 hours
We will come back to the lama hotel. We will see the fantastic views of towering mountains that we missed seeing climbing up. We will walk slowly because of high steep and sloppy hills.
Included meals: Breakfast, Lunch & Dinner
8
Day 08: Trek to ThuloSyabru (2,230m/ 7,316ft): 5-6 hours
We will descend to the river at first of our trail. Crossing the river, we ascend to ThuloSyabru. We will be rewarded with wonderful views of Langtang Himal.
Included meals: Breakfast, Lunch & Dinner
9
Day 9: Trek to Shin gomba: 3-5 hours
We will trek mostly climbing up to Dimsa village and continuously low steep throughout the Rhododendron, Hemlock and Oak forest for reaching - Shin Gomba - popular for cheese.
Included meals: Breakfast, Lunch & Dinner
10
Day 10: Trek to Gosainkunda (4,460m/14,632ft): 5-6 hours
Today we will follow the trails through rhododendron covered point to the top of the rim and through the jungle area. In between Shin Gumba and Laurebina yak, is a sanctuary for red panda, an endangered wild animal. After return to the ridge, the path climbs a wider route through the alpine country - we arrive at Gosainkunda. We stay here and explore whole Gosaikunda area.
Included meals: Breakfast, Lunch & Dinner
11
Day 11: Trek to Gopte (3,440m/11,286ft): 6-8 hours
Our trails of the day will be bit challenging with rough and crosses moraine to climb. We will pass all other lakes of Gosaikunda, the trails ascend and cross the Laurebina La, after that the path goes down to Phedi (bottom of peaks). We continue to walk up and down throughout crossing a rocky hill with Rhododendron Pine and Juniper trees.
Included meals: Breakfast, Lunch & Dinner
12
Day 12: Trek to Malemchigaon (2,560m/8,399ft): 6-7 hours
We will slide down through the jungle area and climb through the dry river to arrive at Kharka surrounded by rhododendron forests. We will arrive at village Tharepati after climbing the forest way. We will get the marvelous views of Jugal Area after climbing ridge directly above the Tharepati. After crossing the village and forest area, descending to Melemchi River and climbing to the MelemchiGaon.
Included meals: Breakfast, Lunch & Dinner
13
Day 13: Trek to TarkeGyang (2,590m/8,497ft): 5-7 hours
Today we will visit the Sherpa village in Helembu region. We will visit the Sherpa culture and monasteries at Tarke Gyang.
Included meals: Breakfast, Lunch & Dinner
14
Day 14: Trek to Sermathang (2,610m/8,563ft): 3-5 hours
We will cross the forest with beautiful villages of Helembu region. Our trails make a sweep around the valley end between Parachi and the pretty village Gangyul. Here people practice the Drukpa Kagyu Buddhism - same as Bhutan.
Included meals: Breakfast, Lunch & Dinner
15
Day 15: Trek to MelamchiPuul Bazaar -Kathmandu : 3-4 hours; 2 hour bus
We will walk shortly to Melemchipul Bazaar, mostly inhabited by Sherpa communities, and catch a bus for Kathmandu. We will meet in the evening for farewell and trekking succession celebration.
Included meals: Breakfast, Lunch & Dinner
16
Day 16: Farewell Friend
Today, we will finally going to depart. We will drop you at the airport if you want to go back. However, we still stand with you and always ready to help you if you need to explore Nepal more.
Included meals: Breakfast
Included/Exclude
Pickups and drop offs from airport(s) and hotel(s)
3-star hotel in Kathmandu and teahouses during the trek on a twin-shared basis
Breakfast in Kathmandu and all meals during the trek
Transportation in a comfortable private vehicle
English-speaking, trained and experienced guide
Potter service charges during the trek
All fees for sightseeing including entry fees for visiting temple(s),monument(s), trekking and national parks
Welcome and farewell dinners
Down jacket, four-seasonal sleeping bag,Accent Himalaya duffel bag, t-shirt, and trekking map (down jacket and sleeping bag are to be returned after trip completion)
A comprehensive medical kit
All necessary paper work(s) and permit(s)
All applicable taxes and service charges
Nepalese visa fee
International airfare to and from Kathmandu
Excess baggage charges
Lunch and evening meals in Kathmandu
Extra night accommodation(s)
Travel and rescue insurance
Personal expenses (phone calls, laundry, bar bills, battery recharge, extra porters, bottle or boiled water, shower, etc.)
Tips for guides and porters
The services which are not included in our 'What is Included' section