Langtang Yala Peak Climbing with Gosaikunda and Helambu Trek
Langtang Yala Peak Climbing with Gosaikunda and Helambu Trek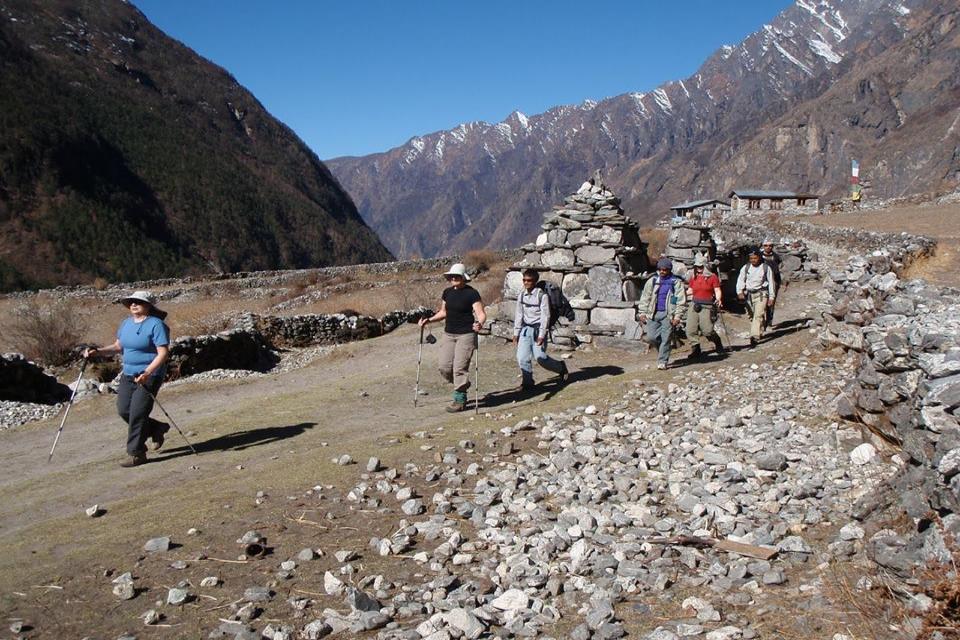 Overview
Yala Peak Climbing (5550 m) is one of the easy and popular peaks located in the Langtang region. It is ideal for those adventurous people especially for beginners to experience ascending the peak. With some prior outdoor trek skills and sound health (physical and mental), one can attempt this. From the top of this peak, you get excellent impressive views of the Himalayas such as Langtang Lirung (7246 m), grand Shispangma (8027 m), Dorjee Lakpa (6990 m), Gangchempo (6388 m) and several other snowcapped peaks.
This 16 days journey not only covers the summit of the peak but also includes sightseeing Kathmandu, visiting the Gosainkunda lake (tranquil scared significant site of the Hindu), and trek to the beautiful region of Helambu. On the trails, you will be heading to the stunning landscapes and cross through some of the Buddhists monasteries with multicolored prayer flags hanging all over making your trek peaceful and full of joy.
We begin our journey by visiting some of the heritage sites of Kathmandu and next day we drive to Syabrubeshi – the starting point of our trekking. Enduring trekking for few days, we will reach Kyajo Ri Gompa. En-route we will cross through fine-looking pristine forests where you get to perceive exceptional kinds of flora and fauna surrounded by beautiful mountainous views. You will also come across the Tamang village and get to discover the lifestyles of this community.
At Kyanjin Gompa, we will be fully acclimatizing the altitude and continue our trek to reach the Yala Base Camp. Next morning, we will be summiting the Yala Peak. We will then retrace back to the base camp and descend to the Langtang Village and head to Syabru. Then we are headed to visit the Gosaikunda Lake and then trek all through the way of Helambu region. As continuing our trekking further, we arrive at Timbu which marks our completion and then drive back to Kathmandu.
The superlative time to ascend to this easy peak can endeavor in spring (March-May) and autumn (September-November). If you well adapted to cold temperatures, you may even try this in winter. For further information about this peak expedition and trekking details, please feel free to get us by phone or email.
Our detailed itinerary for Yala Peak Climbing With Gosainkunda and Helambu Trek is listed below:
Detail Itinerary
1
Day 01: Arrival Kathmandu (1,350m/4,428ft)
As your arrival on Tribhuwan International Airport, our representative will pick up you and bring to your respective hotel. In the evening you will be invited for amazing, delicious Nepali food, you will know about the taste of the Nepali culture and tradition.
Included meals:Dinner
2
Day 02 : Kathmandu (1300m/4264ft): trip preparation
Kathmandu is known as the town of the Temple, more than 130 important monuments with several pilgrimage sites of both of Hindus and Buddhists is lies all around the Kathmandu valley. So today we will visit Kathmandu valley like places which is also in UNSECO World Heritage site like Pasupati Chettra, Kathmandu Durbar Square and Swyambhunath Boudhanath and so on. Then we will visit the office off Ganesh Himal Hiking Team our leader and other person. We also prepare for our trip.
Included meals:Breakfast
3
Day 03: Drive from Kathmandu to Syabrubesi (1,550m/5,100ft): 7 hours
We will drive to syabrubesi early in the morning after having our breakfast. We will ride with amazing views of Himalayan range green landscape and farm fields.
Included meals:Breakfast Lunch Dinner
4
Day 04: Trek from Syabrubesi to Lama Hotel (2,380m/7,830ft): 6 hours
We will take our first step of trekking from Syabrubesi heading to Lama Hotel. We will follow the Langtang Khola, pass dense forest and cross the suspension bride severally. After crossing some teahouses we will be at Lama Hotel. .
Included meals:Breakfast Lunch Dinner
5
Day 05: Lama Hotel to Mundu
After taking our breakfast, we continue to trek towards Mundu. Passing dense forests with steady climb upward to valley, leaving trees back and with enjoyment of marvelous views of Langtang Lirung, we will reach to Langtang village which is destroyed and lost 400 lives in 2015 earthquake triggered avalanche. Finally after crossing the Langtang village we reach at the valley of Mundu. .
Included meals:Breakfast Lunch Dinner.
6
Day 06: Langtang Village to Kyanjin Gompa (3,870m/12,697ft): 3- 4 hours
Early in the morning we will take our breakfast and start to follow the trails leading towards Kyangjjin Gumba, a principal monastery of whole regiuon. We will pass some traditional watermills prayer wheels and flags, Chortens and other interesting things. We will reach at the Nepal's largest Mani wall on our way, completely made of stone on which prayer written. After short trek we will finally arrive at our today's destination, Kyangjin Gumba, place of Buddhist Shrine and whole surrounded area with magnificent views of Mountains..
Included meals:Breakfast Lunch Dinner
7
Day 07: Acclimatization
Today we stay at Kyangjin Gomba and explore the area. We spend the day for acclimatization. We will take tea with breakfast and start our side trek adventure passing through the Yak pastures and begin to explore Tserko, with mountain sunrise views. We will start to feel the thin and low air. We will visit the Tserko Ri and return to Kyangjin.
Included meals:Breakfast Lunch Dinner
8
Day 08: Kyanjin Gompa to Yala Base Camp (4600m) 5-6 hours
Today after having our breakfast we continue to trek along the rocky glacier to reach at the Yala Peak Base Camp. We will have the astounding views of Ganchenpo, Naya Kang, Tserko Ri, and Yala Peak after arriving to base camp. After reaching to base camp we will have a pre climbing training and climbing techniques conduction plan for the summit of the Yala Peak for next day. We will learn to use the climbing gears like ropes, ice pick, harness, crampons and others.
Included meals:Breakfast Lunch Dinner
9
Day 09: Summit Yala Peak (5500m) and return to Yala Peak Base Camp: 8-9 hours
Early in the morning we start to climb the peak. After summiting the top we have the marvelous views of Himalayan like Shishapangama, Dorje Lakpa, Ganchenpo, Naya Kang, Tserko Ri, Langtang Lirung and others. With few time spending on the top we again trace down our earlier path and return to Base Camp.
Included meals:Breakfast Lunch Dinner
10
Day 10: Yala Peak Base Camp to Langtang village: 7-8 hours
We again continue to retrace our earlier path to return to Langtang village.
Included meals:Breakfast Lunch Dinner
11
Day 11: Langtang village to Thulo Syabru: 5-6 hours
Today we will turn to reach to another destination. We will trek through along the river valley passing the forests. We will reach to Bamboo Lodge and join the uphill trail which leads us to the typical Sherpa village of Thulo Syarbu or Syarbu Gaon.
Included meals:Breakfast Lunch Dinner
12
Day 12: Thulo Syabru to Gosainkunda: 7-8 hours
With the fantastic panoramic views of the Himalayan such as the Annapurna range, Himchuli, Manaslu, Ganesh, and Langtang, we will trek following the ridge for most part of the day and catch a glimpse of the first of the Holy Lakes, Saraswati Kunda and second is Bhairav Kunda. The third lake Gosainkunda at 4380m is also of the particular religious and cultural significance for Nepalese. Also one of the Nepal's most sought pilgrimage site. With surrounding Himalayan range there are also other lakes more than 9. This is the most religious and pilgrimage place for both Hindus and Buddhist. In every year during Janai Purnima in August, thousands of pilgrims visit the Lakes for Holy Bath and Swim. The large size rock at the center of the lake is said to be the remains of the Lord Shiva shrine.
Included meals:Breakfast Lunch Dinner
13
Day 13: Gosainkunda to Tharapati (3600m): 7-8 hours
We will move around the Lake's shore before ascend to the Laurebinayak pass at 4610m, from where the Helambu region is start and then we descend down to the valley of Melamchi. With the rough trails that cross the moraines and well-marked with Cairns, we pass through the three more small lakes before reaching to the pass. We will climb a small hill and enjoy the excellent views of the area. Our trails will follow through the SuryaKunda, Gupte and forests before reaching to Tharapati.
Included meals:Breakfast Lunch Dinner
14
Day 14: Tharapati to Timbu: 6-7 hours
Today we will take our breakfast and leave the village of the Tharapati to reach Timbu, with last walk of the trip. We will descend down through Lush and Rhododendron forest and also pass several Chortens and Mani wall to reach the village of Timbu, as well cultivated and also beautiful.
Included meals:Breakfast Lunch Dinner
15
Day 15: Drive from Timbu to Kathmandu: 4-5 hours
Early in the morning we will catch the bus for Kathmandu from Timpu with the enjoyments of the changing landscape geography. After reaching to Kathmandu we will check in the hotel and fresh up. In the evening we will attend the farewell and succession dinner.
Included meals:Breakfast Lunch Dinner
16
Day 16: Final departure
With amazing trip of the life we will be going to separate. As the airport drop services provided by the Accent Himalaya, our representative will drop you to the Tribhuwan International Airport before 3 hours to your flight. If you like to explore and visit Nepal more we are always with you.
Included meals:Breakfast