Mohare Danda Trek in the Annapurna Region
Mohare Danda Trek in the Annapurna Region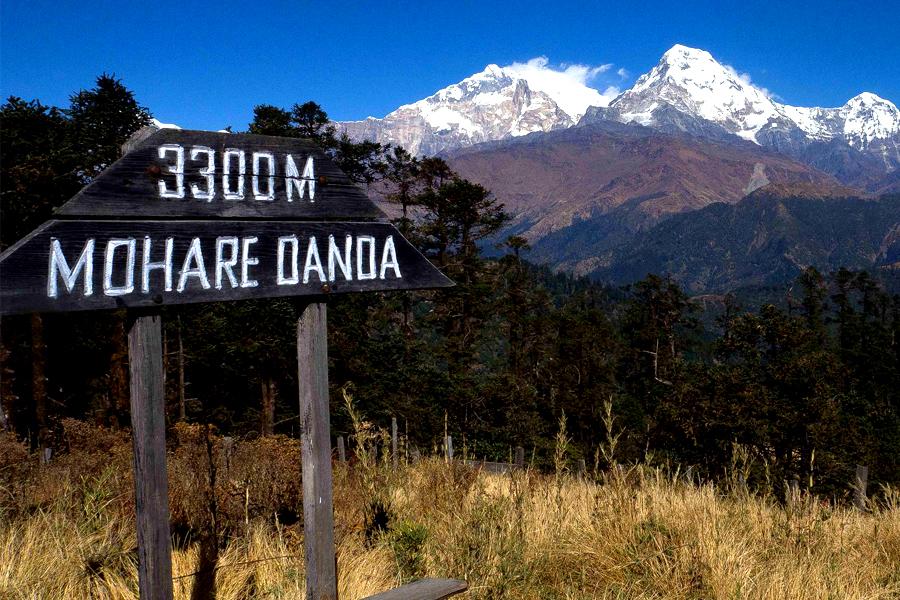 Overview
Mohare Danda or Mohare Hill is a moderate level trekking to enjoy the stunning chains of Himalayan peaks. Mohare Danda lies in between Beni and Jomson at an altitude of 3300 m, from where you can get impressive panoramic views of stunning and massive Annapurna and Dhaulagiri ranges. The trekking trials commence with thick spruce, oak and dense rhododendron forest also let you smell the beauty of nature. As Nepal is renowned for world-famous awesome trekking destination, this added trekking route is slowly getting popularity as a distinct route to explore the unspoiled region. The major inhabitants of the route are from ethnic Magar communities. Also, you get to explore some unique cultural aspects of the local communities very far from modernization.
Our 11 days journey begins from your arrival to Kathmandu and by visiting some of the landmarks here such as the Pashupatinath temple, the Kathmandu Durbar Square, the Boudhanath stupa and the Swayambhunath temple (monkey temple). Next, we take a scenic drive to Pokhara along the bank of Trishuli river. After relishing the evening and enjoying on lakeside Pokhara, the next morning we drive to Galeshwor and start trekking to Bas Kharka crossing Kali Gandaki river. We then head to Nagi (2300 m) and trekking for about 5-6 hrs from Nagi – we reach Mohare Danda which is the highest point of our trek. We descend down to Pun hill, then to Ghorepani and finally make our way back to Pokhara.
The best season for trekking in Mohare Danda are spring (March-May) and fall (September-November) but can also be done all year around. As being a medium level of trek experience, it can be enjoyed with family as there are no major altitude sickness problems. Also please note that our itinerary is totally customizable. If you want the route to be a certain way or want to exclude or include extra days, we surely can arrange that for you.
For more information or if you want to inquire more about the Mohare Danda Trek in the Annapurna Region, please feel free to email or contact us.
Here we list you our itinerary for Mohare Hill Trek in the Annapurna Region:
Outline itinerary
Day 1: Arrival in Kathmandu
Day 2: Sightsee Heritage Sites of Kathmandu Valley
Day 3: A scenic Drive to Pokhara and enjoy in Lakeside
Day 4: Pokhara to Galeshwor and Bas Kharka
Day 5: Bas Kharka - Nagi (2300m) 5-6 hours
Day 6: Nagi - Mohare Danda (3300m) 6 - 7 hours
Day 7: Trek to Poon Hill and Overnight at Ghorepani
Day 8: Ghorepani to ThirekDhunga
Day 9: TirkheDunga to Nayapul and Drive to Pokhara
Day 10: Pokhara to Kathmandu
Day 11: Final Departure
Detail Itinerary
1
Day 1: Arrival in Kathmandu & Transfer to the Hotel
Our team member of Accent Himalaya will pick you from the airport and drop you at your hotel after your arrival. As you might have Jetlag, you can either take rest or visit the office of Accent Himalaya in Thamel and explore the surrounding. Later in the evening, we the company will be serving you a welcome dinner in a fine Nepali restaurant with delicious Nepalese food.
Accommodation:

3 star Hotel in Kathmandu

Meal:

Welcome Dinner
2
Day 2: Sightsee Heritage Sites of Kathmandu Valley
Early morning after breakfast, we get ready to sightsee the UNESCO enlisted heritage sights of the Kathmandu valley. We make it to the top of Swayambhunath temple which is one the prominent site Hindus as well as Buddhist. You can see hundreds of devotes circling the areas and also spot lots of monkeys in the area. We then visit the Pashupatinath temple – a temple dedicated to Lord Shiva –a prominent figure in Hindu Scripture. The temple itself is located on the bank of Bagmati river and you can observe hundreds of devotes and shadus nearby. (shadus are the people who renounced material life don't believe in material possession). The temple is built in Pagoda style and has a golden crown on the top. Our next destination would be the largest stupa in the world – the Boudhanath Stupa. This stupa is also surrounded by other monasteries and temples also is one of the most visited sites in Kathmandu. Lastly, we visit the Kathmandu Durbar square, an ancient site surround by unique arts and rich architecture.
3
Day 3: A scenic Drive to Pokhara and enjoy in Lakeside
The next morning, after breakfast we take a scenic drive to Pokhara in a tourist bus which takes around 5-6 hours in an ideal situation. The route to Pokhara is alongside the bank of Trishuli rivers. Besides the amazing landscape, we can also spot some magnificent mountain tops and also some picnic, camping sites on the beach. After reaching, we stalk around the streets of Pokhara and enjoy in the lakeside of Pokhara. Overnight in Pokhara.
4
Day 4: Pokhara to Galeshwor and Bas Kharka
Driving along the bank of Kali Gandaki river for four hrs, we reach Galeshor from Pokhara. Thereafter, a hike for about 3-4 hours will take us to Bas Kharka. We hike through the lush green forest and cross the suspension bridge of Kali Gandaki river. Overnight at the lodge.
5
Day 5: Bas Kharka - Nagi (2300m) 5-6 hours
Our breakfast, we start our trek heading to Nagi. Our trails pass through the beautiful villages alongside the stunning views of mountains and impressive landscapes. The total trek time accounts for 7 hrs utmost and we also get to interact with the settlements here.
6
Day 6: Nagi to Mohare Danda (3300m) 6 - 7 hours
Today's trail goes through beautiful forests of Oak and Rhododendrons with magnificent views of mountains such as Mt. Fishtail, south Annapurna, Dhaulagiri, Tukche and many more. In the evening, we observe glorious sunset view from Mohare hill station and then overnight at eco-community management lodge.
7
Day 7: Trek to Poon Hill and Overnight at Ghorepani
Here at Mohare Hill is very quiet and the experience feels more exclusive. After relishing some time here taking pictures in this tranquil atmosphere - we start our walk along the ridge, southern section of Khopra Danda ridge trail. Along the ridge, we can spot breathtaking views of Dhaulagiri as we descend to Poon Hill and further descending down, we reach the destination of the day - Ghorepani (2874 m). Overnight in Ghorepani.
8
Day 8: Ghorepani to ThirekDhunga
Our trails are wide and we descend downhill from here along the dense rhododendron forests. Our trails pass through several small villages and settlements as we make our way down. Overnight in Tirkhedhunga.
9
Day 9: TirkheDunga to Nayapul and Drive to Pokhara
Walk from Tirkhedunga to Nayapul is quite easy either flat or downhill. We descend gently down the way through the rice fields and local villages to and trek until we reach Nayapul and finally drive to Pokhara and stay overnight at the hotel in Pokhara.
10
Day 10: Pokhara to Kathmandu
On this penultimate day, after having breakfast in the beautiful city, you will be driven back to Kathmandu which takes around 6 hours or takes a short flight of 25 minutes (your choice for flight needs to be paid additionally). After arriving Kathmandu, you can buy souvenirs for which the guide can help you. In the evening, you will be taken for farewell dinner and cultural show where you can enjoy a variety of Nepalese dishes and cultural performances.
11
Day 11: Final Departure
If you wish you wrap up your Nepal visit, one of our representatives from Accent Himalaya will drop you to the airport and see you off. If you want to explore more or extend your visit, we will always be there with you to guide for the next step.