everest trek with Heli Tours
everest trek with Heli Tours
Moderate
Everest Helicopter Tour
Nepal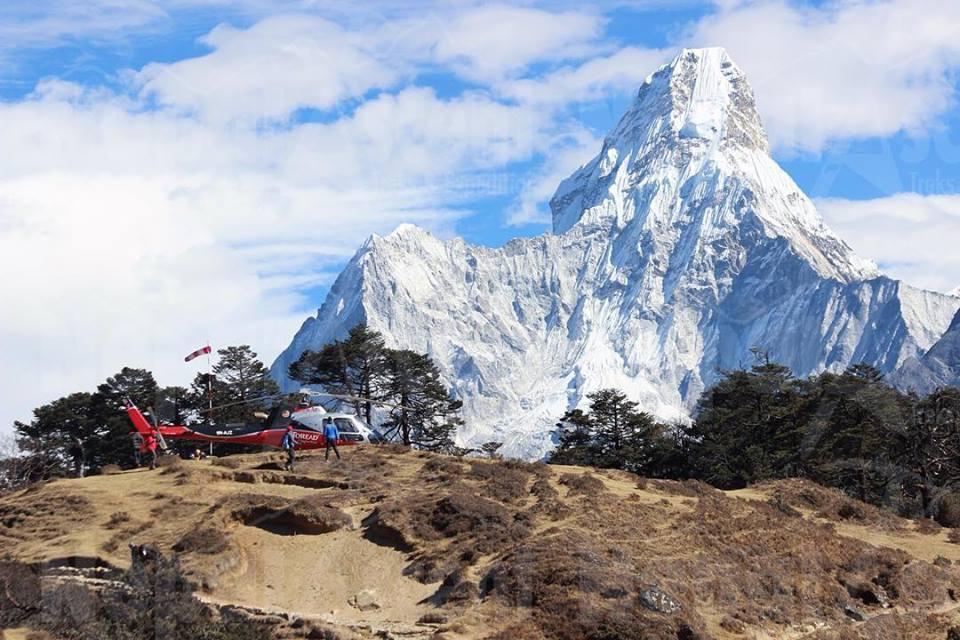 Overview
An exceptional way to enjoy the majestic beauty of naturally formed pyramid shaped snowcapped Everest and other numerous peaks, the Everest Region Heli Tour takes you the Mahalangur Himal sub-range of the Himalayas.
Our adventure begins from a scenic flight to Lukla from Kathmandu. Trekking via Phakding and Namche we reach – Shyangboche. We board on our charted helicopter here flying over numerous peaks such as Lhotse (8501 m), Nuptse (7879 m), Ama Dablam (6856 m), Thamserku (6608 m), Kantega (6685 m) and the almighty Everest (8848 m). Also, the stunning view of the Gokyo Lake (a set of six lakes) is amazingly psychedelic from the air. Next, we stop at the vantage point of the Everest region i.e. Kala Patthar (5543 m) and relish the precious moment here taking photographs and explore more. From Kala Patthar, we fly to Kongde Ri (4199 m) and make our way to the luxury resort of the Himalayan region on – Yeti Mountain Home (or similar) to enjoy the picturesque views of the Himalayan peaks and enjoy. Next, we wrap our tour and fly back to Kathmandu.
This Everest Helicopter Tour is perfect for groups with elderly and children who have hard time trekking and also with limited time. In terms of climate & visibility, spring and fall are the best seasons to plan this trip but we also manage it as according to your holiday schedule. For more information about this Helicopter Tour to Everest, please feel free to contact or email us.
Outline Itinerary
Day 1: Arrival at Kathmandu & Transfer to Hotel
Day 2: Fly to Lukla (2800 m) & Trek to Phakding (2656 m)
Day 3: Trek to Namche (3450 m)
Day 4: Trek to Shyangboche (3720 m) & Heli tour to Kala Patthar (5243 m) & Kongde (4199 m) - Return to Kathmandu
Day 5: Sightsee Kathmandu
Day 6: Departure
Below we list our detailed itinerary for this tour:
Detail Itinerary
1
Day 1: Arrival at Kathmandu & Transfer to Hotel
Upon your arrival at International Airport, Kathmandu - you will be picked up by our staff of Accent Himalaya and bring you to the Hotel. In the evening, you will be offered welcome dinner hosted by Accent Himalaya to enjoy a delicious taste of authentic Nepali food. In between, we will also discuss the trip and do some preparation.
2
Day 2: Fly to Lukla (2800 m) & Trek to Phakding (2656 m)
On the second day, you will start a scenic flight from Kathmandu to Lukla. It takes approximately about 45 minutes to reach there. On the air, you can enjoy the amazing domestic air route culminating on a hillside surrounded by the magnificent Himalayas. Our real trek starts after reaching Lukla. You will meet our crew members and begin packing and arranging. Once you set off on your journey, you will be led to Cheplung village from where you can enjoy an awe-inspiring scene of Mount Khumbila (18900 ft) - which has never been ascended by anyone yet. From Cheplung, you will start descending until you reach Phakding and take rest and spend that night.
3
Day 3: Trek to Namche (3450 m)
After sumptuous breakfast, you will continue your journey through magnificent and aromatic pine forest. You will follow the trail north up the valley of Benkar. Then, Dudh Koshi River (one of the tributaries of river Saptakhoshi) will be crossed and you will go on passing Chumoa to Monjo, the entrance to Everest National Park (also called Sagarmatha National Park), which is also listed in one of the world heritage sites. Then, crossing a suspension bridge, you pass Jorsale village and walk alongside the Dudh Koshi & Bhote Koshi River. A steep ascent leads you up to the prime heartland of Sherpa village - Namche Bazaar. If the weather gets clear, you can view the sight of Mount Everest and Mount Lhotse from there. You will stay that night in Namche Bazaar.
4
Day 4: Trek to Shyangboche (3720 m) & Heli tour to Kala Patthar (5243 m) & Kongde (4199 m) - Return to Kathmandu
Early morning we start our trek to Shyangboche. Enjoying the panoramic views of the Himalayas alongside on our trail, we then board on our charted helicopter and fly towards Kala Patthar.
Our scenic flight to Kala Patthar (5242 m) gives us the picturesque views of the snowcapped peaks and the hypnotic views of the Gokyo Lakes from the air. From this vantage point of the Everest region, we get the up-close views of almighty Everest and numerous other snowcapped peaks.
After relishing the wonderful moments and capturing we fly towards the Kongde Ri (4199 m) and make our way to the highest luxury resort - Yeti Mountain Home (or similar which depends upon the time of booking and availability). We rejoice splendid views of the serene around by capturing photographs of the unparalleled panoramic view of Mount Everest, Lhotse and other. After enjoying our meal, we onboard our helicopter back to Kathmandu which marks the completion of our Heli Tour.
5
Day 5: Sight-see Kathmandu
Kathmandu is a wonderful site mixed of Hinduism, Buddhism cultural sites and also has some western influence. After breakfast, our guide takes you to visit the prominent sites of the Kathmandu valley - the town of the temple. Here we cover some of the world heritage site of Nepal like Pashupatinath (Hindu Temple), South Asia's largest stupa – the Boudhanath, the Swayambhunath temple, and the historical ancient cultural site - the Kathmandu Durbar Square.
6
Day 6: Departure
After completing your Heli tour, our representative will drop you at the airport within time. However, if you want to stay more in Nepal for other adventure activities such rafting, mountain biking, paragliding or even tours to Tibet, Bhutan or India, we surely will be very glad to arrange that for you.