Moderate
Trekking,Walking
Nepal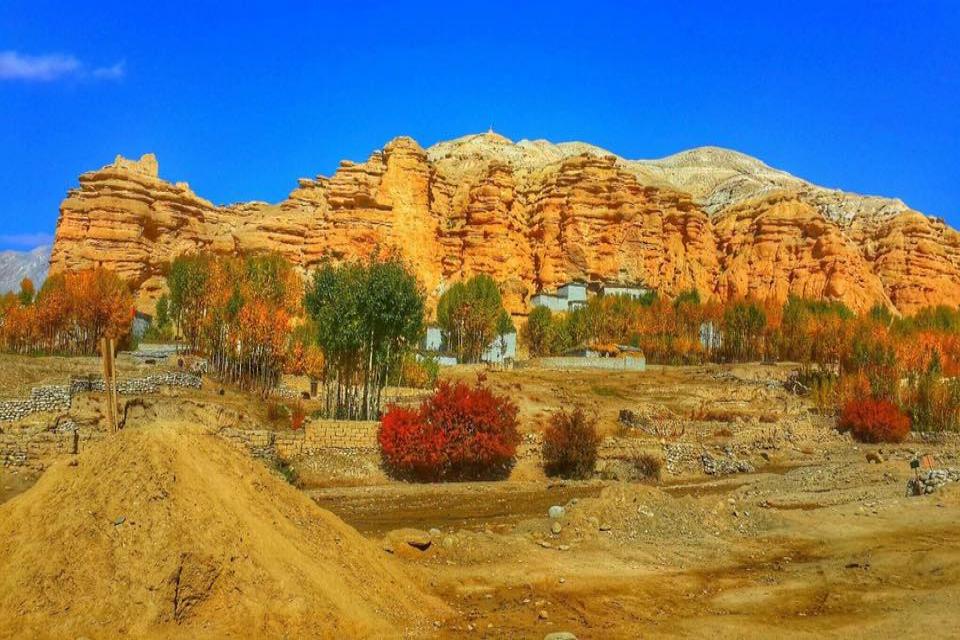 Overview
Namaste and Warm Greetings !
We Accent Himalaya would like to welcome you all to our official page of Upper Mustang Trekking.
Upper Mustang which is also called Lo is an alluring and mystic land in Annapurna region. It was forbidden until 1990 so as not to get influenced by the foreign traditions, costume, and customs. It was in 1991 A.D. when foreigners were permitted to trek and travel in this heavenly place.
Most of the people living in this region follow Tibetan culture and tradition and they are very much determined to preserve and promote their ethnic and religious identity. Trekking to Upper Mustang gives you varied and lively feelings of mountainous life. The highest elevation of this region is 4000 m and hence even a novice aspirant of trekking can go for Upper Mustang Trek.
Highlights
Upper Mustang Trekking lets you walk through the enigmatic land which rewards you with the exceptionally unique exploration – phenomenal geographical structures of the landscape, captivating medieval ancient monasteries, and come across with a unique culture and splendid view of the wonderful snowcapped peaks and additionally the warm hospitality of the local people.
This trekking can be done almost in every season but spring and autumn are the best seasons for trekking to Upper Mustang. Since this is the restricted zone, a special permit from Nepal Government is required for which certain amount should be paid and you will be liable and other entrance fees.
Hiking to Upper Mustang offers you a different flavor of Himalayan lifestyles, prehistoric and well-famed monasteries, caves, local art and architectures and much more. The hills in the Upper Mustang region look bare and dry whereas the environment is usually clear and stunning. Other major attractions besides these are the enticing and tempting scene of the snow-capped Himalayas like Annapurna, Dhaulagiri, Nilgiri and much more.
Summary
The journey to Upper Mustang virtually begins with a scenic drive to Pokhara along the windy road that winds down the beautiful dale and goes along the river banks passing beautiful villages on the way. On reaching the most beautiful city in Western Nepal - Pokhara; you will take a short flight to Jomsom.
When you are en-route to Jomsom, you can enjoy the beautiful scene of green hills, dense forest, pristine mountains and many scenes. The real trek to Upper Mustang starts only after you reach Kagbeni, the main entrance to Upper Mustang. Hiking up from Kagbeni you will reach Tangbe Village and be enjoying and leaving the beautiful sceneries and villages behind, trekking past the fast flowing streams, you will reach Chusang Village. Most of the inhabitants of the villages you will pass are Gurungs, Thakalis, Sherpas, and Manangis; the ethnic people of the region.
From Chusang, you will leave for Lo-Manthang. Lo-Manthang is a beautifully fenced village and also the capital of Mustang. After leaving Lo-Mangthang behind, you will descend back re-routing and be passing many beautiful villages and typical Tibetan monasteries where you will have plenty of chances to explore Tibetan tradition and lifestyle while being in Nepal. After you descend to Chusang, you will retrace to Jomsom, Pokhara and finally back to Kathmandu.
Accent Himalaya has arranged this trekking and itinerary very carefully (listed below) and if our itinerary does not fit your vacation schedule, please let us know so that we can customize it as per your wish.
Detail Itinerary
1
Day 1 - Arrive in Kathmandu [1300 m / 4264 ft]
A representative from Accent Himalaya will have already reached the Tribhuvan International Airport before your landing. You will be picked up and taken to the hotel. After you relax and freshen up, you can visit our office. In the evening, a welcome dinner will be hosted by Accent Himalaya in which you can enjoy typical Nepali cuisine.
2
Day 02: Kathmandu: Sightseeing and Trek Preparation
After having breakfast, you will be taken to different places of historical and religious importance especially those enlisted in UNESCO's World Heritage Site viz. the Pashupatinath Temple, the Swayambhunath temple (Monkey Temple), the Boudhanath stupa and the Kathmandu Durbar Square. In the evening, our guide briefs about your trek and necessary preparations.
3
Day 03: Kathmandu to Pokhara [823m/2,700ft]: 6 hrs drive
This is the day when you set out for your trek. You will leave for Pokhara early in the morning from Kathmandu on a tourist bus. On the way, you will be served breakfast and lunch. Driving alongside Trishuli River fills your heart with different feelings. After reaching Pokhara, you can enjoy the lovely view of Mt. Fishtail, Dhaulagiri and Annapurna. In the evening you can go for a walk around Lake City.
4
Day 04: Fly to Jomsom & trek to Kagbeni [2,858m/9,375ft]: 3-4 hrs
With an early morning breakfast, you will fly to Jomsom collecting the lush forests, green hills and snowy mountains for about 20-25 minutes. Jomsom is the district headquarter of Mustang District and a major inhabitation of Kali Gandaki area that links the old Trans Himalaya salt trade route to Tibet. Strong guts of air blows at Jomsom in the afternoon.
Your actual trek begins from there. You will walk along the riverbed of Kali Gandaki and reach a small village - Eklebatthi where you will take rest for a while and head towards your destination - Kagbeni. Kagbeni is a lovely village that lies in the main age-old Trans-Himalayan Salt trade route to Tibet. On the way, you can see a major tributary of the Kali Gandaki River, Kag Khola flowing past Muktinath which meets to make the great River Kali Gandaki.
Meal:

Breakfast, Lunch and Dinner
5
Day 05: Kagbeni to Chele [3050m/10,004ft]: 5-6 hrs
You will start the journey on day 5 with a permit check-up and continue walking along the riverbank of Kali Gandaki upstream. Enjoying the scenic picturesque place, you will walk along the sandy and windy trails uphill and downhill which leads you to Tanghe village. The narrow alleys, whitewashed houses, buckwheat fields, apple orchard and much more things are here to enjoy. After pausing there for a while, you will again put your steps forward to Chhusang and cross the river head up to the huge red chunk of a conglomerate that has fallen from the cliff above, forming the tunnel through which the Kali Gandaki River follows. With a short walk along the small ridge, you will reach Chele.
Meal:

Breakfast, Lunch and Dinner
6
Day 06: Chele to Syanbochen [3475m/11,398ft]: 6-7 hrs
On this day, you will continue to walk further to Eklo Bhatti and climb over the Taklam La Pass through the plateaus and narrow path gazing the mesmerizing scenery of Tiliucho peak, Yakawa Kang, and Damodhar Ridge. Then, you will descend a little to the village of Samar then again ascend the trails that go above Samar village to the ridge and again descend the steep trails. With another 3-4 hours of walking, you will reach Syanbochen. On the way, you will walk past the cave which is famously known as Ramchung Cave.
Meal:

Breakfast, Lunch and Dinner
7
Day 07: Syanbochen to Ghaymi [3520m/11,546ft]: 5-6 hrs
After breakfast, you will push your steps uphill to Yamda La at an elevation of 3850 m and pass few teahouses, Chortens, local villages and houses molded in Tibetan styles with open Veranda (balcony). Now, you will climb up to Nyi Pass and descent a little to reach the day's destination - Ghaymi.
Meal:

Breakfast, Lunch and Dinner
8
Day 08: Ghaymi to Charang [3500m/11,480ft]: 4-5 hrs
After having breakfast, you will go on walking, cross the Ghyami Khola (stream) and the trails climb up to a plateau and passes beside a very long Mani wall, a sacred stone wall made by the followers of Buddhism. After passing the Mani wall, the trails head east to the village of Charang, a beautiful village with maize fields, willow trees and houses separated by stone walls at the top of the Tsarang Chu canyon.
Meal:

Breakfast, Lunch and Dinner
9
Day 09: Charang to Lo-Mangthang (3700m/12,136ft): 5-6 hrs
With the amazing views of peaks such as Nilgiri, Tilicho, Annapurna I and Bhrikuti - you will follow the trails descending to Charang Chu Canyon and again climbing up steeply after crossing the river. After you ascend windy pass of Lo, the Lo-Mangthan valley appears. Now, you can enjoy the stone-fenced city with its hills on the Tibetan Border.
Meal:

Breakfast, Lunch and Dinner
10
Day 10: Explore Lo-Mangthang
You will spend the whole day for exploring the entire Lo Mangthang and visiting the surrounding areas nearby for acclimatization. You will visit the Namgyal Gumba and Tingkhar. Namgyal is the important monastery of the local community situated at hilltop which is also taken as the local court. Tingkhar is the last main village in the Northwest of Lo-Mangthang. After visiting Tingkhar, you will stroll back to the hotel. As an option, we may either visit the Tall Champa Lakhang, the God House, the red Thugchen Gumba, Chyodi Gumba and Entrance Hall which are the main attractions of the town. Another attraction in the town is the four-storied palace of the Raja (King of Mustang) as well as surrounding panoramic views of the Himalaya.
Meal:

Breakfast, Lunch and Dinner
11
Day 11: Lo-Mangthang to Drakmar [3810 m/12,500ft]: 6-7 hrs
On the 11th day, you will return from Lo-Mangthang with a different route to Drakmar. You will trek via Gyakar with more than 1200 years old Ghar Gumba with Guru Rinpoche as the primary figure. Ghar Gumba is famous for its rock painting. As the voice of the legend, anyone making one wish at the Ghar Gumba with good manner is believed to be fulfilled.
Meal:

Breakfast, Lunch and Dinner
12
Day 12: Dhakmar to Ghiling [3806m/12,484ft]: 5-6 hrs
This day, you will Trek down to Ghiling after having breakfast. You will have your lunch at Ghiling and the remaining hours will be spent in evening walk as the dusty wind blows there in the afternoon.
Meal:

Breakfast, Lunch and Dinner
13
Day 13: Ghiling to Chhuksang [3050m/10,004ft]: 5-6 hrs
You will trek down to Chhukasng from Ghiling for spending the night. On the way, different landscapes and Himalayan range can be enjoyed.
Meal:

Breakfast, Lunch and Dinner
14
Day 14: Chhuksang to Jomsom [2700/8,856ft]: 6-7 hrs
This is the final day of your trek. So, you start trekking early in the morning, have lunch at Kagbeni and trek down to Jomsom. If you want to extend your trekking for visiting Muktinath Temple, our guide can help you with this.
FYI: 'Mukti' means 'to forgive' and 'Nath' is the word for God. So, Muktinath means one of the faces of Lord Vishnu, who forgives our sins. Muktinath is the holiest Pilgrimage site both for Hindus and Buddhist. We can see the 108 waterspouts, Jwalama Mai Temple with gorgeous natural spring and eternal flame fueled by natural gas.
Meal:

Breakfast, Lunch and Dinner
15
Day 15: Fly back to Pokhara
Early in the morning, you will check in the Jomsom domestic airport for a flight for Pokhara. You will fly in between the gorge of the two huge mountains, Mt. Annapurna and Mt. Dhaulagiri. After reaching Pokhara you will be transferred to a hotel at Lake Side where you can enjoy the evening in the evening city lights, tranquil lakes and much more.
16
Day 16: Drive from Pokhara to Kathmandu
On this day, you will take a flight from Pokhara to Kathmandu early in the morning. You will fly over the amazing fly route with magnificent views of mountains, green landscapes and hills, golden vision farm fields and amazing forest area with magnificent village and country. After landing in Kathmandu, you will be transferred to Hotel and you can do souvenir shopping if you like for which our guide will help you. In the evening, you will be invited for farewell dinner hosted by Accent Himalaya.
Meal:

Breakfast and Farewell Dinner
17
Day 17: Fly Home: Farewell Friend
Day of farewell comes here. A representative from Accent Himalaya will drop you at the airport and see you off. The reminiscences of Upper Mustang Trek will always light up your heart and spirit.
Included/Exclude
3-star hotel accommodation in Kathmandu and Pokhara with breakfast
Teahouse accommodation during the trek
All meals (breakfast, lunch and dinner) during the trek
Welcome and farewell dinners
All ground transportation on a comfortable private vehicle as per the itinerary
Domestic flights (Pokhara-Jomsom-Pokhara)
Guided city tour in Kathmandu by private vehicle
Entrance fees for sightseeing/monument visits as per the itinerary
An experienced, English-speaking and government-licensed trek leader and assistant trek leader
Porter service
Staff costs including their salary, insurance, equipment, domestic airfare, food and accommodation
Down jacket and sleeping bag (to be returned after trip completion)
Accent Himalaya trekking bag/duffel bag, t-shirt and trekking map are yours to take
All necessary paperwork and trekking permits (National Park Permit, TIMS)
Medical kit (carried by your trek leader)
All government and local taxes
Nepalese visa fee
Excess baggage charge(s)
Extra night accommodation in Kathmandu and Pokhara because of early arrival, late departure, early return from mountain (due to any reason) than the scheduled itinerary
Lunch and evening meals in Kathmandu and Pokhara (and also in the case of early return from the mountain than the scheduled itinerary)
International flights
Travel and rescue insurance
Personal expenses (phone calls, internet, laundry, bar bills, battery recharge, extra porters, bottled or boiled water, shower, etc.)