Kathmandu to Everest Heli Tour
Kathmandu to Everest Heli Tour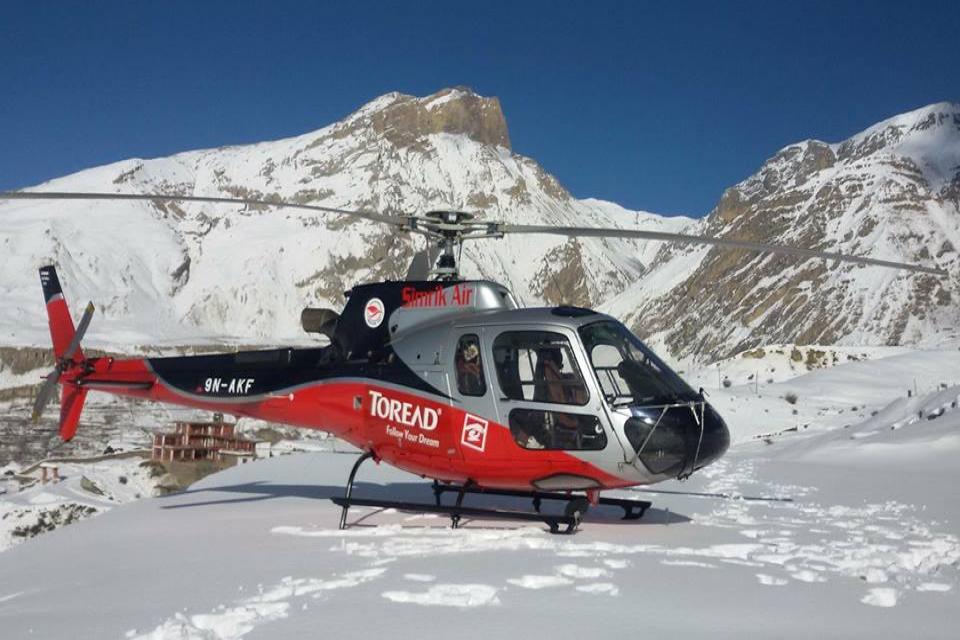 Overview
Helicopter Tour to Everest
The Kathmandu to Everest Heli Tour is the fastest medium to reach the Everest region. The EBC, the genesis for all expeditions for the almighty Everest and some major peaks can be reached in minutes from a scenic Heli tour with the enchanting and crystal clear views of numerous snow-capped peaks, landscapes, icy glaciers, monasteries, remote settlements, lakes, and much more. Our Heli tour commences from Kathmandu to EBC, and then to the vantage point of the Everest region – Kala Patthar. We then fly to Kongde Ri and make our way to the resort. Next, we fly back to Kathmandu and sightsee the famous heritage sights. Finally, the next day we are ready to say goodbye and drop you to the airport to your respective destination.
Please note that our itinerary is totally customizable and we Accent Himalaya welcome your changes that best suits you. The favorable season is undoubtedly spring and fall for this Heli tour as you won't face any climate issues. However, this Kathmandu – Everest Helicopter Tour can also be done all year round according to your vacation schedule. For more information about this Heli Tour, please feel free to contact or email us.
Outline Itinerary
Day 1: Kathmandu arrival, Transfer to Hotel & welcome Dinner.
Day 2: Fly to Everest, Kalapatthar, then to Kongde Ri and back to Kathmandu
Day 3: Sightseeing Kathmandu
Day 4: Final Departure
Detail Itinerary
1
Day 1: Kathmandu arrival, Transfer to Hotel & welcome Dinner.
As you arrive Kathmandu - you will be picked up by our staff of Accent Himalaya and transfer you to the Hotel. In the evening, you will be offered welcome dinner hosted by Accent Himalaya to enjoy a delicious taste of authentic Nepali food. In between, we will also discuss the Heli tour and do some preparation.
2
Day 2: Fly to Everest, Kala Patthar, then to Kongde Ri and back to Kathmandu
Early morning we start our Heli tour from Kathmandu to Everest. Enjoying the panoramic views of the Himalayas and landscape, we fly towards Kala Patthar. In between, we here get the phenomenal bird's eye views of Lhotse (8501 m), Ama Dablam (6856 m), Kantega (6685 m), Thamserku (6608 m), Nuptse (7879 m), Everest (8848 m), and much more.
Our scenic flight to Kala Patthar (5242 m) gives us the picturesque views of the snowcapped peaks and the hypnotic views of the Gokyo Lakes from the air. From this vantage point of the Everest region (Kala Patthar), we get the up-close views of almighty Everest and numerous other snowcapped peaks.
After relishing the wonderful moments and capturing the moment, we fly towards the Kongde Ri (4199 m) and make our way to the highest luxury resort - Yeti Mountain Home (or similar which depends upon the time of booking and availability). We rejoice splendid views of the serene around by capturing photographs of the unparalleled panoramic view of Mount Everest, Lhotse and other. After enjoying our meal, we onboard our helicopter back to Kathmandu which marks the completion of our Heli Tour.
3
Day 3: Sightseeing Kathmandu
Kathmandu is the capital of Nepal and is also called the town of the temples. There are tons of vicinity to explore in Kathmandu but here we focus on some of the historical and cultural sites enlisted in the UNESCO world heritage site. Here at first, we will be exploring the Pashupatinath temple which is located on the bank of Bagmati River. It is an ancient temple of Lord Shiva – one of the prominent figure in Hindu Scripture. The temple itself has four huge silver doors and a golden crown at the top and is two-storied built in pagoda style. There are lots of images and shrines of various gods and goddess all around the temple. The temple has different legends and myth about the temple came into existence in the first place - our guides will be briefing you about these interesting facts.
Next, we make our way to the Boudhanath Stupa. This stupa is the largest stupa in the world. It is one of the prominent sites for Buddhist as well as very famous tourist destination. You get some insights on Buddhist culture and also get to observe dark red-robed monks enchanting prayers all around with many spinning 'mandala'. The Kathmandu Durbar Square is an ancient palace where the kings used to rule over this country. It is beautifully built with ancient arts and architecture. Next, we will be visiting the Swayambhunath temple (also known as monkey temple) which is both pilgrimage site both for Hindus and Buddhist. In the top of the temple, there is a stupa which is one of the ancient stupas. If time permits, we will also be visiting other ancient UNESCO world heritage site - the Patan Durbar square. After this, we get back to the hotel.
4
Day 4: Final Departure
As according to your flight, our representative will drop you at the airport within time. However, if you want to stay more in Nepal for other adventure activities such rafting, mountain biking, paragliding or even tours to Tibet, Bhutan or India, we surely will be very glad to arrange that for you.