Ama Dablam Base Camp Trek
Ama Dablam Base Camp Trek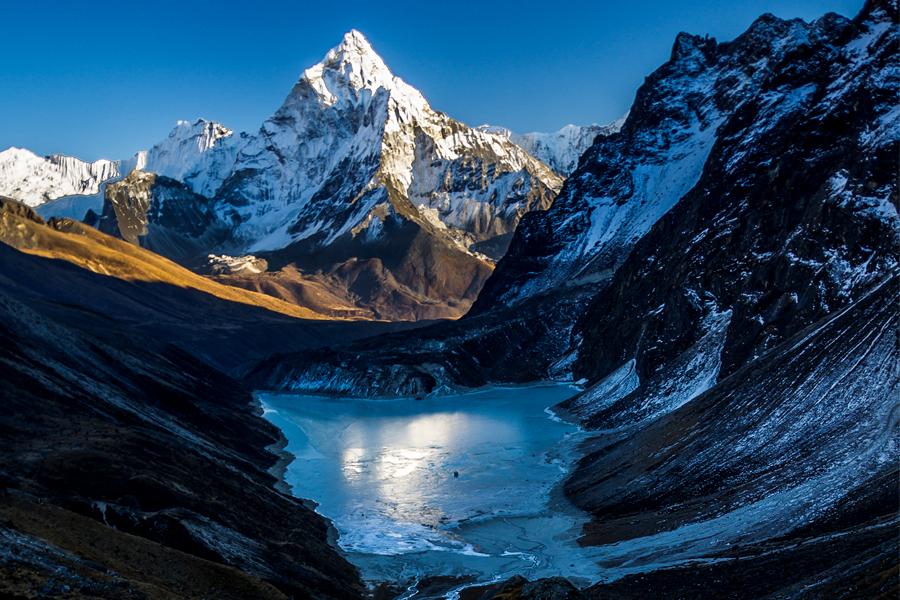 Overview
Ama Dablam Base Camp Trek
Everest Ama Dablam trek in the Everest region is also one of the popular trekking as being less crowded compared to other routes to reach the Everest Base Camp and other destination in the Everest region. Mount Ama Dablam (6812 m) derives her name from the traditional language where Ama means mother and Dablam means necklace worn by Sherpa women on her neck. Hence, this peak is named as mother necklace in traditional language but usually, people called it Ama Dablam.
This trek takes you to the mystic Himalayan region of Nepal which rewards you with a great trekking escapade whereas tempting you with the splendid vista of the striking snowcapped peaks.
This trekking begins from a short scenic flight to Lukla and continuing trekking. On your trail, you will be trekking through terraced fields following the Bhote Koshi River and headed to the Namche Bazaar, the center of Sherpa communities. Here, you get to explore the Sherpa cultural traditions and try their local food. And continuing trekking further, we will visit the most famous Tengboche monastery which is the biggest and ancient monastery in the Himalayan region. You not only get to explore this monastery but also get the mystic view of Ama Dablam. Alongside the way, you will have abundant chance to observe the Himalayan wildlife and unspoiled biodiversity.
We will continue trek to reach our destination leading to Dengboche and Mingbo crossing several Sherpa villages through dense forest. We will finally reach our destination Ama Dablam Base Camp which offers you the best viewpoint to grasp panoramic Mount Ama Dablam (6812 m), world highest peak Mount Everest (8848 m), Mount Nuptse (7861 m), Mount Lhotse (8516 m), Mount Kangtega (6782 m) and several other peaks. The highest point we reach is Ama Dablam Base Camp, which is at the altitude of 4600 meters. Since trekking to this region is covered by the Sagarmatha National Park, you get to spot several wild animals like snow leopard, Himalayan Thar, varieties of birds and this region is also home to Red Panda. Besides that, you also get to spot yak herders and you will be trekking through the wide range of floras of this region.
This trekking is a moderate trekking, so can be done with family members or even beginners can try attempt this trekking being physically and mentally fit. The best season for this trek would be on spring from the month of March to May and in the autumn from September to November. But, we Accent Himalaya can arrange treks in every season according to our client's desire. We also adjust the itinerary as per your desired departure date, either in a group or in solo. So, if our itinerary does not fit your vacation, we will definitely customize the itinerary as per your desire. If you would like to know about this trekking or have any queries regarding this trek, please email or contact us. We will quickly respond to your queries.
Here we provide you the detailed itinerary for Ama Dablam Base Camp Trek of the Everest region:
Detail Itinerary
1
Day 01: Arrive Kathmandu
As your arrival at Tribhuwan International Airport, our representative will pick up you and bring to your respective hotel. In the evening you will be invited to amazing delicious Nepali food hosted by Accent Himalaya which gives you some insights of the taste of the Nepali culture and tradition.
Included meals: Dinner
2
Day 02 : Kathmandu (1300m/4264ft): trip preparation
Kathmandu is also known as the - 'town of the temple'. More than 130 important monuments with several pilgrimage sites of both of Hindus and Buddhists lie here all around the Kathmandu valley. So today we will visit sites which are also in UNESCO World Heritage site like Pashupati Chettra, Kathmandu Durbar Square and Swyambhunath, Boudhanath and so on. Then we will visit the office of Accent Himalaya, our team leader, and other members. We also prepare for our trip.

Included meals:Breakfast
3
Day 03: Fly to Lukla (2,800m/9,184ft) then trek to Phakding (2,652m/8,700ft): 40 min flight, 3-4 hours trek
We will take a flight early in the morning to Lukla, the gateway of Everest base camp from Kathmandu. It will be around 45 minutes to reach Lukla with scenic views of the diagrammatic landscape. We will have our breakfast at Lukla and meet our crew members. Then, after some preparation, we will start our trek adventure trails heading to Phakding. On the way, we will pass some villages like Chheplung, Thado Khoshi, Ghat with amazing scenes of peaks.

Included meals: Breakfast, Lunch & Dinner
4
Day 04: Phakding to Namche Bazaar (3,440m/11,283ft): 5-6 hours
After having our breakfast, we will continue our trek adventure on a trail heading to Namche Bazaar, the biggest town in the Khumbu region. Our trails are little harder than that of the last day. After passing the bridge and some villages - we will able to see the magnificent vision of Mt Thamserku, Kusum peaks, Kangaru Peaks and others. We will see the Dudh Koshi River (Milk River) and wide sceneries. After reaching Monju (nice place to visit), our trekking permits are checked. After we cross the bridge and reach Jorsalle, we shall take our Lunch. After having our lunch, we will have to climb uphill reaching to Namche Bazaar. We will see the Hilary bridge double Suspension bridge. On the way, we also see the viewpoint at Topdanda. In case of good weather, we may see the Everest for the first time.

Included meals: Breakfast, Lunch & Dinner
5
Day 05: Namche Bazaar (3,440 m/11,283 ft): Acclimatization
The Himalayan lifestyle is completely different than other places. For perfect trekking, today we will stay at Namche Bazaar for acclimatization. We will make a short hike to Everest viewpoint, for the panoramic vision of Mt Thamserku, Kusum Kantega, Lhotse, Nuptse, Ama Dablam, and others. We will trek down to Namche Bazaar and spend our rest day with exploring the little town and also visiting the Sherpa museum. Namche Bazaar is also big tourist market for shopping the cultural antique pieces.

Included meals:Breakfast, Lunch & Dinner
6
Day 06: Namche Bazaar trek to Phortse Village (3810m)
We slightly climb up for a while to the Chaur Camp and walk on the easy level to Kyangjumma. On the way we have the incredible views of Mt. Everest (8848), Lhotse (8516m), Lhotse Shar (8382m), Nuptse (7879m), peak- 38(7591m), Ama Dablam (6856m), Thamserku (6623m), Kangtega (6783m), Kusum Kangaru (6367), Cholaste (6335m), Tabuche peak (6495m), Khumbi La (5765m) and Kwangde Ri (6011m).
From Kyangjuma, our trails will follow the way through the rhododendron forest to Sansa. Then with the steep climb of about 2 hours, we arrive at Mongla ridge at 3978m. From here we have to descend down to Phortse Thanga at 3680m and with the lower right-hand side trail, we will head to the village of Phortse. We have the easy walk and have to cross the Dudh Koshi River over the suspension bridge and have to climb the steep forest of pine, juniper, and rhododendron. And we finally reach to Phortse Village at 3810m. Phortse is also a fantastic place for the magnificent views of the Himalayas such as Mt. Cho Oyu (8201m), Machhermo peak (6237m), (Thamserku (6623m), Khumbu Yul Lha (5761m) and Kwangde peak (6090m) etc.
Included meals: Breakfast, Lunch & Dinner
7
Day 07: Phortse village trek to Pangboche (3930m
Early in the morning we take our breakfast and start to trek heading towards Pangboche. At first, we climb up to the ridge of the Phortse village from where we have the amazing views of Tengboche Monastery, Namche Valley, the Khumjung valley as well as the fantastic views of Himalayas. After that our trail follows narrow steep cliff climb up and bit descent also. After that one, our trails lead us to the easy up and down walk to upper Pangboche. As we are walking in the Everest National Park, we have the amazing experience of seeing the Himalayan wildlife such as Himalayan Thar, Yak, Pheasants, eagle, snow leopards and other. Upon reaching to upper Pangboche, we will visit the old - Monastery that also has the Yeti Head Bone upon request.

Included meals: Breakfast, Lunch & Dinner
8
Day 08: Day hike to Ama Dablam Base Camp (4600m)
We have to start to trek early in the morning after breakfast. We begin with the trails descending down and crossing the river. Then we have to ascend up the steep slope to Cholungche Kharka. After that our trails gradually climb up to the Ama Dablam Base Camp at 4600m. All on the way to the base camp, we have the amazing and incredible views of Ama Dablam (6856 m), Lhotse (8516 m), Lhotse Shar (8382 m), Nuptse (7879 m), Lobuche Peak (6090 m), Pumori (7165 m), Thamserku (6623 m), Kangtega (6783 m), Kusum Kangaru (6367 m), Cholaste (6335 m), Tabuche peak (6495 m), Khumbi La (5765 m) and Kwangde Ri (6011 m), Khumbu Yul Lha (5761 m), Amphu Gyabjen (5630 m), Ombigaichan (6340 m) and also the fantastic views of Mimbo Glacier. After exploring and witnessing the incredible experience, we will have to retrace our path to Pangboche.?

Included meals: Breakfast, Lunch & Dinner
9
Day 09: Pangboche trek to Namche Bazaar (3440m) through Tengboche (3867m)
We step down to Imja Khola and again up through the forest to Tengboche. If we are interested, we also visit the Tengboche Monastery. After having lunch, we continue to trek back through the hillside covered with rhododendron and juniper trees. Then we cross the roaring Dudh Koshi River over the bridge and follow the gorge of the Dudh Koshi descending rapidly through the pine forest before reaching Sansa. We may able to see the wildlife such as mountain goat, snow leopards, colorful pheasants and others on the way of the forest. As crossing the Chorten, we reach to the army camp of the Namche Bazaar.

Included meals: Breakfast, Lunch & Dinner
10
Day 10: Namche Bazaar trek to Lukla (2840m)
Early in the morning after having breakfast, we will continue to walk downhill from Namche Bazaar towards crossing the second bridge over the Dudh Koshi River, walk towards Monjo, where we fulfill the formalities at the check post of Everest National Park. Our trails descend us to Phakding and we continue to walk heading to Lukla where we can see prayers flag Rhododendron, pine forest and prayer stones.

Included meals: Breakfast, Lunch & Dinner
11
Day 11: Lukla flight to Kathmandu (1350m)
We will take an earlier flight to Kathmandu from Lukla. After reaching Kathmandu, we will attend the farewell party and visit Thamel market for shopping before your return. Thamel is popular tourist market for antique and architectural pieces.

Included meals: Breakfast & Dinner
12
Day 12: Depart Kathmandu
You will be dropped to Int'l Airport by our representative of Accent Himalaya before 3 hours to your flight. Our representative will help you until you check in. However, if you want to explore and visit Nepal more we are always with you for so.

Included meals: Breakfast