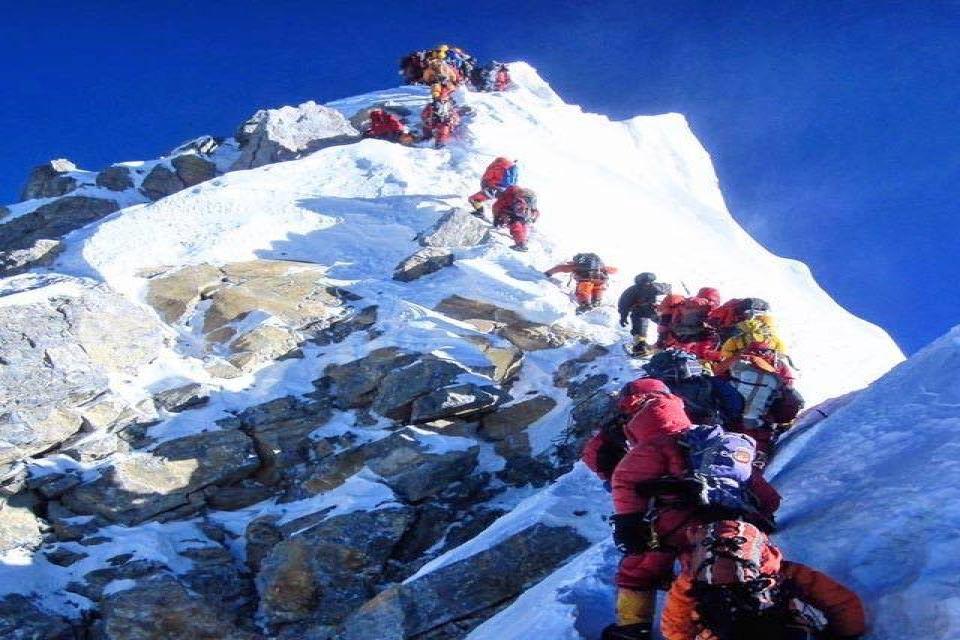 Overview
Mount Everest is one of the popular and best climbing expedition on planet Earth. As being the highest in the world - with an elevation of 8848 meters and 29028 ft, this climbing excursion has been highly admired and many climbers dream and attempt this expedition once in a lifetime. It was successfully ascended by Sir Edmund Hillary and Tenzing Norgay Sherpa on May 29, 1953.
Mount Everest is located in Mahalangur Himal subrange of the Himalayas. It is called as Sagarmatha in Nepalese meaning "goddess of sky" and "Chomolungma" in Tibetan meaning "goddess mother of the snows". There are two ways to venture this expedition – from the southeast side of Nepal (known as the - standard route) and northern side from Tibet.
This popular highest expedition begins from the scenic flight to Lukla from Kathmandu and a short trek to Phakding. From here we trek to the popular regions of the Everest like Namche, Thyangboche, Dingboche. Each day adapting the altitude acclimatizing through the way - we will be crossing the Sherpa village, several stupas and monasteries with beautiful landscapes, astonishing mountainous views heading to the Everest Base Camp.
And next, we trek to Lobuche, and then to Everest Base Camp and do some preparation for summiting the highest peak. Next day, we will be summiting Everest from where we get the stunning views of Mount Lhotse (8516 m), Mount Makalu (8485 m), Mount Cho Oyu ( 8201 m), Mount Ama Dablam (6812 m) and numerous snow-capped peaks from the top. From here, we retrace back to Base Camp, then head back to Namche Bazaar through Dingboche and Tyangboche, and trek to Lukla and fly back to Kathmandu.
For this Everest Expedition, one needs at least two months and eleven days of vacation for successfully accomplishing this with sound health as one has to be physically and psychologically fit for this task. The perfect time for this expedition would be in spring (March-May) and autumn (October-November). We Accent Himalaya don't recommend in winter or summer for Everest Expedition due to climate issues. For further details or if you want to inquire more regarding this expedition, please do contact or email us.
Here we list our day to day itinerary for Mount Everest Expedition:
Detail Itinerary
1
Day 01: Arrival in Kathmandu & transfer to hotel-1300m/4264ft
After your arrival in Kathmandu Airport and after processing all the formalities like visa, stamp on passport, checkout etc. as you exit the gate - our team member of Accent Himalaya will be there waiting for you with a placard of your name or Accent Himalaya. After a warm welcome and greetings, we will take you to your respective hotel. In evening, you will be offered a welcome dinner by the Company with authentic delicious Nepali cuisine.
2
Day 02-03: At leisure in Kathmandu
Today we will be sightseeing Kathmandu valley as well as prepare for Everest expedition. Then our guide will take you to the spectacular heritage sites of Kathmandu - Kathmandu Durbar square, Boudhanath stupa, Swambhunath temple and the Pashupatinath temple - these four sites are the popular and most visited sites by the travelers. In the afternoon, if you want to buy anything - you can buy in Kathmandu city as for the next day we'd be heading to the Himalayas. The trekking/climbing leader will check all the equipment and if anyone has missed anything - it's better to buy in Kathmandu. Then we will be introduced to other participants who will be joining you.
4
Day 04: Fly to Lukla & Trek to Phakding - 2,840m/9,315ft
Early morning - we will head to the airport and fly to Lukla. It is one of the best scenic flight to capture the best views of the Himalayas. In Lukla, we will meet our camping staff and porters. After introduction and sharing info, we then do some preparation. Then we will start our trek and reach Phakding. We will be spending our night at Phakding.
Meal:

Breakfast, Lunch and Dinner
5
Day 05: Trek to Namche Bazar
Continuing trekking and following the bank of the Dudh Koshi River through a suspension bridge (before reaching the village of Monjo) - we will enter the Khumbu national park. Again we will be crossing the Dudh Koshi and Bhote Koshi River through a suspension bridge and ascend steeply for about two hours to reach Namche Bazaar. We will spend our night at Namche.
Meal:

Breakfast, Lunch and Dinner
6
Day 06: At leisure in Namche Bazar
Today we will be resting and fully adopt the altitude which is at 3450 meters and 11,300 ft. As resting as well as we'd also be visiting some of the touristic spots and some hiking. We will hike to Thame and explore Namche Bazaar. This bazaar (Market) is the main center of the Khumbu region which has the government offices, ATM, shops, internet café, restaurants and if it is Friday evening or Saturday - there will be a colorful market with stalls selling different types of local foods, etc. If we hike for few hours, then we will be able to adapt the altitude properly. Our guide will be taking you to the headquarter of the Sagarmatha national park where one gets to see the history of the first ascenders to the Everest, Sherpa culture, and learn about different types of flora and fauna of the Everest region.
Meal:

Breakfast, Lunch and Dinner
7
Day 07: Trek to Thyangboche
Then we will continue trekking alongside the Dudh Koshi River following the path by observing the great view of the Khumbu - Everest, Lhotse, Nuptse and Ama Dablam. Then we will be passing through various Sherpa villages and several tea shops crossing the Dudh Koshi River and make a steep ascent to the Thyanboche monastery.
Meal:

Breakfast, Lunch and Dinner
8
Day 08: Trek to Dingboche
Then continuing trekking and crossing the several villages and then we will be passing through several Chorten and mani walls. Then we will have our lunch and view the stunning Ama Dablam peak. Then we will be crossing through rhododendron forests and then we will be crossing another suspension bridge. Hours of trekking we will reach the Pangboche and from here one get the beautiful view of Ama Dablam. Contouring up the valley we will be re- crossing the river and then w will be reaching the village Dingboche.
Meal:

Breakfast, Lunch and Dinner
9
Day 09-13: Acclimatization
It is the best spot for the acclimatization. Our guide will be taking you to the high hills for the proper acclimatization. Before arriving at the base camp we will be fully adapt the altitude. Then we will be heading near to the Pheriche and we visit the hospital run by Himalayan rescue Association.
Meal:

Breakfast, Lunch and Dinner
14
Day 14: Trek to Lobuche
We will retrace back to Pheriche. Then continuing trekking we will reach the Dugla which is located at the snout of the Khumbu glacier, then we will stop for a lunch. Then we will be ascending to the high steep beside the glacier moraine. Then we will be continuing our trek crossing several tea houses which are at the Lobuche.
Meal:

Breakfast, Lunch and Dinner
15
Day 15: Trek to Everest Base Camp
Trekking alongside the valley and observing down to the Khumbu glacier following the trail to the Gorakshep. Then reaching Gorakshep we will continue our trek leading to the moraine glacier. Within few hours of trekking further and leading through a small cluster of tea houses which is situated at the Lobuche.
Meal:

Breakfast, Lunch and Dinner
16
Day 16-18: Rest and preparation
Meal:

Breakfast, Lunch and Dinner
19
Day 19-64: Ascent of Mt Everest
Meal:

Breakfast, Lunch and Dinner
65
Day 65: Withdraw to Base Camp
We retrace back to the base camp and pack all our climbing equipment and then we will be cleaning the base camp area.
Meal:

Breakfast, Lunch and Dinner
66
Day 66-68: Return trek to Namche Bazaar via Dingboche and Thyangboche
Meal:

Breakfast, Lunch and Dinner
69
Day 69: Trek to Lukla
Meal:

Breakfast, Lunch and Dinner
70
Day 70: Fly Lukla to Kathmandu
Early morning we will fly back to Kathmandu from Lukla airport then our team will be waiting for us then they will take us to the hotel and then you can freshen up and relax and in the evening the team of the Accent Himalaya Company will be giving you a farewell party for the successful of summiting the mighty Everest mountain.
Meal:

Breakfast and farewell Dinner
71
Day 71: Fly Back to Home
Today your journey comes to an end. Before leaving for an airport check all your belongings that you have not missed any of your items in the hotel and then our team will drop you at the airport three hours earlier before your flight schedule so, you get plenty of time for formalities of the airport.