Annapurna Base Camp heli Tour
Annapurna Base Camp heli Tour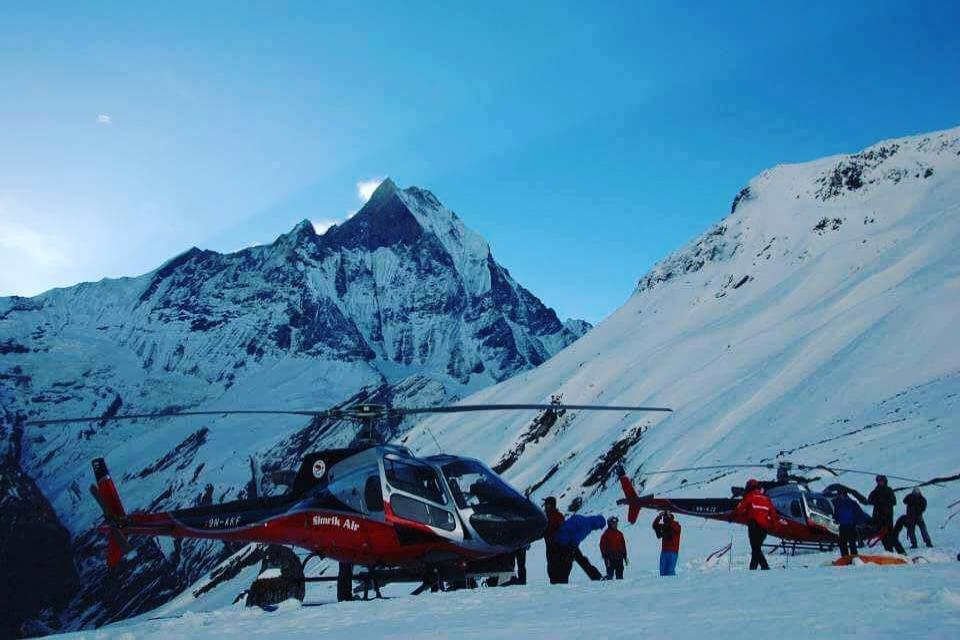 Overview
Helicopter Tour to Annapurna Base Camp
Accent Himalaya welcomes you to this phenomenal Helicopter tour to the Annapurna Base Camp for the magnificent views of the Annapurna massif and Dhaulagiri ranges including the stunning picturesque landscape of the beautiful villages and the city. This package has an insightful tour of the heritage sites of Kathmandu and Helicopter tour to the famous - Annapurna Base camp. What you get here is to observe on air - the massive Annapurna ranges, Dhaulagiri, Manaslu, Fishtail, Jugal Himal, Lamjung Himal, Huinchuli and numerous other snowcapped peaks with their tantalizing beauty. ABC Heli tour has been a piece of cake to reach Annapurna region and savor the flavor of glorious Himalayas.
After your arrival and sightseeing some UNESCO heritage site in Kathmandu, we onboard a chopper and fly over to reach ABC. After rejoicing the moment, we either stay in Pokhara or fly back to Kathmandu and make our way to our destination.
We encourage you to take as many pictures as possible but please be advised that taking your gadgets out of the chopper windows and if you happen to lose it – all your precious memories are lost. So be careful!
Spring and fall are the best seasons to be intoxicated with awesome splendid views of this heavenly awe striking peaks. Also, keep in mind that there are no age limits for this Heli trip; every people from planet Earth have the opportunity to explore and discover these Himalayan peaks from the air. For more information on the how about, please feel free to contact or email us.
Outline Itinerary
Day 1: Arrive in Kathmandu & Transfer to Hotel
Day 2: Sightseeing in Kathmandu and Trip Preparation.
Day 3: Heli tour to Annapurna Base Camp (4130 m) and back to Kathmandu OR Overnight at Pokhara (4130 m)
Day 4: Final Departure
Detail Itinerary
1
Day 1: Arrival at Kathmandu & Transfer to Hotel
Upon your arrival at International Airport, Kathmandu - you will be picked up by our staff of Accent Himalaya and bring you to the Hotel. In the evening, you will be offered welcome dinner hosted by Accent Himalaya to enjoy a delicious taste of authentic Nepali food.
2
Day 2: Sightseeing in Kathmandu and Trip Preparation
Kathmandu is a wonderful site mixed of Hinduism, Buddhism cultural sites and also has some western influence. After breakfast, our guide takes you to visit the prominent sites of the Kathmandu which is also known as the town of the temple. Here we cover some of the world heritage site of Nepal like - the Pashupatinath (Hindu Temple), South Asia's largest stupa – the Boudhanath, the Swayambhunath temple, and the historical ancient cultural site - the Kathmandu Durbar Square.
The Pashupatinath temple is one of the oldest and most visited pilgrimage site located in the heart of Kathmandu city. It's a temple of Lord Shiva who is one of the supreme prominent figures of the Hindu Scripture. Lord Shiva is also known as 'Mahadev' which means 'God of the Gods'. Thousands of people make their way to this temple every year from different parts of the world which is located on the bank of Bagmati River. The Kathmandu Durbar Square is an ancient palace where the kings used to rule over this country. It is beautifully built with ancient arts and architecture.
Next, we will be visiting the Swayambhunath temple (also known as monkey temple) which is both pilgrimage site both for Hindus and Buddhist. In the top of the temple, there is a stupa which is one of the ancient stupas of Nepal. After that, we will be visiting the largest known stupa in the world - the Boudhanath stupa where you find thousands of prayer wheels surrounding the stupa. Our expert guide will brief you the myths and legends associated with these site as you tour along.
In between, we will also discuss the Heli Tour to ABC and do some preparation.
3
Day 3: Heli tour to Annapurna Base Camp (4130 m) and back to Kathmandu OR Overnight at Pokhara (4130 m)
We wake up early morning and board a helicopter to fly over Mount Annapurna, Dhaulagiri, Ganesh Himal, Manaslu, Lamjung Himal and stop at Annapurna Base Camp to relish the moment. Probably late afternoon, we fly back to Kathmandu and later, enjoy farewell dinner with Accent Himalaya. Overnight in Kathmandu.
Or
Our other option is to fly Pokhara from ABC and sightsee some of the landmarks there. We will stroll around the streets of Lakeside and sail on the Fewa Lake. Overnight in Pokhara.
4
Day 4: Final Departure
After completing your Heli tour, our representative will drop you at the airport within time.
Or
Fly to Kathmandu and depart Kathmandu
After the breakfast, a scenic 25 minutes flight from Pokhara to Kathmandu allows you to timely board the connecting flight towards your next destination.
However, if you want to stay more in Nepal for other adventure activities such rafting, mountain biking, paragliding or even tours to Tibet, Bhutan or India, we surely will be very glad to arrange that for you.