History Introducing Nepal
History Introducing Nepal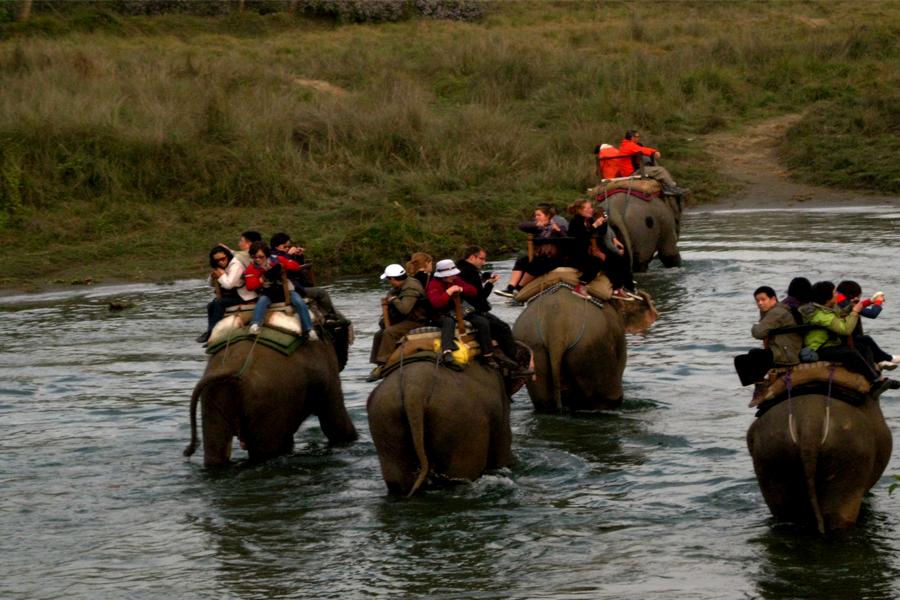 Overview
Nepal is one of the developing nation sandwiched between two giants India and China. Though you don't get to see any big unique modern infrastructure, what you get here is warm hospitality and tremendous love of the different ethnic people living here. Many travelers visit this magnificent Himalayan country each year which has tremendous offers. Nepal was open to the outside world from 1951 and is much famous for a spiritual tour as is filled with different temples, monasteries, historical palaces and much more. The largest and capital city is Kathmandu and on this 9 days tour, we will be exploring different rich cultures, some of the historical cultural sites, and the palaces having lots of myth.
While touring our expert and experienced guide will explain all the facts of the different UNESCO World Heritage Site. You also get to explore the different celebrations of Nepal as of different ethnic people like Brahmins, Gurung, Newar, Magar, Rai, Chettri, Sherpa, Tibetan etc have different varieties of festivals to celebrate and are held throughout the year. Just to mention, Nepal is a country that relishes the most number of public holidays in a year.
Our tour covers sightseeing Kathmandu city sensing the four main UNESCO World Heritage Sites as Kathmandu Durbar Square, Pashupatinath temple, Swambhunath temple and the colossal Boudhanath Stupa. Next, we will be traversing the other two cities namely Patan and Bhaktapur. After exploring arts, architectures of these antiquated cities, we will drive to the height of Nagarkot to enjoy the twilight view and early next morning we enjoy the sunrise view with the Himalayas which looks magnificently great.
Next, we drive to Chitwan. The following day we will be enjoying the Chitwan National Park riding on elephant back for a jungle safari. What we can do here is observe various floras of this region which are well preserved. We can also spot rare one-horned rhino, tigers, and much more different wildlife here. The following day we will drive to another hotspot of beauty i.e. Pokhara. Here, you will be remunerated with the views of different Annapurna range and several other peaks like Fishtail and famous lake called Phewa. The following day, we will be hiking to Sarangkot. From the top of this hill, you get the overwhelming views of the Annapurna and few other snowcapped peaks including the top view of entire Pokhara valley. We mark the completion of our tour by sightseeing the Pokhara city.
The flawless time for Introducing Nepal tour can mostly rejoice in spring (March-May) and fall (September-December). It is the perfect time to holiday in Nepal with your friend, family or beloved ones. If you are well adapted to cold, you may try touring on winter (December-February) too to avoid masses. For more information about History Introducing Nepal, please feel free to contact or email us.
Below we list our itinerary for History Introducing Nepal tour:
Detail Itinerary
1
Day 01: Arrival in Kathmandu (1,300 m/4,264 ft)
As you arrive at the international airport of Kathmandu, and after finishing all the airport formalities like Visa stamping, security clearance - our team of Accent Himalaya will be there waiting for you at the terminal gate and then welcome you. After reaching the hotel, you can take rest or freshen up or visit the office of Accent Himalaya The company will offer you a welcome dinner in fine Nepali restaurants which serves you authentic Nepali cuisine. We will be spending our night at Kathmandu.
2
Day 02: Sightseeing in Kathmandu: Kathmandu Durbar Square, Pashupatinath Temple, Swayambhunath and Bauddhanath
Today after breakfast, we will be sightseeing the main heritage sites of Kathmandu such as - the Kathmandu Durbar square which displays Nepali arts and architecture. The durbar (palace) is beautifully built with fine arts and architecture. Next, we visit the Boudhanath Stupa which is one of the biggest stupas in the world. Then the - Swayambhunath temple which is pilgrimage site both for Hindus and Buddhists. Our next destination is the Pashupatinath temple. Temple of Lord Shiva and is situated on the bank of Bagmati River.
3
Day 03: Sightseeing in Patan and Bhaktapur and sunset views from Nagarkot
Patan Durbar square is also enlisted in the world heritage sites and the square is rich in ancient's arts and architecture. After that, we will be visiting the Bhaktapur city - one of the appealing city with a real local lifestyle conserved over centuries of separation from the hustle and the bustle of Kathmandu. As in Bhaktapur city, we will be exploring the water spouts, golden gate, Nyata- pola temple and palace which have 55 windows. After that, we will drive to Nagarkot for the sunset view. Nagarkot is one of the beautiful villages best known for viewing the sunrise and sunset views including with the spectacular Himalayas. We will be spending our night at Nagarkot.
4
Day 04: Sunrise from Nagarkot then drive to Chitwan (815 m/2,674 ft): 5-6 hours
Early morning, we will be enjoying the sunrise view including with the Himalayas and after having our breakfast, we will head to Chitwan which is 175 kilometer from Kathmandu. Descending down alongside the winding road on the bank of the Trishuli River, we will then check into the hotel. After that, we will be walking on the bank of Rapti River and here we will be enjoying the sunset view and in the evening - we will be enjoying our dinner along with the performance of cultural dance program.
Meal:

Breakfast, Lunch and Dinner
5
Day 05: Chitwan National Park
Early in the morning, we will ride on the elephant back and head through the dense forests to spot different wildlife. You can also see elephants taking bath. And in the afternoon, you can take a ride on canoe in the Rapti river. While canoeing, we will get to spot Mugger, crocodile, gharial, dolphins and different kinds of aquatic birds. We will be also be observing different kinds of birds of the national park and walk through nature where you come across different flora and fauna. We will be spending our night at Chitwan.
Meal:

Breakfast, Lunch and Dinner
6
Day 06: Drive from Chitwan to Pokhara (823 m/2,700ft): 134km, 4-5 hours
Today after having our breakfast, we will be driving to Pokhara -the city of the lake. As you arrive at Pokhara, you will be rewarded with the spectacular Himalayas views including Dhaulagiri, Manaslu, Annapurna range and the Machapuchre (Fishtail). We will then check in to our hotel and later explore Pokhara. We will be spending our night at Pokhara.
7
Day 07: Sightseeing in Pokhara
Early in the morning, we will be heading to Sarangkot - a top hill to get the magnificent views of Annapurna and Dhaulagiri ranges. Even the sunrise and sunset views are very pleasant to watch. After spending some time at the hill, we will retrace back to Pokhara city and start our tour by exploring the Davis fall, Shiva cave and do some boating in the serene Phewa lake. We next will be visiting the international mountain museum and the refugee camp. We will be spending our night at Pokhara.
8
Day 08: Drive from Pokhara to Kathmandu: 213km, 5-6 hours
Today we will drive to Kathmandu - a beautiful scenic drive crossing along sideways of terraced fields and remote local villages. After reaching Kathmandu, our team member will take you to the respective hotel for you to take some rest or you can do souvenir shopping to gift your loved ones. In the evening, Accent Himalaya will be hosting a farewell dinner as for the successful completion of the tour. We will be spending our night at Hotel in Kathmandu.
Meal:

Breakfast and Farewell Lunch
9
Day 09: Final departure
Our tour finally comes to an end here and our team member will drop you at the airport three hours before your scheduled flight.