Moderate
Tour
Lower Dolpo Trek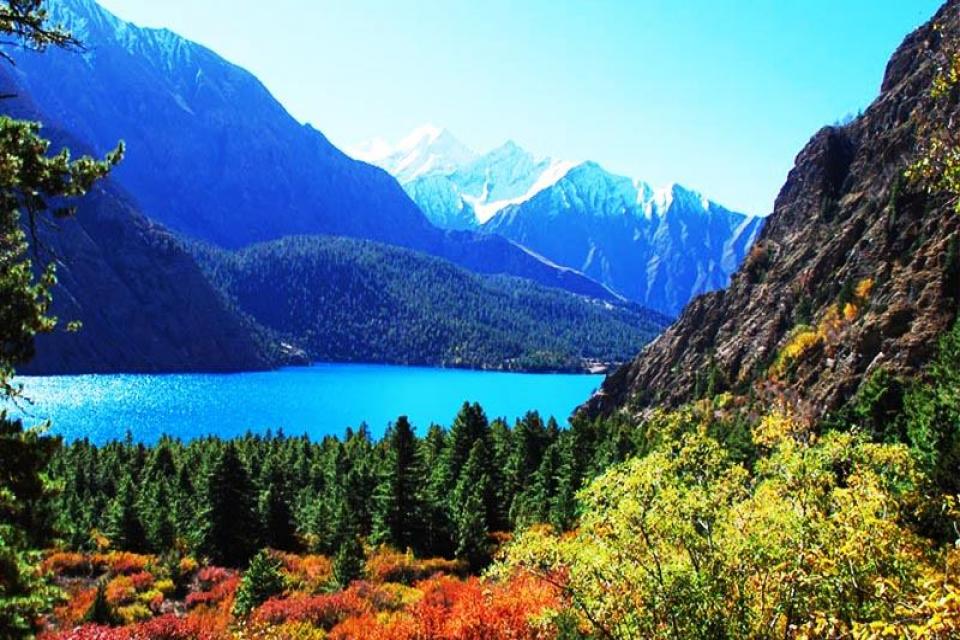 Overview
Lower Dolpo Trekking is an adventurous trekking on remote corner and beyond Himalayan valleys across western Nepal. The Dolpo region preserves traditional Tibetan culture where the pre-Buddhist Bon-Po religion is still in practice. Dolpo region provides the opportunity to observe ancient villages, high passes, beautiful lakes, isolated buddhist monasteries and thrilling hardcore landscape, guarded by pristine snowy peaks.
The area is the inhabitation of various rare and endangered species of wildlife and plants diversity which can be seen nowhere else in Nepal. Shey-Phoksundo National Park and the Tarap valley are the most interesting and lively places that are enough to overwhelm with the authenticity of a lifestyle completely uninfluenced by the modernization. Trekking in Dolpo is an adventure trek, full of excitement enthusiasm and an unforgettable experience.
Detail Itinerary
Day 1 - Arrival
Welcome to the country of Himalayas. Our representative will welcome you at the Tribhuvan International Airport in Kathmandu and assist to transfer you to a hotel after completing the customs formalities. Our trip manager will brief you about the 23-day trip in the evening. You will be spending the night at the hotel in Kathmandu.
Day 2 - Trekking Begins
After a pleasant night in Kathmandu, we will begin our trip with the domestic flight that will take us to Juphal in Dolpa region. The fight will offer you the panoramic views of the snowcapped peaks in Dhaulagiri and Annapurna ranges. From Juphal, our real trek begins. We will walk for 4-5 hours from the airstrip to reach our overnight camp at Dunai.
Day 3 - Trek Continues
Early in the morning, we will be there in the airport for a flight to Jumla. After reaching the Jumla airport at an altitude of 2347 meters, we will walk along the banks of Tila river for a few hours to reach Ghotichour (2700 meters). We will stop there for overnight in tented camp.
Day 4 - Chatra Ahead
We will set our way early after our breakfast. We will walk for 4-5 hours from Ghotichaur. The trail passing along corn, potato, barley fields, meadows and forests leads to our overnight camp at Chatra (2856 meters).
Day 5 - Chaurikot
Encountering village of Chatra, we will move to Chaurikot passing by the magnificent gorge and Mauri Lagna Pass at 3820 meters. Panoramic views of peaks such as Gutumba (5606m), Mata Tumba (5767m) and Bhahul Himal (5460m) can be enjoyed from there. The walk that takes about six hours finally takes us to our camp at Chaurikot and we will spend our night in the camp.
Day 6 - Kaigaun
In the morning we continue to step forward to Kaigaun (3245 meters). The trail goes through the farms and rural settlements. Following this exciting trail, we can reach Kaigaun. We set up our tents for night stay.
Day 7 - Garpung Khola ahead
We continue our trek walking through an adventurous trail to reach Garpung Khola (3245 meters). The trek takes us to our camp at Garpung Khola, after a descending walk at the end. It will take about five hours to reach there.
Day 8 - Trek to Kagmara Phedi
We continue our journey following the Garpung Khola which ascends from steep slopes above Garpung river. The walking will stop after four hours of a walk when we reach our today's destination Kagmara Phedi (4000 meters). Overnight stay will be in the tented camps.
Day 9 - Trek to Ringmo
We will start our trek through pine forest then through pasture fields and alpine shrubs. For most of the time, we will pass through gradual slopes with few ups and downwards until we finally reach our main destination at Ringmo. We can often see Yak's caravan heading in and out of Ringmo on their way north towards the border of Tibet. Tented camps will be made ready for the night stay.
Day 10 - Phoksundo Lake
Our journey continues towards Phoksundo lake. After a decent lasting more than five hours, we will reach Phoksundo lake located at an altitude of 3615 meters (11849 feet). It is a very beautiful alpine freshwater lake. Shey Phoksundo National Park is named after this lake. We will set camp to spend a night there.
Day 11 - Rest at Phoksundo Lake
We spend this day to take rest and freshen our body with the high altitude environment and to explore the beauty of Phoksundo Lake. Phoksundo Lake is the deepest lake of the country with a maximum depth of 145 meters (476 feet). There are more than 20 stupas and one gompa around the lake that demonstrate the religious significance of this reason.
Day 12 - Trek to Bagala Phedi
We start our journey through a steep ascent to reach the ridge at the top of Bagala Phedi (5100 meters) which offers a very fascinating view of the Himalayan landscape. After an unforgettable moment at the Bagala Phedi, we can reach our campsite after three to four hours of descending walk.
Day 13 - Trek to Saldang
Our trail to Saldang goes through Bagala Phedi. We will trek downhill to Saldang. We will follow the massive overhanging rock and we will pass through several villages. Finally, we will take a climb to reach Saldang. Saldang is a village with around 400 houses that lies in Nankhang valley
Day 14 - Trek to Tarap
After breakfast, we move from camp and continue our walking to Tarap after crossing Saldang. Tarap is mostly inhabited by Magars who have been living here for many generations and few Tibetans. The valley has got vast plains and Tarap Chu river flows through it. We will set camp for overnight at Tarap.
Day 15 - Trek to Dho-Tarap
We head forward, following a gradual ascending trail next from Tarap river keeping this river on our left-hand side which is flowing from the east. After a few hours of walking through the narrow gorge, we will reach a place over the tree lines which are typical of dry inner Himalayan valleys. After descending for some time, we can reach the Dho-Tarap village which is surrounded by an old stone wall.
Day 16 - Trek to Big Cave
We move from the camp and continue our walking to Big Cave. The track leads to a steep upward way with fantastic views around and then an easy downhill trail. The Big Cave is situated at an altitude of 3600 meters. It's a large cave, suitable for camping.
Day 17 - Trek to Lahini
We step forward our journey following the Tarap-Chu river upstream, crossing the same river twice. The trail goes through farm and rural settlements. The walk finally takes us to our camp Laini after descending for about 6-7 hours. It will be one of the most challenging days because of the rough trail.
Day 18 - Trek to Tarakot
We continue the trek beside the bank of the river heading forward following a good trail through deep gorges and suspension bridges. The rough gorge widens into the wide valley of Tarakot. This village is a beautiful place having colorful rice fields. Magars and Tibetans live together in this village and are often indistinguishable by their looks although Magars primarily follow Hinduism and Tibetans are Buddhists.
Day 19 - Trek to Dunai
Walking towards south through a trail parallel with the Bheri river, the camp of Dunai can be reached. For most of today's journey, we walk down-valley as we cross Kagbeni, Shyangta, and Sunlight. We reach Dunai after total 7 hours average walking.
Day 20 - Trek to Juphal
Walking towards Juphal, we meet tall trees on our way. We head upwards from Bheri river. From the top of a ridge, we can observe the panoramic view of mountains. After reaching Juphal we can roam around the market to observe the daily activities of the locals. We will stay in our tented camps.
Day 21 - Catch the flight back
We catch a flight back to Nepalgunj from Juphal. Once again, you will be able to enjoy the panoramic views of Himalayas during the flight. After arriving Nepalgunj, we return to Kathmandu on the next available flight. Flights can occasionally be delayed by the monsoon. You will be transferred to a hotel in Kathmandu.
Day 22 - Leisure
This is the leisure day for roaming around the city and also for buying gifts and souvenirs for your relatives. You can finish any remaining task or visit the nearby places. In the evening, you will stay at the hotel until the next morning.
Day 23 - Final Departure
This day will be the final of our togetherness for this time. Our staff will drop you to the airport with the hope to see you again. We wish for your safe and great journey ahead.