Lobuche East Peak Climbing with Everest Base Camp Trek
Lobuche East Peak Climbing with Everest Base Camp Trek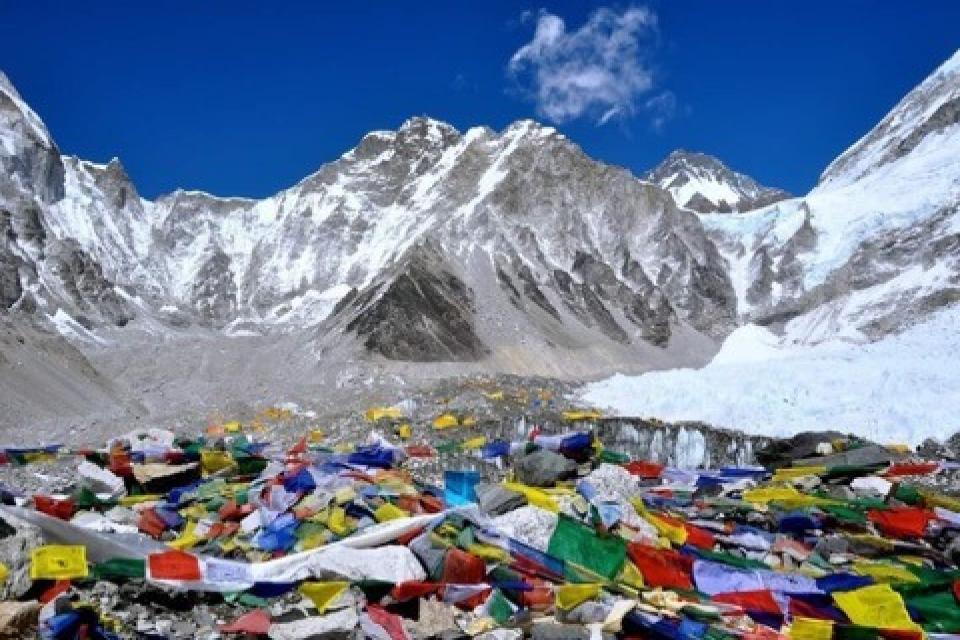 Overview
This package Lobuche East Peak climbing with the Everest Base Camp trek is one of the perfect combination expedition located in the Khumbu region which rewards you with the endless views of Everest including witnessing peaks such as Nuptse, Ama Dablam, Lhotse, Pumori and much more. We will also be heading to the best vintage spot - Kalapathar to get the closest view of the Everest. We will also be heading to the way where Sir Edmund Hillary and Tenzing Norgay Sherpa first made their way to the almighty Everest.
Lobuche has the two summits - East Lobuche & Lobuche West. Lobuche East is one of the challenging summits at the elevation of 6119 meters whereas Lobuche West is at the elevation of 6125. Lobuche East Peak was first summated by Laurence Nelson and Ang Gyaltsen Sherpa on 25th April in 1984.
The journey begins with the scenic flight to Lukla and a small trek to Phakding. Continuing trekking and crossing some of the principal regions of the Khumbu like Namche, Tengboche, Dingboche, Lobuche, Gorakshep addition with the beautiful mountainous views, crossing the dense rhododendron forests, crossing beautiful clear streams each day as adapting the altitude steadily - we finally reach Kalapathar.
From here, we get the 360- degree close view of the Everest and next we are headed to Lobuche Base Camp and do some preparation for summiting the Lobuche East Peak. Next day will be heading to the Lobuche High Camp for summiting the challenging peak i.e. Lobuche East. Here we spot the magnificent views of Himalayan peaks and after spending enough time relishing the views from this peak, we will retrace to Lukla and fly back to Kathmandu.
The perfect time we suggest for trekking to Everest Base Camp trekking and Lobuche East would be best in spring (March-May) and autumn (September-November). Trekkers adapted to the cold weather may attempt in winter with precaution. For further details or if you want more information about Lobuche East Peak Climbing with Everest Base Camp, please contact or simply email us.
Here we list our detailed itinerary for Lobuche East Peak Climbing with Everest Base Camp:
Detail Itinerary
1
Day 01: Arrival Kathmandu (1,350m/4,428ft)
As your arrival on Tribhuwan International Airport, our representative will pick up you and bring to your respective hotel. In the evening you will be invited for amazing, delicious Nepali food, you will know about the taste of the Nepali culture and tradition.
Included meals:Dinner
2
Day 02 : Kathmandu (1300m/4264ft): trip preparation
Kathmandu is known as the town of the Temple, more than 130 important monuments with several pilgrimage sites of both of Hindus and Buddhists is lies all around the Kathmandu valley. So today we will visit Kathmandu valley like places which is also in UNSECO World Heritage site like Pasupati Chettra, Kathmandu Durbar Square and Swyambhunath Boudhanath and so on. Then we will visit the office off Ganesh Himal Hiking Team our leader and other person. We also prepare for our trip.
Included meals:Breakfast
3
Day 03: Fly to Lukla (2,800m/9,184ft) then trek to Phakding (2,652m/8,700ft): 40 min flight, 3-4 hours trek
We will take a flight early in the morning to Lukla, gate way of Everest base camp trek, from Kathmandu. It will be 45 minutes to reach at Lukla which is full of scenic views of diagrammatic landscape. We will have our breakfast at Lukla and we will meet our crew members. Then, after some preparation, we will start our trek adventure trails heading to Phakding. On the way we will pass some villages like Chheplung, Thado Khoshi, Ghat with amazing scenes of peaks.
Included meals:Breakfast Lunch Dinner
4
Day 04: Phakding to Namche Bazaar (3,440m/11,283ft): 5-6 hours
After having our breakfast we will continue our trek adventure on a trail heading to Namche Bazaar, biggest town in the Khumbu region. Our trails are little hard than of last day. After passing bridge and some villages we will able to see the magnificent vision of Mt Thamserku, Kusum peaks, Kangaru Peaks and others. We will see the Dudh Koshi River (milk river) and scenery. After reaching Monju, nice place to visit, our trekking permits are checked, after we cross the bridge and reach at Jorsalle and take our Lunch. After having our lunch we will have to climb up hill reaching to Namche Bazaar. We will see the Hilary bridge double Suspension bridge. On the way we also see the view point adt Topdanda. In case of good weather we may see the Everest for first time.
Included meals:Breakfast Lunch Dinner
5
Day 05: Namche Bazaar (3,440 m/11,283 ft): Acclimatization
Himalayan life style is most different than other place. For perfect trekking today we will stay at Namche Bazaar for acclimatization. We will make short hike for Everest view point, for panoramic vision of Mt Thamserku kusum kantega Lhotse Nuptse Ama Dablam and others. We will trek down to Namche Bazaar and spen our rest day with exploring the little town and visiting the Sherpa museum. Namche bazaar is also big tourist market for shopping the cultural antique pieces.
Included meals:Breakfast Lunch Dinner
6
Day 06: Namche Bazaar to Tengboche (3,870m/12,694ft): 5- 6 hours
Early in the morning after having our breakfast we will continue to trek heading to Tenboche, situated on the top hill and nice place for night stay. After some hard trek till reach the top of Namche Bazaar our trek trails will easy and gentle till to Kyanjuma from where we shall enjoy the scenery and views of mountains like Everest, Nupche, Lhotse, and several peaks. Then our trails drop down to Dudh Koshi, after crossing the bridge we get to Fungi Thanga. After that our trails to Tengboche is bit harder. We will visit the biggest Monastery in the Tengboche opning after 3:00 pm.
Included meals:Breakfast Lunch Dinner
7
Day 07: Tengboche to Dingboche (4,360 m/14,300 ft): 5-6 hours
As we interested we will visit the Tengboche Monastery and start to trek heading towards the Dingboche. We have a easy trails through the Birch, Conifers and Rhododendron forests. The trails, as picturesque, then go dips down to Debuche, crossing the Imjo Khola and start to climb for Pangboche. We folloe the trails of upper the Pangboche that provide the more pristine views of Himalayan range. On the way we also visit the Pangboche Monastery, and fairly moderate walk enter the Imja valley. Valley gradually open its folder and we approach the confluence of the River Lubuche. With descending towards the river and begin to climb up to another part, we will be at Dingbuche.
Included meals:Breakfast Lunch Dinner
8
Day 08: Dingboche: Acclimatization
After breakfast we begin today's hike to Chhukung by walking through stone-walled fields, Imja Khola valley before walking in glacier moraines. On our walk, we will be surrounded by Lhotse and Ama Dablam mountains. Later, beyond Bibre village we see Island Peak soaring above us. The trail ahead is intersected by icy streams. We reach Chhukung, a small settlement in about half an hour from Bibre. From here, directly across the valley is the fantastic Ama Dablam and the Amphu Labsa mountains.
After having lunch in Chhukung, our climbing leader will check our items of equipment in order to make sure that they are in a good working condition. If not, we may have to hire another set of equipment. In that case, the climbing leader will help us find the best pieces. Chhukung is the best place for hiring equipment for Peak climbing. After sorting it out, we descend to Dingboche to spend the night.
Included meals:Breakfast Lunch Dinner
9
Day 09: Dingboche to Lobuche (4940 m/16,207 ft): 5-6 hours
We have a gradual climb to Duglha on the beginning of the trek for the day at the end of the terminal moraine of the Khumbu Glacier. Here from we climb the steep trails to Chupki Lhara, where we find the array of the stone with prayer flag on the memorials of the Scott Fisher, an American mountaineer and 10 Times Everest submitter Babu Chiri Sherpa, Nepali mountain Guide, who perished on a mission to climb the Everest. And we climb the Khumbu Glacier moraine and find out the in fronted peaks such as Khumbutse, Lingtren, Pumori, and MahaLangur Himal. And we follow the valley to reach the valley to Lubuche.
Included meals:Breakfast Lunch Dinner
10
Day 10: Lobuche to Gorak Shep (5170 m/16,961ft), visit Everest Base Camp (5364 m/17,594 ft): 6-7 hours
Our trails will continue to Gorak Shep which takes approximately three hours gradual climb. After reach to Gorak Shep, we will prepare for hiking to Everest base camp, with rocky narrow and windy trails. After visiting Everest Base Camp and sightseeing and panoramic views we will trek down to Gorak Shep. However we may also visit to Kalapatther instead of Everest Base camp because of the better vision of sunset than the sunrise at there.
Included meals:Breakfast Lunch Dinner
11
Day 11: Gorak Shep to Kala Patthar (5545 m/18,192 ft), then to Lobuche (4940 m/16,207 ft): 8 - 9 hours
Early in morning we prepare for morning departure, amid pre-dawn darkness and cold temperature with chilly wind. On our trail familiar peaks like Lingtern, Khumbutse, and Changtse even Everest are beings to reveal. Upon reaching Kalapatther we will awarsed by 360 degree vision of Mt Everest. After some movements we will trek down to Lobuche.
Those who chose to visit Kalapatther last day and visit Everest Base Camp today, will also come back and wait the us for celebration of the summit to Kala Patther.
Included meals:Breakfast Lunch Dinner
12
Day 12: Lobuche to High Camp (5,400m/17,712ft): 3-4 hours
Today we are going to heading our next destination. So today we are going to trek to High Camp. We trek towards Lubuche Base Camp with steeper and rocky path. We move forward along the Lubuche Glacier with joy of the amazing views of the great Himalayas like Ama dablam, Cholatse, Pokalde, Thamserku, Kantega and so others. From base camp we continue to follow the rocky moraine path to reach the high camp. Next day we will going to summit the top so we will prepare for the next day target and take the rest as much. We have to set our tent camp on the high camp.
Included meals:Breakfast Lunch Dinner
13
Day 13: Lobuche High Camp to Summit (6119m/20,070 ft) and back to High Camp: 8-10 hours
Today we are going to do a great trip experience. We have to get up early in the morning around the 12:30 am and we take our breakfast. We have to reach at the summit before Noon because of the strong winds as like as chili. We have to use both the man rope and fixed rope as the instruction of the Group/trip leader. We pass through the rocky path up to around 5650m and then on the icy path. As the season of the climate, the climbing surface as well as the length of the rope will depend on it. Lubuche East rewards the more panoramic views of Himalayan than other trekking peaks. After summiting the top, our efforts come to effects as the magnificent views of the Everest, Nuptse, Ama Dablam, Cholatse, Pumori, and so other unlimited peaks. With the celebration and the time spend we again descend down to our tented camp at the High Pass.
Included meals:Breakfast Lunch Dinner
14
Day 14: Contingency/reserve day
This is the day as the extra for manage the any unintended hindrances like flight delay or bad weather condition or other obstacle that make the trip longer than expect. However if no any things arise trip will continue as set.
Included meals:Breakfast Lunch Dinner
15
Day 15: Lobuche High Camp to Pangboche (3930m /12900 ft): 8-9 hours
Early in the morning we take our breakfast and start our trek downhill from Lobuche High Camp and join the Everest Base Camp Trekking route at Lubuche. After taking lunch at Lubuche, we have retreace our path to Pheriche. We have the magnificent views of the Mt. Ama Dablam on the way to Pheriche. We trek down through the hillside covered with rhododendron and juniper from Pheriche. After reaching to Pangoche we visit the famous monastery nearby.
Included meals:Breakfast Lunch Dinner
16
Day 16: Pangboche to Namche Bazaar: 4-5 hours
We step down to Imja Khola and again up through the forest to Tengbuche. As we interested we also visit the Tengbuche Monastery. After taking the lunch we continue to trek back through the the hillside that covered with rhododendron and juniper trees. Then we cross the roaring Dudh Koshi river over the bridge and follow the gorge of the Dudh Koshi descending rapidly through the pine forest before reach at Sansa. We may able to see the wildlife such as mountain goat, snow leopards colorful pheasants and so others on the way of the forest. With the cross of the Chorten we reach to the army camp of the Namche Bazaar.
Included meals:Breakfast Lunch Dinner
17
Day 17: Namche Bazaar to Lukla: 6-7 hours
Early in the morning after having our breakfast we will continue to walk downhill from Namche bazaar towards crossing the second bridge over the Dudh Koshi River, walk towards Monjo, where we fulfill the formalities at the check post of Everest National Park. Our trails descend us to Phakding and we continue to walk heading to Lukla where we can see the prayers flag Rhododendron and pine forest and prayer stones.
Included meals:Breakfast Lunch Dinner
18
Day 18: Lukla to Kathmandu: 40 minutes flight
We will take earlier flight to Kathmandu from Lukla. After reaching to Kathmandu we will attend farewell party and visit to Thamel market for shopping before your return. Thamel is popular tourist market for antique and architectural pieces.
Included meals:Breakfast Dinner
19
Day 19: Final Departure
You will drop to Int'l Airport by our representative before 3 hours to your flight. Our representative will help you till you will check in.
Included meals:Breakfast