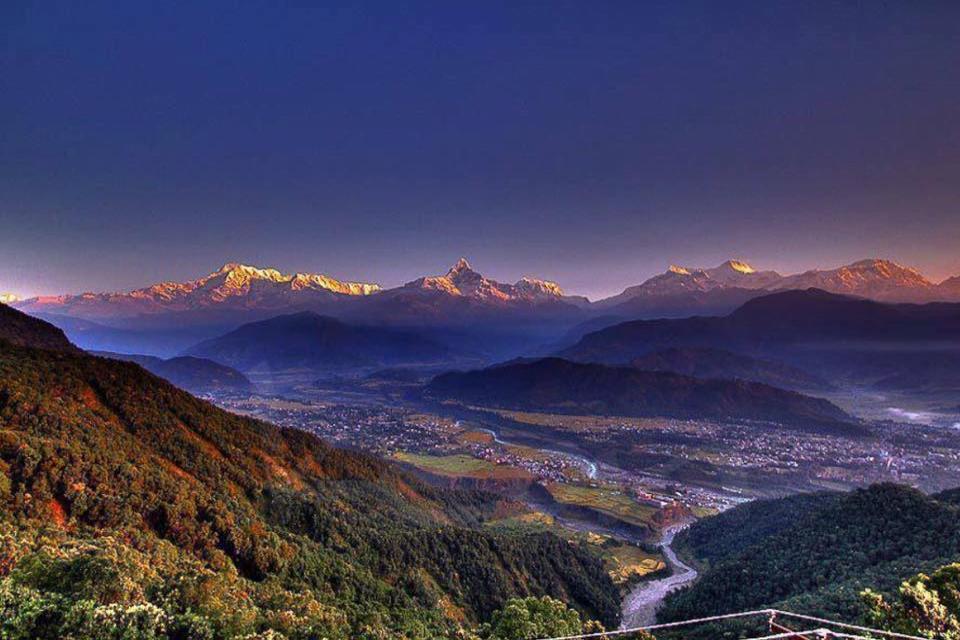 Overview
Nepal is one of the rich countries with its unique culture, natural beauty, and the best destination not only for trekking and mountain expedition but also great for touring where one gets to explore different heritage sites with exclusive arts and architecture all constructed in a unique way.
Our Exclusive Nepal Holidays is a 10 days tour where one gets to explore the medieval history sites of the Nepal. You get further details while touring to this beautiful country which will be your best adventure as well as get to grab abundant knowledge about the ancient history while visiting different sites.
Our tour begins by visiting best attraction heritage sites such as Kathmandu Durbar Square, Pashupatinath temple, Swambhunath temple and the Boudhanath stupa in Kathmandu. Next day we drive to Pokhara and on the way, we stop and board a cable car and head to the Hindu temple - Manakamana which is the temple of goddess Bhagwati. The word "mana" means mind and "kamana" means wish. Thus it is said that one making a wish here, with the blessing of the goddess comes true.
Next, we will explore the beautiful city of Pokhara. Early morning we will be hiking to the Sarangkot hill. From the top of the hill, one gets the reward of viewing the Annapurna and the Dhaulagiri ranges. Later we will be exploring beautiful Davis fall (waterfall) and many other attractive spots of Pokhara. The following day we drive to Chitwan and next day we head to Chitwan National Park and enjoy the back ride on an elephant in the jungle. Later we head to the elephant stable and take an elephant bath.
The next day we fly to Kathmandu and later head to explore another city – Bhaktapur. After that, we then drive to Nagarkot. Next morning from Nagarkot, we will enjoy the sunrise view and then head to- The Last Resort for the Canyoning to enjoy adventurous activities like sliding, climbing, abseiling etc. Next, we will end our tour by rafting in Bhote Koshi River and finally drive back to Kathmandu.
The specific season to rejoice this vacation flawlessly is in spring (March-May) and fall (September-November). For more information about booking or any other concerns, please do contact or let us know by email.
Detail Itinerary
1
Day 01: Arrival Kathmandu (1,350m/4,428ft)
Upon your arrival at Tribhuvan International airport of Kathmandu, our representative from the Accent Himalaya will welcome you and takes you to the hotel rating from three to five-star. Then we will check in at the hotel and can take some rest or visit our office. For dinner, Accent Himalaya will be hosting a welcome dinner at the top-rated Nepali restaurant which serves you scrumptious Nepali cuisine which will be the introduction of the Nepali food culture.
2
Day 02: Sightseeing in Kathmandu: Kathmandu Durbar Square, Pashupatinath Temple, Swayambhunath and Bauddhanath
After breakfast, we will start our tour exploring UNESCO world heritage sites of Kathmandu city. The ancient Durbar - palace named Kathmandu Durbar square is the most renowned palace where Malla king used to rule over the country from 12th to 18th century. Next, we will visit the Swayambhunath temple. After that, we will explore the Hindu holy site known - the Pashupatinath temple - a sacred temple located at the bank of the Bagmati River. Here you get to explore the Hindu rituals and more. Our next destination would be the Boudhanath Stupa which is the biggest and the highest stupa in the world.
3
Day 03: Drive to Pokhara via Manakamana temple
Today we will head to the most beautiful city called Pokhara and we will drive along the way towards the Trishuli River and then we will stop at Manakamana and enjoy a ride to the cable car and at the uphill, at 1300 meter we will be visiting the most sacred Manakamana temple devoted to Hindu goddess named Bhagwati. It is in saying that if anyone wishes for something your wish will be granted so; Hindu devotees come to visit this temple for doing any kind of new work or any projects. After exploring the temple we will retrace back down through a cable car. From here we will continue our drive to Pokhara. We will spend our night in Pokhara.
4
Day 04: Sightseeing in Pokhara
Today morning we will be heading to Sarangkot hill and enjoy the outstanding view of Annapurna and Dhaulagiri ranges and the breathtaking Pokhara lake city. Spending our precious time in this hill by capturing the best pictures and then we will retrace back down to the Pokhara city. After that we will visit Davis fall, Shiva cave and head to the beautiful serene lake called Phewa Lake and in this lake there is available of boating and we will be doing boating and visit sacred Hindu temple Bindyabaseni temple which is situated at the middle of this Phewa Lake. After relishing boating in this lake we will head to visit the International mountain museum which has the pass and present records of mountaineering activities then we will head towards to visit the Tibetan refugee camp. We will spend our night in Pokhara.
5
Day 05: Drive from Pokhara to Chitwan (815 m/2,674 ft): 134km, 4-5 hours
Today after breakfast we will take a drive towards Chitwan district and this region is known for the largest national park named Chitwan national park which is listed in the UNESCO world heritage sites. As you arrive at Chitwan national park we will be heading to the Chitwan resort. Then we will be enjoying walking to the national park and observe varied kinds of flora and fauna of this park as well as also sight varied kinds of birds. We will be spending our night in Chitwan national park.
Meal:

Breakfast, Lunch and Dinner
6
Day 06: Chitwan safari
Today in the early hours morning we will be riding an elephants through the dense jungles and during our ride we might get to witness different wildlife animals. After enjoying ride we will get down and have our breakfast and then we will be visiting elephant's staples where you can find plenty of elephants and here you can enjoy taking bath of elephants. After that we take a drive to the jungles by safari jeep and then we will stop at Rapti River and enjoy a canoe ride and during our canoeing we will be observing aquatic animals like dolphins, crocodiles, Gharials and some aquatic birds. We can also enjoy nature walk and observe diverse flora and fauna. We will spend our night in Chitwan.
Meal:

Breakfast, Lunch and Dinner
7
Day 07: Fly to Kathmandu, sightseeing of Bhaktapur then drive to Nagarkot
Today we will take a flight to Kathmandu and reaching Kathmandu we will visit the Bhaktapur city- overwhelming city with genuine local people. In this city we will first explore the Bhaktapur Durbar Square and other sites like Nyata Pola temple, golden gate, 55 window palace and water spouts. After exploring some of the sites of Bhaktapur we will drive towards Nagarkot. We will spend our night in Nagarkot.
8
Day 08: Sunrise in Nagarkot, transfer to The Last Resort, cannyoning program
Nagarkot is the tiny village which is the best spot for viewing the sunrise and sunset view including with the Himalayas. Today early morning we will wake up and enjoy the sunrise view with great Himalayas. After that we will drive towards the last resort and in this resort there are ample of adventures to do like rock climbing, abseiling, swimming and many more. We will spend our night in last resort.
Meal:

Breakfast, Lunch and Dinner
9
Day 09: Rafting in Bhotekoshi River then drive to Kathmandu
Today we will be doing rafting in Bhote Koshi River and this sport is one of the adventurous sports of Nepal. A rafting expert will be there while rafting it is bit challenging however we will be enjoying imposing view of nature. After finishing enjoying rafting we will continue our drive to Kathmandu. We will be celebrating farewell dinner in evening for the victorious of your trip. We will spend our night in Kathmandu.
Meal:

Breakfast, Lunch and Dinner
10
Day 10: Final departure
Today your Nepal tour comes to an end and after having our breakfast our Accent Himalaya representative will be dropping you at the airport three hours earlier than your flight schedule.