Annapurna Chulu Far East Climbing with Tilicho Lake trek
Annapurna Chulu Far East Climbing with Tilicho Lake trek
Moderate
Climbing and Trekking
Nepal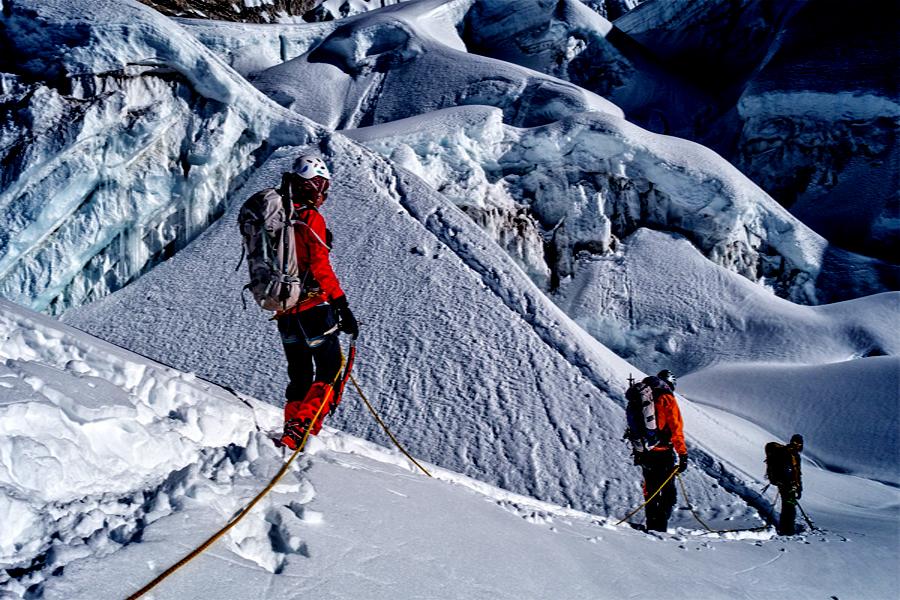 Overview
Chulu Far East (6059 m, 19874 ft) climbing is also one of the popular expeditions in the Annapurna region. This peak has two different summits - the East Chulu which we are attempting and the - Chulu West. Chulu Far East was first ascended by the team of German expedition in 1955. This peak climbing is combined with Tilicho Lake (5200 m) which is said to be the highest lake in the world.
From the summit of the peak, you will be rewarded the views of different peaks such as Annapurna II (7937 m) and III (7555 m), Pisang peak (6091 m), Manaslu (8163 m), Gangapurna (7455 m) and Chulu West (6419 m) including the view of Himlung valley. Heading down, we will stop to savor the beautiful lake of the Annapurna region - Tilicho Lake. You will be heading all the way through the lush valleys, traditional villages of Gurung communities and some of the Gurung heritage sites like monasteries and museums etc. The path takes you to the off beaten trails from where we retrace to the beautiful and best scenic spot like Jomsom and Pokhara.
This trip begins from sightseeing the Kathmandu valley by visiting some of the main heritage sites. Next, we take a long scenic drive to Chame and the following day - we begin our trekking through the dense forests surrounded by mountains. Continuing our trekking for few days, we will be crossing some of the places of the Annapurna region and then reach Julu Khola where we will take full rest adapting the altitude. Then we head to Chulu Peak Base Camp - from where you get the stunning views of the Himalayas and especially the beautiful Pisang Peak can be closely spotted.
Next day we will be heading to the high camp. Next, we reach the summit of the Chulu East Peak. From the summit of this peak, you get the astonishing view of the Himalayan snowcapped peaks. Again continuing our trekking for few days - we reach the Tilicho Base Camp. Then we head to Tilicho Lake and pass the Mesokanta La Pass and reach Yak Kharka, then to Jomsom. From here we take an airstrip to Pokhara and after later drive to Kathmandu.
Best seasons to travel to this destination are in spring from mid - March to May and autumn from mid-September to November. This 20 days package trip will be your best adventure to experience summiting the easy and popular peak and savor the highest - Tilicho Lake. For more information or if you want to inquire further about this Chulu Far East Climbing with Tilicho Lake, please feel free to contact or email us.
Below we list our detailed itinerary for Chulu Far East Climbing with Tilicho Lake trek:
Detail Itinerary
1
Day 1: Arrival in Kathmandu and Transfer to Hotel [1,300m]
As your arrival to Tribhuwan International Airport, our representative will provide you the airport pick up service and drop you to your respective hotel. We don't to have worry about getting lonely. In the evening there will be welcome dinner hosted by Accent Himalaya with delicious Nepalese food.
Included meals:Dinner
2
Day 2: Kathmandu: Sightseeing and Preparation
Kathmandu is known as the town of the Temple, more than 130 important monuments with several pilgrimage sites of both of Hindus and Buddhists is lies all around the Kathmandu valley. So today we will visit Kathmandu valley like places which is also in UNSECO World Heritage site like Pasupati Chettra, Kathmandu Durbar Square and Swyambhunath Boudhanath and so on. Then we will visit the office off Ganesh Himal Hiking Team our leader and other person. We also prepare for our trip.
Included meals: Breakfast
3
Day 3: Drive Kathmandu to Chame [2,710m]: 9 - 10 hrs
Early in the morning we will take our breakfast and catch the bus for Chame from Kathmandu. We leave Kathmandu around 7am and with the drive of 9-10 hours we will be at Chame. We have the amazing and wonderful vision of more countryside of Nepal, greeneries, rapidly flooding river and beautiful mountain sceneries.
Included meals:Breakfast Lunch Dinner
4
Day 4: Chame to Pisang [3,300m]: 5 - 6 hrs
Chame is the starting point of our trekking adventure. With the steep and narrow trail through dense forest brings us to the dramatic curved rock face of Paungda Ridge. As we get to the up, we get the surrounding majestic Himalayan peaks. We find in the valley of Manang in U-Shape hanging between two giant snow peaks. With amazing walk on the this site we will reach at Pisang.
Included meals:Breakfast Lunch Dinner
5
Day 5: Pisang to Humde Village [3,330m]: 3 - 4 hrs
Early in the morning we grab our breakfast and continue to trek to the trails heading towards Humde village. As the short distance covering walk, we will see the airstrip on the east side of our trail. At Humde we can find the Manang airstrip and few houses and lodges. We can see the one of the longest prayer wheels, around of 266 wheels run through the center of the village.
Included meals:Breakfast Lunch Dinner
6
Day 6: Humde to Julu Khola [3,500m]: 3 - 4 hrs
Today we will follow the trails with level path that's lead us to the valley of Julu Khola. We can capture the Annapurna valley Himalayan views from Julu Khola. We can also offer the sight of the Pisang Peak.
Included meals:Breakfast Lunch Dinner
7
Day 7: Acclimatization Day at Julu Khola
Today we spend the day for proper acclimatization for the high altitude environment. As the experts' advice we have to walk around for few even in the rest days so today we also make the hike to uphill of the Julu Peak Base Camp, that reward us the amazing views of Annapurna Himalayan range including the sight of Pisang Peak. And with the experience of the views we retrace our trail to julu Khola.
Included meals:Breakfast Lunch Dinner
8
Day 8: Julu Khola to Chulu Far East Base Camp [5,000m]: 5 - 6 hrs
We have to follow the steeply climbing trail to reach to Chulu Far East Base Camp. We have to cross the rocks ravine severally as well on the way to Far East Chulu peak Base Camp with accompanied Annapurna Valley Himalayan views.
Included meals:Breakfast Lunch Dinner
9
Day 9: Acclimatization Day at Chulu Far East Base Camp
It's time for rest and acclimatization. Today we spend the time for rest and explore the base camp area. We also get the peak climbing training and also hike the nearby glacier to perfect training. We also learn to use our trekking and climbing gear as required.
Included meals:Breakfast Lunch Dinner
10
Day 10: Base Camp to Chulu Far East High Camp [5,500m]: 3 - 4 hrs
Today we have to reach to the High Camp of our main destination of the trip. We follow the trails with steeply climbing snow slopes. All on the way we have the amazing vistas of Annapurna Himalaya with Chulu east, west and far-east. We also offered by crystal clear views of Peak Pisang. After reaching to high camp we have to make the tented camp on the rocky platform near the lake.
Included meals:Breakfast Lunch Dinner
11
Day 11: High Camp to Chulu Far East Peak [6,059m] to Base Camp: 8 - 9 hrs
We have to start to trek for the day early in the morning near 2-3 am in the dark morning with the light of moon and head torch. We will follow the level trail. The next section of the path will gradually become as steeper and hve cross over the rocks in the mountain tracks. After reaching the top our effort comes to effects as the incredible views of Annapurna range including II,III and IV, Gangapurna, Manaslu, Pisang peak, Chuluy west and Himlung valley at the north side. After these we will have to move down to the Base camp for overnight at tented house.
Included meals:Breakfast Lunch Dinner
12
Day 12: Chulu Far East Base Camp to Manang [3,35m]: 5 - 6 hrs
Today we will have to again retrace our earlier path till Julu khola and have to follow the trails along the forests to reach the Manang, beautiful village just below the Thorong La Pass located on the Annapurna Conservation area. The area is inhabited by Gurung, Ghale and Lama mostly.
Included meals:Breakfast Lunch Dinner
13
Day 13: Manang to Siri Kharka [4,060m]: 4 - 5 hrs
From Manang we out from the western gate and follow the path down to the river. We cross the river and continue to walk on the south side of the river through coniferous forest to Khangsar village and from here we have to trek further to Siri Kharka with passing the Monastery on the way. All on the way we have the great views of Gungang Himal and Mt. Chulu.
Included meals:Breakfast Lunch Dinner
14
Day 14: Siri Kharka to Tilicho Base Camp [4,140m]: 5 - 6 hrs
Today our trek path is mostly going downhill and also dangerous Landslide area. There is no any difficult to walk but the path is narrow so we have to move carefully. We have to set up the tent after reaching the base camp.
Included meals:Breakfast Lunch Dinner
15
Day 15: Tilicho Base Camp to Tilicho Lake [4,949m]
Today we are going to visit the worlds' highest pointed lake called Tilicho Lake. The path continues along up the moraine ridges and grassy slopes to the some large switch backs carved out of the slope then we reach at the watershed. And one the other side is Tilicho Lake is base. This lake is also one of the holiest Pond of Nepal related with the epic "Ramayan".The lake also known as "The Great Ice Lake" named by the French expedition team's leader Maurice Herzog.
Included meals:Breakfast Lunch Dinner
16
Day 16: Tilicho Lake to Mesokanta La Pass to Yak Kharka [4,200m]: 7 - 8 hrs
Today we will cross few pass after climbing for arrive at Eastern Pass at 5340m that offer the captivating views of the Annapurna, Gangapurna and Tilicho Himal. Then we descend down to Mesokanta La pass at 5121m that have the spectacular views of Dhaulagiri, Nilgiri, Tilicho Himal, Tukuche peak. We continue to descend after and after on some distance the end of the descent take us to the level path to connect to Yak Kharka.
Included meals:Breakfast Lunch Dinner
17
Day 17: Yak kharka to Jomsom: [2,743m]: 5 - 6 hrs
We descend down heading to Thinigaon. After crossing the village we will follow a level trails which will eventually lead us to Jomsom. Jomsom has the base of the Airstrip.
Included meals:Breakfast Lunch Dinner
18
Day 18: Jomsom to Pokhara [820m]: 25 minutes by flight
Early in the morning we will take a flight to return to Pokhara with the amazing views of mountain and landscape with hanging farm fields. After reaching to Pokhara we will visit the Phewa Lake Side and also mesmerize with the amazing views of mountains like Annapurna, Dhaulagiri and Fish tail.
Included meals:Breakfast
19
Day 19: Pokhara to Kathmandu: 6 – 7 hrs
Early in the morning we will again catch a bus to return to Kathmandu. We drive all with the amazing scenic views and the fantastic flooding Trisuli River. We can see the amazing views of Mountains, green landscape with attaching farm fields with gold lighting rice fields. After return to Kathmandu, we have to attend the farewell dinner to celebrate the succession of the entire trip.
Included meals:Breakfast Dinner
20
Day 20: Final Departure
The day is the most embarrassing for both of us of the separation after the amazing trekking adventure. Accent Himalaya provides the airport drop service so our representative will help you till you check-in. However if you want to explore Nepal more and have to collect more experience of the trip in Nepal, we Accent Himalaya team is always with you.
Included meals:Breakfast
Included/Exclude
All airport/hotel transfers
Guided sightseeing tour in Kathmandu with temple/monuments entrance fee
Kathmandu Besishahar -Syange transport in private vehicle
Jomsom to Pokhara flight with airport departure tax
Pokhara to Kathmandu transport in tourist bus
3-star hotels in Kathmandu and Pokhara
Teahouse/Lodge and tented accommodation during trekking and climbing session
Breakfast in Kathmandu and Pokhara and all meals in mountain
All ground transportation as per the itinerary by private vehicles (except Muktinath to Jomsom transport in local bus)
All necessary staffs with experienced English speaking climbing and trekking leader (guide), cook, assistant climbing leader (4 trekkers: 1 assistant guide), Sherpa porters to carry luggage (2 trekkers:1 porter), other helpers as per requirement for the climbing section including their salary, insurance, equipment, flight, food and lodging
All necessary paper works; trekking permits and Chulu West climbing permit
Down jacket, four seasonal sleeping bag, Accent Himalaya duffel bag, t-shirt, and trekking map (down jacket and sleeping bag are to be returned after trip completion)
Group Mountaineering climbing and camping equipment for climbing part -very high quality North Face or Mountain Hardware tents for camping and kitchen, dining, toilet tents, mattresses, kitchen equipments
Travel and rescue arrangements
Welcome and farewell dinner
Exclusive Medical Kit Bag
All government and local taxes
Nepal Visa fee (bring accurate USD cash and two passport photographs)
International airfare to and from Kathmandu
Excess baggage charges (if you have more than 20 kg luggage, cargo charge is around $1.5 per kg)
Extra night accommodation in Kathmandu and Pokhara because of early arrival, late departure, early return from mountain(due to any reason) than the scheduled itinerary
Altitude chamber (PAC) or oxygen
Lunch and evening meals in Kathmandu and Pokhara (and also in the case of early return from mountain than the scheduled itinerary)
Travel and rescue insurance
Personal expenses (phone calls, laundry, bar bills, battery recharge, extra porters, bottled or boiled water, shower, heater, etc.)
Personal climbing equipments
Personal climbing guide if requested
Optional trips and sightseeing if extended
Tips for guides and porters