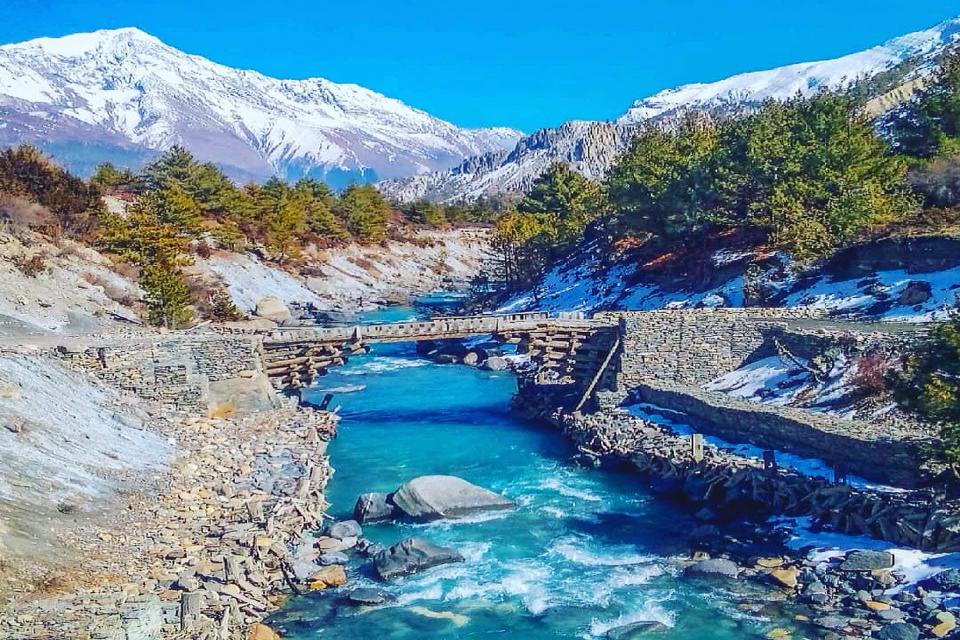 Overview
Annapurna Circuit Trek
Annapurna Circuit Trekking, also recognized as Round Annapurna Trek - as being the classic trekking route; trekking to this entire Annapurna Himalayan range and exclusive views of impressive wanderings through the astonishing variety of landscape with mixtures of different ethnicities on the trail.
The mountains you get to perceive from the Annapurna Circuit is Annapurna I (8090 m, 26545 ft) (the 10th highest peak in the world) and was first climbed by the French summit in 1950. Other peaks like Mount Dhaulagiri ( 8165 m,26795 ft) (7th highest peak in the world ), Mount Manaslu ( 8165 m,26780 ft) (the 8th highest peak ) and Mount Machhapuchare (also known as Fishtail) (6995 m, 22945 ft).
This trek takes you to the abundant sub-tropical area to the huge dense alpine forest where you will be crossing the challenging Thorong La Pass (5415 m) which is the highest point of this trek. This trekking is to some extent moderate or rather a tranquil trek. With sound health, any trekkers can attempt this trek.
The way to the Annapurna Circuit Trek begins from a scenic drive to Besishar. We then start our trek from Khudi, from where you slightly get the glimpse of Manaslu range. Then our trail takes us to the subtropical forests, ascending and descending, after crossing several suspension bridges, we reach Sirung village. The communities living here are mostly from the Tamang ethnic group and you get to discover their culture and livelihood. As we continue on the trail, we will be crossing through terraced fields and after few suspension bridges, we reach Dharapani and headed towards Chame, which is the headquarter of the Manang district. We then head to Pisang, spotting several temples on the way. Finally, we reach Manang, where we will be acclimatizing here.
At this Annapurna Circuit, there is no such high altitude but novice climbers may suffer some altitude sickness. So, we will halt here at Manang and do short hikes to some villages. And continuing our trek, we will reach Yak Kharka, where we will be spotting several yak herders on the trail. As continuing our trekking and crossing some more suspension bridges, we will be heading to the high cliff Thorang La (5416 m), where we get the splendid view of Mount Gundang, Mount Syagang, Mount Thorung and Mount Khatungkan. And from Thoangpedi, we will reach Muktinath, one of the sacred places for Hindus and Buddhists. We are then headed to Marpha, a well known place for apple farming.
And then we will be heading to Kalopani, then to Tatopani, trekking through the beautiful villages of Shikha and Chitre and trailing through the beautiful rhododendron and other several forests and reach Ghorepani village.Lastly, we trek to Ghorepani Poon Hill, the ultimate heaven where we get the superb entire view of Annapurna and Dhaulagiri mountain ranges. Finally, we head to Tadapani and after trekking some time, we will drive to Pokhara and then to Kathmandu.
We the Accent Himalaya also have an opportunity for extending and reducing the itinerary schedule according to your vacation schedule. So if you want to know further details about this trek, have any inquiries, please feel free to contact or email us.
Here we list the detailed itinerary for Annapurna Circuit Trek:
Detail Itinerary
Day 01: Arrival in Kathmandu (1,300m/4,264ft)
As your arrival at Airport, our representative will pick you up and drop you at your respective hotel. In the evening you will be invited to dinner hosted by Accent Himalaya with amazing Nepalese taste.
Day 02: Kathmandu to Jagat
Leave Kathmandu's frenetic streets, via private 4×4 jeep to the starting point of the trek, nestled between the high peaks of the Annapurna's and Mt. Manaslu – the world's 8th highest peak.
The track leading to Jagat heads north up through the Marsyangdi Valley with Himalchuli and Ngadi Chuli (Peak 29 – 7871m) looming over the horizon.
Included meals: Breakfast Lunch Dinner
Day 03: Jagat to Dharapani (1,960m/6,430ft): 7-8 hours
After having our breakfast, we will continue to trek from Jagat descending until we reach the river and continue through a lush forest. Our trails ascent leads to a sharp-edge cliff facing the river bank. In our route, Chyamje comes into picture amidst the glorious backdrop of towering Annapurna mountain range. We will cross the suspension bridge, climb steeply towards the slippery and physically challenging path to Sattate. Then we descend to a grassy riverbank that leads to Taal. As we leave behind Tal, our way becomes much winding and rugged. We approach the steeply-forested village of Karte meandering along the waterfalls and cliffs, we finally reach Dharapani after crossing a suspension bridge.
Included meals: Breakfast, Lunch & Dinner
Day 04: Dharapani to Chame (2,710m/8,891ft): 5 - 6 hours
We will walk through some forested ridge on our way to Chame, which is headquarters of Manang district. We can admire views of Himalayas including Lamjung Himal, Annapurna II and IV. On our trek, we also come across the small hot spring where we dip and soothe our aching body.
Included meals: Breakfast, Lunch & Dinner
Day 05: Chame to Pisang (3,300m/10824ft): 5 - 6 hours
The steep and narrow way with a very dense forest shall take us to the diagrammatic curved rock face, rising 1500 m from the River, which is the steepest part of the Marshyangdi valley. After passing the last point of rock, the valley will open up with majestic vistas. We will trek for a while before reaching lower Pisang.
Included meals: Breakfast, Lunch & Dinner
Day 06: Pisang to Manang : 6 - 7 hours
We have two routes to Manang but we will follow the trail that takes us upper via Geru. This trail guarantees excellent views of the magnificent landscape and the mighty mountains including Annapurna and Pissang. We will be notified that a contrast in the landscape and vegetation from today. We will visit Barge Monastery, the largest monastery all over the Manang.
Included meals: Breakfast, Lunch & Dinner
Day 07: Manang: Acclimatization day
We will stay at Manang for acclimatization for keeping us fit on the trail that we follow. We will take a short hike to BhojoGumba or Gangapurna Lake. If we have the energy, we will also hike to Vraga village, where we can visit the Himalayan rescue association, which give us some idea about Acute Mountain Sickness (AMS).
Included meals: Breakfast, Lunch & Dinner
Day 08: Manang to Yak Kharka (4,110m/13,484ft): 3 - 4 hours
Through Manang village, we will cross a stream then climb to a village of Tenki and continue to climb out of the Marshyangdi valley turning to the valley of JarsangKhola. We will follow the trail following valley northward, passing some pastures and a scrub of juniper trees. The trails also pass near the village of Gunsa, a cluster of flat mud roofs just below the trailhead. Our trails will go through the ground on where horses and yaks are grazing. We also cross the wooden bridge, pass an ancient old Mani wall in a pleasant meadow and then we will finally reach another village of Yak Kharka.
Included meals: Breakfast, Lunch & Dinner
Day 09: Yak Kharka to ThorongPhedi (4,600m/15,092ft): 3 - 4 hours
It will be uphill walk to Thorong La Pass. After some trek, we will cross a suspension bridge and reach Ledar village. We will ascend furthermore and pass through towering cliffs before reaching ThorongLa Pass. We will reward by the views of Mt.Gundang, Syagang, Thorong Peak and Mt. Khatungkan.
Included meals: Breakfast, Lunch & Dinner
Day 10: ThorongPhedi to Muktinath (3,800m/12,467ft) via Thorong La pass (5416m/17764ft): 7 - 8 hours
We will cross Thorong La Pass, one of the highest passes in the world, from East to West (Manang to Muktinath), an easiest and safest trail. For that, we shall have to get up early in the morning around 3 am and walk up the mountain, after reaching the top of the peaks we then realize the worth of our trekking. We take some photos and head to Muktinath valley.
Included meals: Breakfast, Lunch & Dinner
Day 11: Muktinath to Jomsom (2,670m/8,760ft): 4 - 5 hours
Muktinath, an important pilgrimage for both Hindus and Buddhist, early in the morning we pay our visit to a Vishnu Temple and Gumba. , we will tumble towards muktinath and Jomsom finally arrive at Marpha.
Included meals: Breakfast, Lunch & Dinner
Day 12: Jomson to Pokhara
we take early flight from jomsom to pokhara . as per your intrest , we will also visit fewa lakeside in pokhara .( 820 M )
Included meals: Breakfast, Lunch & Dinner
Day 13: pokhara to kathmandu (1,200m/3,937ft): 6 - 7 hours
We will come back to Kathmandu from Pokhara on a tourist bus from Pokhara tourist bus-park. We will drive along with the scenic views of the green landscape, amazing Trisului, and Marsyandi River
Included meals: Breakfast, Lunch
Our representative will drop you at the International airport before your flight time. However, if you want to explore more here in Nepal, we Accent Himalaya will try our best to help you.
Included meals: Breakfast
Included/Exclude
All the airport transfers by private vehicles.
Three nights' hotel in Kathmandu including breakfast on twin share basis.
Sightseeing tour in Kathmandu as per the itinerary.
All accommodations in lodges/tea houses during the trek on twin share basis.
Your standard meals during the trek with hot tea/coffee in breakfast.
All necessary paper works, Conservation entry permits and TIMS permit.
One night's accommodation in Pokhara including breakfast on twin sharing basis.
Ground transportation from Kathmandu –Bhulbhule -Pokhara - Kathmandu by bus.
An experienced, helpful and friendly Guide and porters (1 porter for 2 peoples).
Salary, food, drinks, accommodation, transportation and insurance for the guide and porter.
Arrangement of Emergency Helicopter service which will be paid by your Travel insurance company.
Sleeping bag, down jackets and trekking map, if necessary (return after the trek).
All government taxes, VAT and Service charge.
Nepal entry visa fee (you may easily issue the visa upon your arrival at Tribhuwan International Airport - Kathmandu). You will require 2 passport size photos.
Your Travel insurance (compulsory).
Lunch and dinner while you are in Kathmandu & Pokhara.
Your personal expenses and entrance fees while you are on sightseeing tour in Kathmandu.
All the alcoholic and non alcoholic drinks and Sweet things like chocolate.
International airfare and airport departure tax.
Tips for the guide, porter & driver.
Any others expenses which are not mentioned on including section.