Arts and Archery Tours of Bhutan
Arts and Archery Tours of Bhutan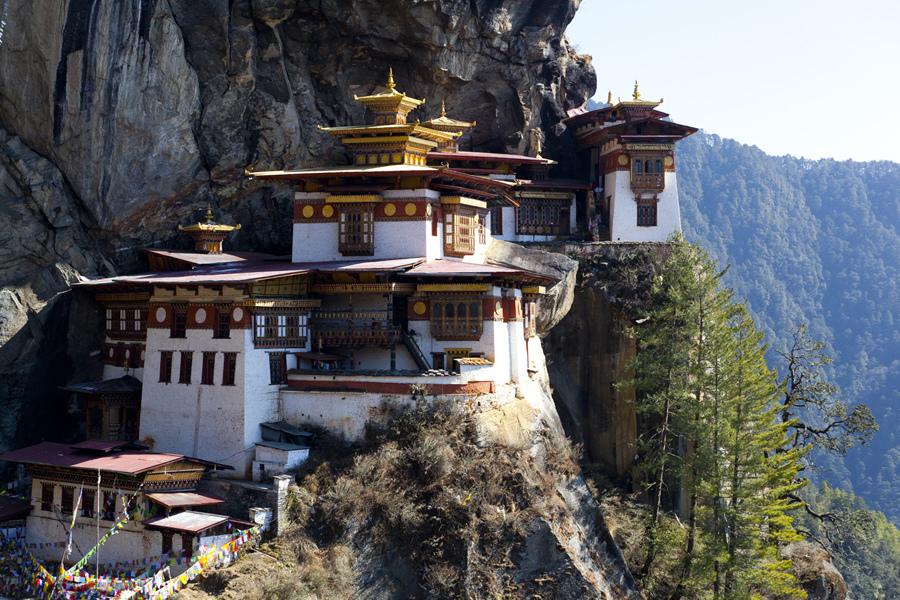 Overview
This Bhutan tour includes an experience of playing archery with the Bhutanese people. Archery in Bhutanese language is called as 'DHA' which happens to be the national sports of Bhutan. As archery is famous all over the world, it is mostly played by people of Bhutan. On the trail to many villages, you get to spot grounds where people gather on the field (named Changlimithang field) to play and compete in archery. Even archery festivals are held where lots of people gather from different village to participate in their traditional dress.
This main festival of archery are held during the Losar but formal competition is held all throughout the year. So including with experiencing the archery sports, you even get to explore the landmark heritage sites like grandeur Dzongs, museums, monasteries, memorial chorten, museums, hike to the Taktsang monastery etc.
Our tour begins with a scenic flight viewing magnificent views of Jichu Drake and Mount Chomolhari to Paro. We will then lead to the hotel and after taking some rest; we will later be touring visiting ancient old temple Kichulhangkhang and then explore Rinpung Dzongs.
We then drive to Thimpu to visit memorial chorten and several other chortens, monasteries and also visit the heritage museum where you'll find ancient artifacts of Bhutan. Next, we head to visit the small zoo, etc. Next, we will be visiting the hustle and bustle market - where the local people sell local products like chilies and other locally made items. Then we head to the field of Changlimithang to observe people playing archery and if you are interested you can also participate and experience this sport.
We will next be heading to the Punakha where on our way we get the spectacular views of the mountains. We will stop over to the fertility temple known as Chimilhangkhang. As we reach Punakha, we will be visiting the Punakha Dzong. From there, we drive to Gangtey (one of the beautiful village surrounding with snowcapped peaks) where you expect to meet spot black-necked cranes. Then we drive to Punakha, and to Paro and finally, we will be hiking to the popular monastery Taktsang monastery (also termed as Tiger Nest Monastery) and this marks the completion of our tour.
This 8 days tour had been carefully designed for you to explore major sites of Bhutan. This tour can be done with your family members as it is a very easy where you will be only hiking for a short period of time. It is suitable for all the travelers and can be done in all-around season. If you have any questions or want to inquire more regarding this trek, please feel free to contact or email us.
Below we list our detailed itinerary for Arts and Archery Tour of Bhutan:
Detail Itinerary
1
Day 01: Arrival and sightseeing in Paro (2,250m / 7,382ft)
Your flight will be full of mesmerizing views of the Himalayas including the sacred Jomolhari and Jichu Drake peaks. When you reach the airport, our representative from Accent Himalaya will welcome you and transfer you to the hotel. After taking some rest, we will begin our tour visiting Ringpung Dzong (constructed in 1646) and now this Dzong is the managerial office of Paro Dzongkhang. Next, we will visit the oldest temple - kichu Lhangkhang and then the Drugyal Dzong. We will be spending our night in Paro.
2
Day 02: Paro to Thimphu (2320m/7610 ft.): 54 km, 1 hour
Today after the breakfast we take a drive to Thimpu which leads us to the Paro valley adjoining with the Thimpu and Paro rivers. On the way we will be passing via three varied chortens. During our way we will stop to visit the Tachogang Lhankhang which was constructed in 15th century by a great trader named Thangthong Gyalpo. Reaching Thimpu we will check in into the hotel. Today we will be visiting several landmarks of Thimpu which are memorial chorten, painting institute, mini zoo and nunnery temple. After that we will explore museum, paper factory, Tashi cho Dzong and huge statue of Buddha. We will spend our night in Thimpu.
Meal:

Breakfast, Lunch and Dinner
3
Day 03: Thimphu: Tour of the weekend market, Changlingmethang Archery Range and handicraft shops
Today early morning we will visit the hustling and bustling market of Thimpu where the local people sell their local food and other handmade products. In this market we get to observe varied kinds of local foods. We will also get familiar with the local people and their lifestyles and many more. In the market there is also a stall of handicraft products where you can looked around. After a few walk we will reach at Chanlingmethang which is the field where archery is played which is the national game of Bhutan where you can observe in the field people playing archery. After that you can spend your day visiting handicraft shops. In evening we will wander around the Thimpu streets. We will spend our night in Thimpu.
Meal:

Breakfast, Lunch and Dinner
4
Day 04: Thimphu to Punakha (1300m / 4265 ft.): 76 km, 2 - 3 hours
Today after having our breakfast we take a scenic drive to Dochu La pass which is at 3100 meter and if the weather is clear we will get striking view of the Himalayas and then we take a drive to downhill by lush forest of rhododendron, fir and hemlock. After that we continue our drive and then we will stop at Chimilhankhang temple. Within a short drive we will reach at Punakha and here we will be visiting the second oldest and largest Punukha Dzong which was constructed in 1637or 38. We will spend our night in Punakha.
Meal:

Breakfast, Lunch and Dinner
5
Day 05: Excursion to Gangtey: 164 Km, 5 - 6 hours
Today in morning we will be exploring the Wangduephodrang and this village is famous for stone carving after that we take a drive via thick rhododendron forests. Then we will arrive at Gangtey a lovely village which offers stunning view of snow capped peaks and even from here we get the beautiful view of black mountain ranges and the fabulous Phobjikha valley. After that we will be visiting the Gangtey monastery and after exploring the monastery we will visit the Phobjikha valley and then take scenic drive to Punakha. We will spend our night in Punakha.
Meal:

Breakfast, Lunch and Dinner
6
Day 06: Punakha to Paro (2,250m/7,382ft): 130 km, 4 hours
Today we will retrace back to Paro. During our way to Paro we will be passing via Dochu La pass where we will visit the Druk wangyal monastery and this monastery showcases exclusive paintings of present realm. We will spend our night in paro.
Meal:

Breakfast, Lunch and Dinner
7
Day 07: Hike to Tiger's Nest Monastery
Today after breakfast we will hike to the most known monastery known Taktsang monastery which is also called as Tiger nest monastery and the monastery is located at the precarious cliff at 3180 meters. A spiritual Guru Riimpoche had flown on the back of the tiger back to meditate into the cave which this Taktsang monastery now stands. In highway up to the mountain there is a restaurants located where we will be having our lunch. After that we will hike down to the valley. We will spend our night in Paro.
Meal:

Breakfast, Lunch and Dinner
8
Day 08: Final departure
Today your Bhutan tour with archery finally comes to an end. We will be heading to the airport early morning after the breakfast as our representative from the Accent Himalaya will be dropping you at the airport three hours earlier than your flight schedule. As the Druk air departs only in morning due to avoid such bad climatic conditions.