Bhutan Land of the Thunder Dragon
Bhutan Land of the Thunder Dragon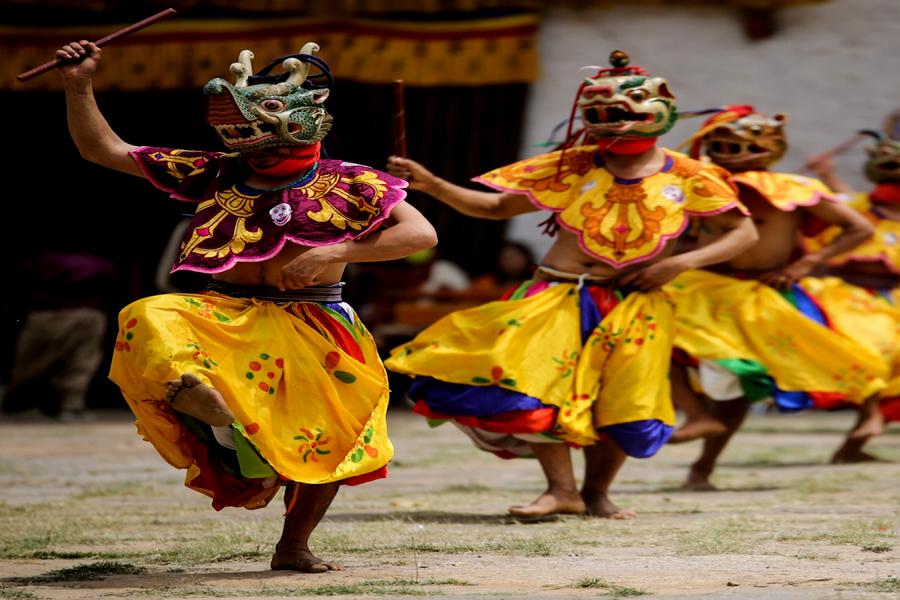 Overview
Bhutan is also called as the – "land of thunder dragon" because of the forceful storms descended down from the high hills of Himalayas. In the local language, it is known to be as Drukyul. This country is one of the best destination where only a few lucky visitors have visited so far. The largest and the capital city is Thimpu. Earlier Bhutan was isolated and was opened as of 1974 for foreigners and since then has been very popular travel destination.
This package is designed for 5 days and it is perfect for those travelers who have few days of vacation. Bhutan Land of Thunder Dragon Tour will lead you to the attractive sight of marvelous mountains, assortment of diverse blossoming green valley, visiting unique architectural grandeur of the 17th century - Dzongs, several villages and explore their lifestyles, stop over to visit the several monasteries and if circumstance allows us - we get to observe their spectacular festivals held in different Dzongs.
This itinerary starts from an airstrip to Paro and then we drive to Thimpu. As for sightseeing Thimpu city, we visit the commemorative Chorten constructed in memorial to King Jigme Dorje, visit the TashichoDzong fort etc. We then drive to Punakha to view the almighty mountain sights of the Himalayas such as GangharPunsum (7498 m) - which has not been ascended till date and the highest mountain in Bhutan, Mount Chomolhari (7218 m) and many others.
Next, we visit the Punakha dzongs and drive to explore Paro visiting the ancient temple Kichulakhang. And next day we hike through lovely pine forest to the Tiger Nest Monastery (also known as Taktsang monastery) located on the high cliff surrounded by beautiful colorful prayer flags. This monastery is constructed in the cave where spiritual Guru Rimpoche mediated. After visiting this monastery on the high cliff, we retrace back which marks the completion of our tour.
We Accent Himalaya are very much specialized organizing Bhutan tour and our guides have lots of experience with abundant knowledge of culture and traditions therein. This tour can be attempted all year around. For further details or have any questions, please feel free to contact or email us.
Below we list our detailed itinerary for Bhutan – Land of Thunder Dragon tour:
Detail Itinerary
1
Day 01: Arrival in Paro then transfer to Thimphu (2,320m/7,610ft): 54 km, 1 hour
During the scenic flight to Bhutan, you get to enjoy the mesmerizing view of the Himalayas plus the sacred peaks Jichu Drake and Chomohari. After reaching the airport, our team member of Accent Himalaya will welcome us and then take us to the hotel of Thimpu. In case your flight reaches earlier, - then we will begin our tour but if we reach late afternoon, then you can take rest & we will start the following day. We will be spending our night at Thimpu.
2
Day 02: Thimphu to Punakha (1,250m/4,100 ft.): 76 km, 2 - 3 hours
Early morning - we will begin our tour by visiting the memorial Chorten (constructed in the memory of the late third king of Bhutan who ruled the country from 1952 to 1972). After that, we will be visiting the nunnery temple, traditional medicinal center, traditional painting school and the heritage museum. After having our lunch, we will drive to Punakha and then cross the Dochu La pass (3100 m). After that, we will drive downhill via fir, hemlock and rhododendron forests. We will then pass via rice fields alongside the river banks and finally, we will reach Punakha and here we will be visiting the second ancient and the largest Dzong named Punakha Dzong of Bhutan. We will be spending our night at Punakha.
Meal:

Breakfast, Lunch and Dinner
3
Day 03: Punakha to Paro (2,250m/7,382ft): 130 km, 4 hours
Today after having our breakfast - we will begin our drive to Paro and then we will be visiting the Ringpung Dzong and after that, we will be visiting the ancient temple Kichu Lhangkhang and the Drugyal Dzong. We will be spending our night at Paro.
Meal:

Breakfast, Lunch and Dinner
4
Day 04: Hike to Tiger's Nest Monastery
After having our breakfast, we will be hiking at least 4-5 hours to the famous monastery of Bhutan named Taktsang monastery or simply Tiger Nest monastery. The monastery is located at the edge of the high cliff which is at 3180 meters. It is said that the spiritual Buddhism Guru Rimpoche has flown back on the tiger back and headed to the cave & meditated there for a longer period. We will be having our lunch at the cafeteria/restaurant which is located at the midway to the mountain and after exploring the Taktsang monastery, we will retrace back down to the valley. We will be spending our night at Paro.
Meal:

Breakfast, Lunch and Dinner
5
Day 05: Final Departure
Today the Bhutan land of thunder dragon tour finally comes to an end and our Accent Himalaya team member will be dropping you at the airport three hours earlier than your flight schedule.