Explore Bhutan, Nepal and Tibet
Explore Bhutan, Nepal and Tibet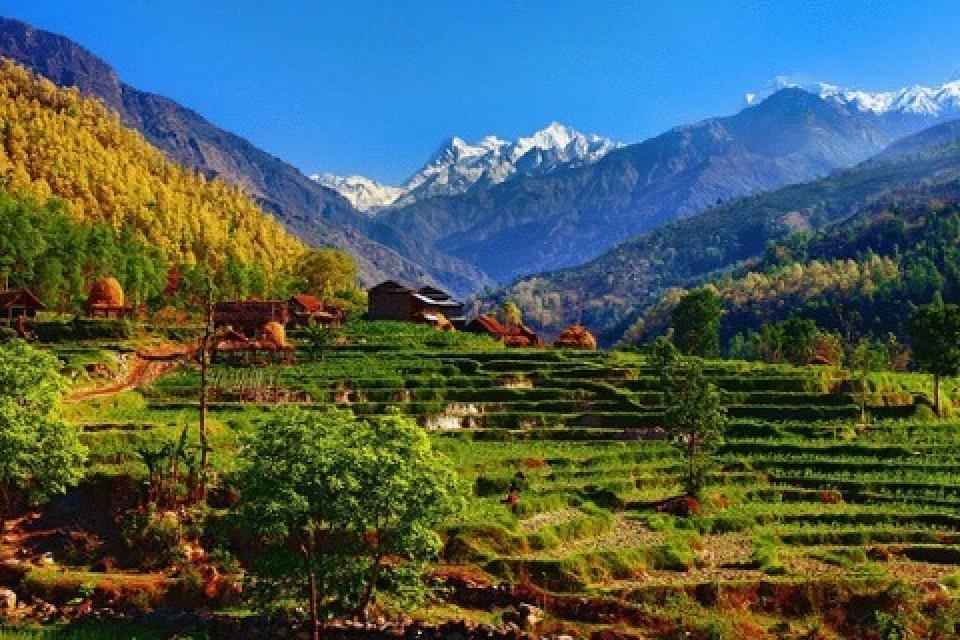 Overview
This 9-days short tour covers several heritage sites, cultural sites and many other fascinating locales for you get an abundant experience in three Himalayan countries within a short time frame.
This tour is carefully designed for those travelers who want to explore the three Himalayan countries having less vacation time but to foremost explore best visiting spots. We will be touring Bhutan - the land of thunder dragon, Kathmandu and Tibet respectively.
During your airstrip to Bhutan, you get the magnificent view of Mount Jomolahari and Dichu Drake. Reaching Paro, we will start our tour visiting some of the prime landmarks of Paro such as Rinpung Dzong, Kichulhangkhang temple, Drugyal Dzong. Next, we will be hiking to the most visited tourist vantage spot – the Taktsang Monastery, which is constructed at the high cliff. Next, we will be wandering around the Thimpu city visiting Thimpu Dzong, monasteries, museums, art school etc. and fly back to the Kathmandu city.
At Kathmandu, we will be only covering two heritage sites – the Boudhanath stupa and the Pashupatinath temple. We then explore the ancient cities - Patan and Bhaktapur. In Patan, we will be sightseeing Patan Durbar Square and in Bhaktapur, we will be visiting several temples and so on.
Likewise in Tibet, we will be visiting the most visited tourist site – the Potala Palace which is very beautiful and uniquely constructed. Next, we visit the nearby palace - Norbulingkha Palace and also sightsee various monasteries and temples such as Jokhang Temple, Sera Monastery, Drepung Monastery. We will be wandering around the Barkhor bazaar for a while and lastly depart to our own destination.
We the Accent Himalaya operates this short Himalayan tour which covers the three best destinations where you get to travel easily within 9 days and for is perfect during spring and fall season but we operates this tour every season as per your holiday schedule. For more information about this tour or if you want to inquire more about this tour, please feel free to contact or email us.
Here we list our detailed itinerary for this tour:
Detail Itinerary
1
Day 01: Arrival and sightseeing in Paro (2,250m/7,382ft)
In your flight to Bhutan, you'll be enjoying great views of the Himalayas including sacred peak Chomolhari and Jichu Drake. After landing at the airport, representative of Accent Himalaya will welcome you and take you to the hotel. After lunch and freshen up, we begin our tour by visiting the Ringpung Dzong (fortress heap of jewels). Next, we will be visiting the Kichu Lhankhang temple - an ancient temple and next - we will head to Dugyal Dzong and if the sky is clear, we will get to perceive the beautiful second highest peak of Bhutan - Mt. Chomolhari at 7314 meters. We will spend our night in Paro.
2
Day 02: Paro to Thimphu (2,320m/7,610ft): 54 km, 1 hour drive then hike to Taktsang Monastery
Today after having our breakfast, we will be at least hiking for 4-5 hours to the famous monastery situated at the precarious cliff at 3180 meters. A Buddhism spiritual master Guru Rimpoche had flown on the back of the tiger to meditate into this cave which is now known as Taktsang or simply Tiger Nest Monastery. After that, we will have lunch at the café restaurant positioned at the midway up to the mountain. After enjoying the lunch and exploring the monastery in depth, we will retrace back to the valley and take a drive to Thimpu. We will spend our night in Thimpu.
3
Day 03: Sightseeing in Thimphu
Early morning - we will be visiting several landmarks of Thimpu such as the Memorial Chorten (constructed in the memory of the late 3rd king who ruled from 1952- 1972). Next, we will explore the nunnery temple, the zoo of Thimpu & also observe the national animal of Bhutan – Takin. After that, we will visit the traditional medicine center, painting school, legacy museum and the regal Dzong Tasho Cho Dzong and then visit the traditional paper factory. As most of the landmarks of Bhutan are often closed during the weekends, so if we arrive during the weekends - we will wander around the Thimpu market. We will spend our night in Thimphu.
4
Day 04: Fly from Paro to Kathmandu (1,300 m/4,264 ft.), Chinese visa process, half day tour
Today after breakfast, we will head to Paro airport and take a flight to Kathmandu. Reaching Kathmandu airport, our representative will drive you to the hotel. Relaxing for a while and freshening up in the hotel room, next we will visit two heritage sites of Kathmandu - the Boudhanath stupa and the Pashupatinath temple. Boudhanath Stupa is the largest stupa in the world which is beautifully constructed surrounding by thousands of prayer wheels. Next, we will be exploring the Pashupatinath temple - a holy site of Hindus and lots of Hindu devotees come from different parts of the world to explore this temple. We will spend our night in Kathmandu.
5
Day 05: Sightseeing of Patan and Bhaktapur
After having breakfast, we will explore two ancient cities which are famous for ancients' typical Newari arts and architecture. We will be visiting two sites which are listed in the UNESCO world heritage sites. First the Patan Durbar square - surrounding this square you will be exploring the ancient palace and several old temples. Next, we will head to the overwhelming city - Bhaktapur. The people living in this city still practice their culture and traditions very strictly. In this city, we will be visiting several landmarks of Bhaktapur which are the golden gate, water spouts, Nyata Pola temple and palace having 55 windows. We will spend our night in Kathmandu.
6
Day 06: Fly from Kathmanduto Lhasa (3,650m/11,972ft)
Today we take a scenic flight to Lhasa where we will be viewing pictorial view of Mt. Everest which is 8848 meter, Kanchenjunga at 8536 meter and several snow capped peaks and glaciers. When you arrive at the Lhasa airport our representative from the Accent Himalaya will greet you and take you to the hotel. Today we will taking ample rest and adapt the altitude. We will spend our night in Lhasa.
7
Day 07: Lhasa sightseeing: Potala Palace, Norbulingka Palace and Tibet Museum
Today after breakfast we will began with sightseeing Lhasa where we will visit the exquisite Potala palace and the Norbulingkha palace. This beautiful Potala palace was constructed in 17th century and from here one get the astonishing view of Lhasa city. This palace is earlier the abode of Dalai Lama. After that we will visit the Norbulingkha palace which is the summer palace of his holiness the Dalai Lama. After that we will be visiting other landmarks like Tibetan traditional medicine center. We will spend our night in Lhasa.
8
Day 08: Lhasa Sightseeing: Sera Monastery, Drepung Monastery, Jokhang Temple and Barkhor Bazaar
Today we will explore Lhasa by visiting several cultural sites which are sera monastery, Drepung monastery, Jokhang temple and the Barkhor market. Describing a short brief of this Drepung monastery is that this monastery was constructed in 14th century and prior this monastery is home to 10000 monks but now it has decline with only few hundreds of monks. Next is sera monastery which is the exquisite and preserved monastery having golden roof with white washed walls. Next we will visit the Jokhang temple which is the sacred site of Buddhism. Next will be the Barkhor market which is the market of Lhasa where you can find open stalls people selling local products. We will spend our night in Lhasa.
9
Day 09: Final departure
Today your journey Bhutan, Nepal and Tibet comes to an end. Today before heading to airport you can stroll on souvenir shops where you can buy some gifts to your loved ones. After that our representative from the Accent Himalaya will be dropping you at the airport one hour earlier than your flight schedule.