Everest Base Camp Trek
Share
Asia Nepal
|

Days: 14

|

Group Size: Min 01-Max10

|

Price From US$ 1,170 All Inclusive Price
Overview
Trip facts
Departure From: Kathmandu
Best Season: Feb- May /Sep- Dec
Namaste! & Welcome to Everest Base Camp Trek
Accent Himalaya welcomes you all in this world's most popular trekking destination - Everest Base Camp - a 14 days trek. If you are adventurous, seek to explore something magical and get a new flavor of majestic beauty and decent mountainous life - we urge you to get along this route. You will never regret your expenses for this decision!
Trekking to Everest Base Camp or simply EBC is one of the most exciting and adventure that gives you lifelong memories of the innocent Sherpa life, mountainous flora, and fauna along with the enchanting and pristine scene of the Himalayan mountains. EBC lies in the Sagarmatha National Park which is also listed on the UNESCO World Heritage Site. Mount Everest (8848 m) is located in Solukhumbhu district of eastern Nepal which is the highest peak in the world and was first ascended successfully by Sir Edmund Hillary and Tenzing Norgay Sherpa in 1953.
Highlights of this Trek
Many tourists explore Everest Region for various reasons from camping, studying, research, holiday or just sight-seeing the landscape. However, the principal axiom of visiting the Everest Base Camp is to enjoy the beauty of immaculate snowy mountain peaks.
Everest Base Camp trek lets you imprint the breathtaking and stunning views of Mount Everest (8848 meters), Mount Lhotse (8515 meters), Mount Nuptse (7850 meters), Mount Changaste (7551 meters), Pumori (7160 meters), Mount Amadablam (6855 meters) and Mount Lingterin (6678 meters). Next, you will push yourself up to Kala Patthar (black rock) at the elevation of 5550 meters to get the closest view of the Mount Everest. Besides these, observing Sherpa lifestyles, Buddhist Culture, monasteries and chortens (shrines), rare floras and faunas are some more attractions of this region.
Your journey to the Base Camp of Everest begins once you take off to Lukla (2850 meters) from Tribhuvan International Airport via a domestic flight catching the lively and panoramic landscapes of hilly hamlets and mountainous view. On the way to Phakding (2610 meters), you can enjoy many beautiful Sherpa communities and their hospitality along with their typical custom and costume.
The next day - you will continue your journey through the lovely trails to Namche Bazaar (3443 meters) - a hub of Sherpa community enjoying the beauty of Mount Thamserku, Lhotse, Everest and other scenic beauties on the way. In Namche, you will have time to hike to and fro to acclimatize in the higher altitude. You can also visit Tengboche monastery at 3875 meters - the largest monastery in the Himalayas from where you can catch the rejuvenating view of splendid Mount Amadablam, several chortens, monasteries, observe warm Sherpa people's hospitality and their culture including the Sherpa museum.
On leaving Tengboche, the other day - we will head to - Dingboche (4410 meters), Lobuche (4910 meters) and Gorkshep (5150 meters) from where you can see the spectacular mountains very close in front of your eyes. After you reach Gorkshep, you are almost at the Everest Base Camp (5364 m) ! You can now move to Kala Patthar (Black rock) to get the closest views of Mount Everest and other mountains like Pumori, Lingterin, Changaste and return back.
The Everest region of Nepal is extraordinarily rich in biodiversity. On the way to and fro from Everest Base Camp, you can observe lush green forest of pines, oaks, junipers and rhododendrons forests and many plants. If you happen to visit this region in spring (March to April) - you get the beautiful view of fully bloomed rhododendron forest. Moreover, you can also observe diverse wildlife like musk deer, leopards, jackal, red panda, Himalayan Thar and birds like Impeyan Pheasant (Danphe - the national bird of Nepal) and Himalayan Monal.
In a nutshell, Trekking to the Everest Base Camp will provide you an inexplicable and everlasting experience of the highest mountain in the world which you would never get in your life. This is the best trek for those who want to try new feats in their life. This trekking is the wisest choice to gain lifelong experience.
For more information about this trek, please feel free to email or contact us. To know more about the weather and climate of Everest Base Camp, please visit the link:
http://www.accenthimalaya.com/blog/8/weather-of-everest-base-camp.
Here we provide you the Everest Base Camp Trek Itinerary:
Why Choose Accent Himalaya
Quality and service
A personal touch
Friendly and knowledgeable staff
Save time and effort
Tailor-made holidays
You're in good hands
Legitimacy
Read More
Itinerary
Day 01: Arrival in Kathmandu and Trip preparation

Upon your arrival at Tribhuwan International Airport, Kathmandu - you will be picked up by our staff of Accent Himalaya from the airport and drop you to the Hotel. In the evening, you will be offered welcome dinner hosted by Accent Himalaya where you can enjoy a delicious taste of the Nepali food.
Kathmandu Eco Hotel (or similar) Hotel
Welcome Dinner
Airport Pickup in a Private Vehicle
Day 02: Fly to Lukla, trek to Phakding

On the second day, you will start your journey from Kathmandu to Lukla by plane. It takes approximately 40 minutes to reach Lukla from Kathmandu. During the flight, you can enjoy the amazing domestic air route culminating on a hillside surrounded by the Himalayas. The real trek starts after reaching Lukla. You will meet our crew members and begin packing and arranging. Once you set off on your journey, you will be led to Cheplung village from where you can enjoy an awe-inspiring scene of Mount Khumbila (18900 ft) - which has never been accended by anyone yet. From Cheplung, you will start descending until you reach Phakding and take rest and spend that night.
Shangri-La Guest House (or similar) Guesthouse
Breakfast, Lunch & Dinner
Fly from Kathmandu - Lukla 45 min
Day 03: Phakding to Namche Bazaar

After sumptuous breakfast, you will continue your journey through magnificent and aromatic pine forest. You will follow the trail north up the valley of Benkar. Then, Dudh Koshi River (one of the co-rivers of river Saptakoshi) will be crossed and you will go on passing Chumoa to Monjo, the entrance to Everest National Park (also called Sagarmatha National Park), which is also listed in one of the world heritage sites. Then, crossing a suspension bridge, you pass Jorsale village and walk alongside the Dudh Koshi & Bhote Koshi river. A steep ascent leads you up to the prime heartland of Sherpa village - Namche Bazaar. If the weather gets clear, you can view the sight of Mount Everest and Mount Lhotse from there. You will stay that night in Namche Bazaar.
Snowland Hotel (or similar) Guesthouse
Breakfast, Lunch & Dinner
Day 04: Acclimatization Day - Namche Bazaar

This is a quite leisurely day. There are plenty of things to enjoy around Namche Bazaar. You can spend a day there acclimatizing yourself. Namche Bazaar is the main center of the Khumbu region. Khumbuwan and has many government offices, bank facilities like ATMs, Internet cybercafes, shops, restaurants, and a colorful market. Our guides will take you to explore the real charm of Namche Bazaar. Hiking to Sagarmatha National Park rewards the trekkers with a sunrise view and the views of Mount Everest, Lhotse, Nuptse, AmaDablam, Thamserku, Kongde and so on. If you are interested in a day hike, you can trek to Khumjung village, a beautiful village rich in Sherpa culture. While exploring and observing Namche Bazar, you can observe traditional Sherpa life, Khumjung Hillary School and enjoy flora and fauna found at such a high altitude. You will stay that night in Namche Bazaar.
Snowland Hotel (or similar) Guesthouse
Breakfast, Lunch & Dinner
Day 05: Namche Bazaar to Tengboche

This segment of the trek includes the famous descent to the Dudh-Koshi River and ascent along the rhododendron (national flower of Nepal) forests, which is also the to Tengboche. While descending to Dudh Kish River, you will enjoy the views of mountain tops like Mount Everest, Mount Lhotse, Mount Nuptse, Mount Ama Dablam, Mount Thamserku, and Mount Kongde and so on. On reaching Tengboche, you will visit Tengboche monastery, the largest monastery in the region and plunge in the views of Everest, Ama Dablam, and other peaks. You will stay overnight in Tengboche.
Tashi Delek Lodge (or similar) Guesthouse
Breakfast, Lunch & Dinner
Day 06: Tengboche to Dingboche

On this day, you will descent and trek through forests - varieties of lush trees – birch, conifer, rhododendron and many more. This journey again rejoices you with tremendous views of Everest, Lhotse, and Ama Dablam. The picturesque trail dips down to Devuche, crosses the Imja River and takes us to Pangboche. The upper Pangboche trails reward us with a more pristine view of the Himalayas and the Pangboche Monastery. The trek moves ahead towards the Imja Valley, Lobuche River and ultimately winds up climbing up to Dingboche. At Dingboche, we see a beautiful array of fields enclosed by stone walls to protect barley, buckwheat, and potatoes from the cold winds and grazing animals. Overnight we stay at Dingboche.
Peaceful Lodge (or similar) Guesthouse
Breakfast, Lunch & Dinner
Day 07: Dingboche: Acclimatization

Dingboche, a popular stop for trekkers and climbers who head to Mount Everest, Ama Dablam or ImjaTse. The village is beautiful with an array of fields fenced by stones to protect crops from the cold wind and grazing of tamed animals. We spend a day at Dingboche for acclimatization and observation. We take day hikes to either Nagarjun Hill or Chukkhung Valley for great views of Makalu, Lhotse, Chalotse, Tawache and Ama Dablam.
Peaceful Lodge (or similar) Guesthouse
Breakfast, Lunch & Dinner
Day 08: Dingboche to Lobuche

You will start this day with a gradual climb to Duglha at the end of the terminal moraine of the Khumbu Glacier. From here, you will climb up a steep trail to ChupkiLhara, where you can see an array of stones with prayer flags used as memorials to Scott Fischer (American mountaineer) and 10 time Everest submitter BabuChiri Sherpa (Nepali mountain guide) who perished on a mission to climb Everest. Next, you will continue walking to the Khumbu Glacier moraine and find ourselves facing several great peaks - Khumbutse, Lingtren, Pumori and Mahalangur Himal. The trail then eases off as we follow the valley to Lobuche. Overnight in Lobuche.
Sherpa Lodge (or similar) Guesthouse
Breakfast, Lunch & Dinner
Day 09: Lobuche to Gorak Shep visit Everest Base Camp

This is the most exciting and the most rewarding day of the whole trek. You will follow the trail to Everest Base Camp through big Gorakshep Lake. Continuing straight ahead, you will come across the Indian Army Mountaineers Memorials. The path from here can be misleading. Hence, it's important for you to follow our lead Sherpa diligently. The walk can be strenuous due to the thin air at the high altitude. Now, you will pass through rocky dunes, moraine and streams before reaching the Everest Base Camp. Upon reaching the Everest Base Camp, you will see tents of mountaineers that stand out in bright colors against the monotony of gray surroundings (especially in the spring). Nuptse, Khumbuste, and Pumori are the great mountains that you can gaze from the Everest Base Camp. Again, you will get back to Gorakshep for rest and sleep.
You have the option to go to Kala Patthar either on the same day or the other. However, the sunset view from Kala Patthar is more admirable than the sunrise view, so - we recommended that you should visit Kala Patthar the same evening to enjoy the sunset. As the setting sun's rays pour on the snow-capped mountains, the resulting scenery is just incredible, inexplicable and breathtaking. Therefore, if you wish to hike up to Kala Patthar this day instead of the next day, please inform your guide and they will coordinate accordingly.
Buddha Lodge (or similar) Guesthouse
Breakfast, Lunch & Dinner
Day 10: Gorak Shep to Kala Patthar to Pherice

This day, you will prepare for an early morning departure, amid pre-dawn darkness and cold temperature (-10 to -14 C). Plus, there is always the potential for chilly gusts of wind which is quite common. Familiar peaks such as Lingtren, Khumbutse, and Changtse tower to the east even if Everest begins to reveal itself. But, it is only on reaching Kala Patthar, we can see back parts of the Mt Everest at 360 degree up-close and formidable views. Here, you can take pictures, enjoy the magnificent mountain panorama, and then return back to Pheriche for the night's rest.
Those tourists who wish to visit Everest Base Camp on this day will have an early breakfast to walk early. Since Everest Base Camp hike takes usually longer time than Kala Patthar. After returning to Gorakshep, both of the groups will have lunch together. In the afternoon, you will hike down to Pheriche for the good night's rest.
Hotel Panorama (or similar) Guesthouse
Breakfast, Lunch & Dinner
Day 11: Pheriche to Namche Bazaar

On this day, you will trek down through the hillside blanketed by rhododendron and juniper trees. After crossing the prayer-flag festooned on the bridge over the Dudh Koshi (Milk) River, the trail follows the Dudh Koshi gorge descending rapidly through pine forests. In the forest, we may come across colorful pheasants and mountain goats. The path eventually reaches Sansa from where we can enjoy views of Ama Dablam, Thamserku and Nuptse mountains. Then after, we also pass winding trails through the forest on the way to Namche Bazaar. This night will be spent in Namche Bazaar.
Snowland Hotel (or similar) Guesthouse
Breakfast, Lunch & Dinner
Day 12: Namche Bazaar to Lukla

On this day you will walk along the steep downhill trails to reach Lukla. You are advised to walk cautiously as our shaky legs continuously battle the rocky terrain. After crossing the suspension bridges over the fast flowing Dudh Koshi and its tributaries, the trail becomes more level and natural. After our arrival in Lukla, you can stretch those sore legs and recall the experiences of the last couple of week. You will spend the lovely night in Lukla.
Mera Lodge (or similar) Lodge
Breakfast, Lunch & Dinner
Day 13: Fly to Kathmandu

After collecting the wonderful and life-long experiences, you will catch an early morning flight to Kathmandu after you are exhausted through frivolous mountain journey. After reaching Kathmandu, you can take rest or do shopping for souvenirs to carry back to your home country. If you want to explore some other areas of Kathmandu, you can do that today. Our guides can help you with both souvenir shopping or sightseeing. The company will host farewell dinner in the evening to celebrate the successful completion of your journey. Overnight in Kathmandu.
Kathmandu Eco Hotel (or similar) Hotel
Breakfast & Farewell Dinner
Fly From Lukla to Kathmandu : Airport Pickup in a private Vehicle
Day 14: Final departure

Yes ! Your adventure in Nepal comes to an end today ! There is nothing to do but you can exchange emails with your travel companions and organize your photos. A representative from Accent Himalaya will take you to the airport, approximately 3 hours before your scheduled flight. On your way home, you'll have plenty of time to plan for your next adventure in the mystic country, Nepal.
Breakfast
Airport Drop Off in a Private Vehicle
Includes and Excludes
What's Included in the Cost
Airport pickup and drop on a private vehicle

3-star Hotel accommodation at Kathmandu with breakfast

Teahouse accommodation during the Everest Base Camp trek

All meals (breakfast, lunch, and dinner) during the trek

Welcome and farewell dinners

All ground transportation in a comfortable private vehicle as per the itinerary

Domestic flight (Kathmandu- Lukla -Kathmandu)

Guided city tour of Kathmandu on a private vehicle

Entrance fees for sightseeing/monument visits as per the itinerary

An experienced, English-speaking and Government licensed trek leader and assistant trek leader (4 trekkers: 1 assistant guide)

Porter service (2 trekkers: 1 porter)

Staff costs including their salary, insurance, equipment, domestic airfare, food, and accommodation

Down jacket and sleeping bag (to be returned after trip completion)

Accent Himalaya bag/duffel bag, t-shirt, and trekking map are yours to take

All necessary paperwork and trekking permits (National Park Permit, TIMS)

Medical kit (carried by your trek leader)

All local and government taxes
Not Included in the cost
Nepalese Visa fee

Excess baggage charge(s)

Extra night accommodation in Kathmandu because of early arrival, late departure, early return from mountain (due to any reason) other than the scheduled itinerary

Lunch and evening meals in Kathmandu (and also in the case of early return from the mountain other than the scheduled itinerary)

International flights

Travel and rescue insurance

Personal expenses (phone calls, laundry, bar bills, extra porters, bottle or boiled water, shower, etc.)

Tips for guide(s), porter(s) and driver(s)

Service not Mentioned in 'What's Included' Section
Trip Note
Accommodation for Everest Base Camp Trek
Accent Himalaya manages its best to provide good food and comfortable accommodation. During your stay in Kathmandu, standard hotels (rated 2-3 stars) will be provided. However, if you are willing to spend more, we can arrange some luxurious room from 4-5 star hotels.
But once you set out for Everest Base Camp Trekking, normal lodges or teahouse will be arranged where you get a normal bed and pillow. A few lodges have electric lights but others rely on candle lights or lanterns. Nevertheless, there will be a good provision of food. All the lodges are booked prior to your trekking but in some cases, they cannot be booked in advance. In such a case, you need to show willingness since it is an adventurous trekking and some facilities are limited to the high mountains.
Meals and Drinks on EBC Trek
All the meals and breakfast required for you are included in our package. Dinner and breakfast will be served in the same lodge where you spend overnight and the team leader or guide will find you a good place for lunch on the way to your destination. We recommend you to carry water purification pills along with you as normal water will be provided free of cost. If you wish to drink bottled water, they are available in the shop and teahouses. However, bottled water and liquors are not included in the package.
A Typical Day on Trek
On a usual day, you are required to walk for 4-6 hours every day. After having breakfast, you will set out for the day's walk for 3-4 hours until midday and stop for lunch. After lunch, you continue to your destination. The after lunch walk is comparatively shorter and can reach the destination within next couple of hours. On some particular days, you will get to reach your destination at lunchtime and after that, you can take rest and enjoy the remaining hours. After reaching your destination of the day, you can relax, stretch your body, take a shower, read some books, roam around or even play cards in a group.
Guide and Porter on Trek
Accent Himalaya provides you a very trained and experienced trekking guide who will handle all the logistics and other issues that may emerge during your trek. We have the best provision of very loyal and honest porters who will carry 20 kg from two tourists (10 kg each). If you are trekking in a bigger group (more than 10 people in a group), we will provide you an additional guide.
Group Size, Guide, and Crew Member
Accent Himalaya organizes EBC Trekking from a minimum of a single person to maximum of 16 people in a group at once. However, larger groups trek can be arranged by splitting the groups. One guide is provided for up to 6 trekkers and a couple of them are provided up to 16 trekkers. One porter is provided for 2 trekkers. The guide will be in the same hotel or lodge where you are accommodated but porter might be placed somewhere else during your trip.
Personal Expense on Trek
Your personal expense literally depends upon your personal habit; whether you are alcoholic or non-alcoholic, extravagant or thrifty and so on. Normally, the cost of the meal and accommodation during the trek are covered in our package and you will be liable to pay for table drinks (both alcoholic and non-alcoholic beverages), snacks while trekking, souvenirs, hot shower (available in some places) tips to the guide and porters, meals during your stay at Kathmandu (a normal meal costs $ 5-7 in Kathmandu) as well as the entrance fees during your city tour to different places in Kathmandu (approximately US $ 25). Tips to the guide and porter are your personal choice. However, we advise you to give tip and allocate 5-10 percent of your total tour cost if you are satisfied with their service.
Luggage/Backpack on Everest Base Camp Trek
During your trek, your main luggage will be carried by our porters and you will be carrying a small backpack with your water bottle, camera, tissue paper, towel, or other gears that you need to use frequently. The clothes and gears that you don't need can be packed and left in the locker or safe deposit box in the hotel free of cost.
Normal weight limit at Nepal's domestic airline is 15 kg including your hand carry and in case you exceed the limit, you need to pay the extra amount which is not included in our package.
Itinerary and Possible Changes to it
Our normal Itinerary includes a 14-day package for Everest Base Camp Trek which is the most usual and practical. In the package, the days of your arrival and departure and a day of city tour are also counted. In case you managed further schedule, you want to exclude those days for our service and just want us to help you with the trekking part, upon your request, we can rearrange and adjust the itinerary and let you know about the final cost for the trip.
Also, you can extend or shorten your trek if you feel it's necessary with consulting our guide on the way to your destination. We recommend you to finish the trek within the last day mentioned in our package as many unforeseen circumstances may befall at any time.
Flight Delay at Kathmandu and Lukla
The Twin Otter Plane is the only mode of transportation to and from Lukla on this tour. Sometimes flights to and from Lukla may be canceled due to sudden changes in mountain weather. So, we have kept an additional day at the end of the tour on our trekking itinerary to use it in case of flight delayed or canceled.
So, if the flights cancel for 2 or more days, we will charter a helicopter to ensure you are on a scheduled flight to your home or other destination and the cost of this extra service is payable directly to our office at Kathmandu. If you have to use this service in US dollars or credit cards (Visa Cards, Master Cards only), we will provide you the receipt of the payment with which you can claim the amount from your insurance company. The minimum cost for helicopter charter will be US $500 and the maximum US $3500 depending on the number of people in a flight.
Insurance/Rescue/Evacuation
Health, Safety, and Security of the clients are always our top most priority. So, In case of a serious sickness or any mishaps, while you are on Everest Base Camp trek (which we believe will not happen), we will do everything to transfer you to the nearest hospital to save your life and you are entirely liable for all the expenses incurred in evacuation/rescue. So, please make sure that these expenses are covered by your insurance policy before assigning for the trek or you have to pay on your own after getting back to Kathmandu. Ensure that you've insured yourself before doing the trip. Please visit Nepal Travel insurance page for more info about it.
Our Greetings at Airport
We advise you to flow the information of your international flight details after you confirm your Everest Base Camp Trekking with Accent Himalaya for our meeting and greetings. Right after you cross the customs and check out of the terminal building, you will find our representative holding a placard with your name or the name of the company (Accent Himalaya) and drop you to your hotel in a private car. In case you have booked the hotel by yourself, we suggest you inform us in advance the name of the hotel you are about to stay so that our representative can drop you to your hotel and it would be easier to meet with the team leader or the guide.
Best Season to Travel
The best Seasons for traveling in Nepal are spring (March-May) and autumn (September-November). Trips can also be arranged during winter upon request. However, the cold environment might not be suitable for all. Because of scorching heat, and monsoon with melting snow, we don't recommend you for trekking in the months of June, July, and August.
Gears Available at Kathmandu
All the necessary gears required for the trek are available at Kathmandu for a reasonable price or even you can hire them. Hence, you don't have to spend a large amount of money for your trip preparation in your home country.
Booking and Payment
You are required to make 20% (nonrefundable) payment in advance in order to confirm and book Everest Base Camp along with a photocopy of your passport and flight details (arrival detail, flight name, number and time) and the remaining 80% balance is due when you arrive in Nepal. You have an option of paying the advance by bank transfer or credit card. So, do let us know which modes of payment are convenient for you, then we will forward the details for payment. We also accept PayPal.
Reviews
---
Trek of a lifetime
Jessica | Australia | 8th March, 2017
This was one of our truly adventurous - trip of a lifetime . the Accent Himalaya team arranged the trip so well and the service was beyond my expectation. I am very overwhelmed by Suman (i thikn he was the owner ) who was very dedicated right form starting to the end. the trip went very smoothly. the Sherpa guide was very cool ,my family had a great fun. we were a total of five. the accommodation and food were really good.
we stayed at the Hyatt (beleive me it was good) in kathmandu. journey to EBC was okay. I was worried about the food in remote areas but it was arranged well. the trek was challenging though, with efforts and some guidelines of Binod and suman , I finally made it. physical exercises like running, and hiking for 2 hours a day helped me build up the stamina.
my daughter was not well adapted to the high altitude and i want to thakn Sherpa guide for medication. .
Would you recommend this experience to a friend?
Yes
Why did you choose to travel with Accent Himalaya?
One of my nepali friiend suggested me.
Why did you choose this trip?
i have been very adventurous sine my childhood and did a lot of adventurous trekking and peak climbing but never had an opportunity to trek to the Himalayas. it was always my dream to step to Everest Base Camp and finally did it with my family members.
What would your advice be to potential travelers?
always be focused and follow the instruction. make sure to choose a good travel agent like i did.
What was the highlight of your trip?
lovely people, namaste every where!. reaching the summit of kalapathar was awesome. Everest was right behind my tip of nose - that was great.
---
Extraordinary adventurous trek
Jasmine | Australia | 11th March, 2017
the trek was challenging but worth and rewarding. 14 days passed very smoothly. the great view of the Himalayan ranges in frnt of my eyes was mindblowing. I told them that i want to join a group as I always alone. the private one , the price is bit higher, so i prefer to travel in a group. without any hassle, they put me into the group of seven people and I want to thank Accent himalaya for arranging my trip the way I wanted it to be.
I have visited this country often with my family members for sightseeing but never attempted this challenging trek. so it was my first trekking experience hiking to high altitude. kalapatthar was our maximum highest altitude point of this trek. (something like 5000 meters). The guides suggested me to take Daimox before heading up, so i was fine. the view early in the morning was magnificent.
the food and homestay were great. my other group members were very friendly and now we are great friends and we still contact on facebook.
Would you recommend this experience to a friend?
Yes
Why did you choose this trip?
to explore the culture and traditions, Everest was the main reason. the price was reasonable in this particular package.
What would your advice be to potential travelers?
never trek in hurry. and adapt the altitude at the own pace. Always stay close in the group and follow the path of your guides and listen to them as they know more than you. always listen to your guide..
What was the highlight of your trip?
traveling with genuine people and viewing the Everest and other mountains. I love Nepali people.
---
Amazing trek of my lifetime
Nicolas | Canada | 14th March, 2017
We had the superb experience trekking all to the challenging Everest base camp trek where I and my husband had our great 10th anniversary day which was my dream to reach at the base camp on our anniversary date that will be on 27th April. He had booked this trip with Accent Himalaya, had appropriately arranged it well and thanks to the team we reached to the base camp on the day of our anniversary and the credit goes all to our Sherpa guides and the owner of this company where they arranged the itinerary in such a way that we made it to reach at the date of our anniversary on the EBC.
As my husband being an adventurous trekker had done many trekking but me myself as the novice trekkers always had the dream of reaching to the EBC and thanks to my husband who motivated me that I am capable to do this trek and even thanks to the team of the accent Himalaya company who made this trip completely victorious trip and was the best anniversary gift of my whole life.
Like the great surprise was in the Everest base camp where my husband with the team of the company had arranged the cake and champagne where we had the great fun together and capture the best memories. As the company provide to us with one Sherpa guide and porter whom was from the Everest region and the guide was too much friendly where he share with us about their culture and their traditions and even share the political of Nepal on the trail where we got abundant knowledge about Nepal and heads up to the porter who carried our luggage without having any stress in his face and always having a smile on his face which makes even more enthusiastic to move along.
Would you recommend this experience to a friend?
Yes
Pros
Accomodations, Activity Level, Exceeded Expectations, Food, Group Camaraderie, Guides, Once in a Lifetime Experience, Quality Equipment Provided, Well Organized Itinerary
Describe Yourself
Avid Adventurer, First-Time Adventurer
Why did you choose to travel with Accent Himalaya?
Active Adventures, All the Details Planned for Me, Commitment to Sustainability, Destination, Good Value, I liked the Itinerary, Recommended by a Friend, Travel with Like-minded Outdoor Enthusiasts
Why did you choose this trip?
As I always longing to trek to Himalayan region to EBC and view the mighty mountain Everest in close with other several snowcapped peaks and my husband made this dream come true by booking with one of the truly licensed company.
What would your advice be to potential travelers?
As my only advice to the potential trekkers is to always check your list items before packing your stuff like you may be left out sometimes because I just left my diamox medicine on the hotel of Kathmandu but thank god it was not necessary for me because I was fully taking care of myself like taking plenty of sleep, hydrating well and there was extra medicine with the guide so I took that too so, always check your back pack before leaving. Follow the guideline of your guides and follow their path.
What was the highlight of your trip?
There are copious highlights of this trek but main was my anniversary celebration and other like viewing the stunning Mountain View with diverse landscapes and also exploring the Himalayan region their culture and their traditions.
---
Unforgettable Experience
Larissa | Brazil | 23rd March, 2017
It was my amazing trip in camaraderie group where I join the group of 7 people to the EBC trek where everyone was from the different destination and I was not left alone as I was enjoying the group where everybody was very cordial and feel like a family as our guides as all the responsible was taken good care of where we just only have to trek and the rest from our foods till accommodation all was taken care of by our well experienced guide. As I have done many trekking in Nepal but in group it was my first experience where I enjoyed this enthralling Everest Base camp trek only with the help of those team of Accent Himalaya.
All was well arranged from food to accommodation as the food provided was carb which was needed much doing trekking for longer hours and days and the accommodation in Kathmandu we stay at the five rated star hotel at the Hyatt regency which was the best hotel where from the window we are able to get to the view the biggest stupa in south Asia which is Boudhanathstuapa and even the food was great where we had choice from continental food to their Nepali cuisine where we try Nepali food where the taste of the food was brilliant with good spices. As in the journey to the EBC we stay in some of the lodges where we have to share the room with same sex where we feel very comfortable and even the room was ok and the food they provide where our guide always make sure that we get the fresh food he always visit the kitchen and see the food are well cleaned and then only we are being served.
Would you recommend this experience to a friend?
Yes
Pros
Accomodations, Activity Level, Exceeded Expectations, Food, Group Camaraderie, Guides, Once in a Lifetime Experience, Quality Equipment Provided, Well Organized Itinerary
Describe Yourself
First-Time Adventurer
Why did you choose to travel with Accent Himalaya?
Active Adventures, All the Details Planned for Me, Commitment to Sustainability, Destination, Good Value, I liked the Itinerary, Recommended by a Friend, Travel with Like-minded Outdoor Enthusiasts
Why did you choose this trip?
As I always want to trek all the way to the EBC as I have done previous trekking to the Annapurna region from the company of --- where I did not get the best services but from this company I reward them with 100% with good services.
What would your advice be to potential travelers?
Before trekking take do some physical exercise and do some trekking at least 3 hours a day that will build up your stamina and make your body fit and always follow the instruction of your guide.
What was the highlight of your trip?
As there are copious highlight of this trip but I most enjoyed is the Lukla flight and the spending some time with the Sherpa people.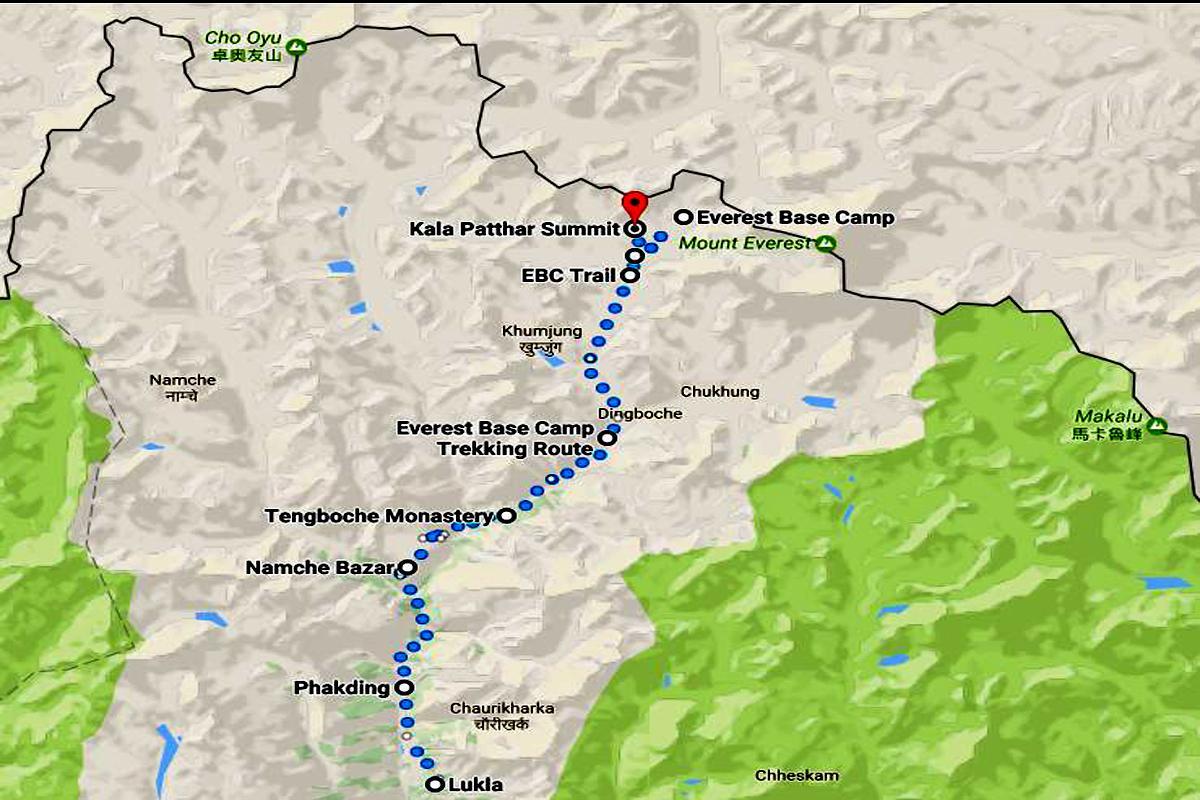 QUESTIONS?
We're here to help
See our reservation FAQ for answers to common questions.
+1 433 985 2950 USA
Monday-Friday
7am to 5pm Pacific Time